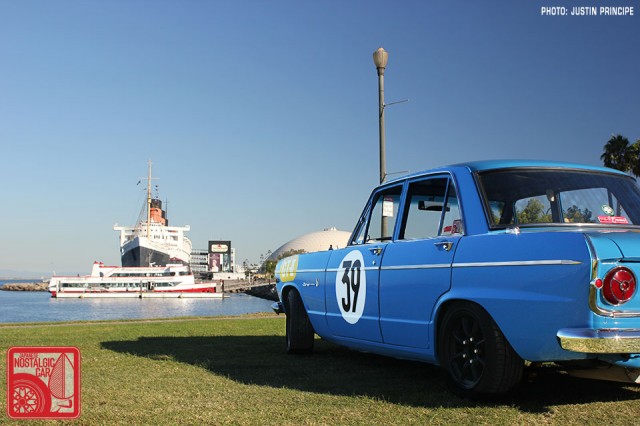 So the secret is out. This is the subject of our teaser pics last week and the car our friends at JDM Legends built and brought to JCCS. We were honored to have this replica of the legendary Prince Skyline 2000GT from the 1964 Japan Grand Prix gracing our booth at the big show this year. While we go through 1,900 photos from this weekend's show, let's wonder:
What's the best 1960s JNC for vintage racing?
I've always had a soft spot for the S54 Prince Skyline. Prior to JNC, I would often daydream of running an iconic Japanese car in historic rallies like the Carrera Panamericana or any number of Mille Miglia tributes. The only thing was that many of those races had a strict cutoff of cars built 1965 or older (though many have since raised the cutoff). The answer I kept coming back to was the noble Prince. It may not be the most elegant car, but it was raw, powerful, and had racing pedigree.
What say you, dear reader? As always, the most entertaining comment by next Monday will receive a toy. Click through to see the winner of the last QotW, "How would you like to see the JNC scene evolve?" 
We got a lot of different opinions in response to this question, many in direct opposition. Some said there is too much marque-specific pride. Others said not enough! Some wanted stock restorations, others wanted all manner of mods! All were interesting, but the most well written argument came from Bart:
I would like to see Japanese nostalgic cars begin to invade traditional classic car shows. For example, big shows like Hot August Nights here in Reno should broaden their landscape and start letting early Japanese cars into the shows. How cool would it be to see a nice old Celica next to an old Mustang? As the generations of car enthusiasts shifts, I think we will start to see this happen. There's only so many pink and blue Camaros I can stomach, and I know I am not the only one out there who is bored to death of the same type of cars done up in the same type of style. Variety is the spice!

Second to that, I would love to see a greater appreciation for older Japanese 4x4s. As much as I like cars, I am a 4×4 and SUV guy first, and I like nothing more that to see cool old Japanese 4×4 decked out to the nines, just waiting to put our ugly domestic Jeeps to shame.
Omedetou, Your comment has earned you a rare Hot Wheels x JNC Super Speeders mystery pack Mazda RX-7!