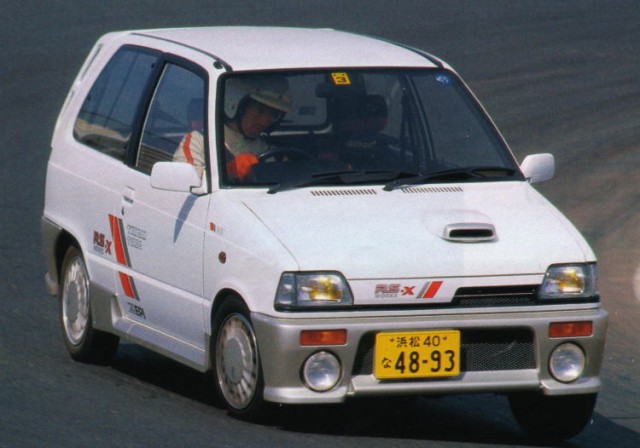 Alas, Suzuki, we hardly knew ye. This statement rings especially true in the wake of the Suzuki's departure from US shores last week, because as JNC reader Tyler pointed out, many of their best cars were not sold here under the Suzuki name. That's why this week we ask:
What should Suzuki USA have done differently?
We opine that Suzuki should have imported their Alto Works RS-X to America. What's not to love about a turbocharged, twin-cam, all-wheel-drive pocket rocket with an astounding output of 118 horsepower per liter? To be fair, that's the specific output if you actually had a full liter, and the kei car actually had only .543 liters. Still, that's 64 angry ponies in a package weighing 1345 pounds. Would it have changed Suzuki's fortunes? Probably not one iota, but  damn it would've been fun.
What say you, dear reader? As always, the most entertaining or inspiring comment by next Monday will receive a random toy. Click through to see the winner from last week's question, "What music do you listen to when driving your nostalgic?" 
The winner this week is 84hachi, who offered a whole collection of tunes to transport you back to the 1980s Nihon, including our selection above. YMO was one of the few Japanese bands to break through to the West in the late 70s, and widely regarded, along with Kraftwerk,  as one of the most influential electronic bands of all time.
When I drive my '84 AE86. I listen to the music that was popular in Japan at the time that car was made. P-Model, Rebecca, Mikuki Nakajima, Luna Sea, YMO, The Borems, Little Creatures, Mari Hamada, yes even Shonen Knife.

I would go to one of my little hideaway roads. Put on some P-Model (2D or Not 2D and Chevron are the best) and instantly get transported back in time to 80s Japan. Through my eyes I see period correct FCs, Cressidas, Skylines, etc. In the fall on a local mountain road Wait for the Winter Season by Miyuki Nakajima would change the scene yet again to a Japan feeling.

80s Japanese music, being played in an 80s Japanese car turns the world around you into Japan in the 1980s. I would do anything to travel back to see it with my own two eyes. But, since I can't, what I can do is live it through the the speakers of my car.
Omedetou! Your prize from the JNC gashapon is an Toyota oozing with 80s design, a Konami Toyota Celica ST165.
[Image]