There was one last old school car from the 2009 Tokyo Motor Show and we're talking old old school. The triple diamond mafia calls the 1917 Mitsubishi Model A the first production car built in Japan — if by production you mean 22 units, including pre-production ones, screwed together by workers in the company's shipyards.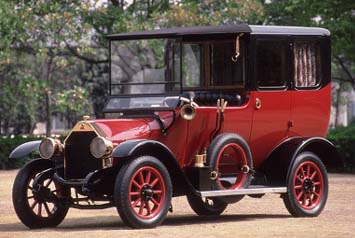 None of the original 22 are known to have survived. However, in 1972 things were going well for Mitsubishi. They had just struck up a deal with Chrysler to enter the North American market!
So the higher ups commissioned a "replica" of the Model A to be rebuilt using then-modern technology, which had come a long way. Whereas the original horseless carriage managed only 35ps despite a 2.8-liter four-cylinder, the replica breezed out 55ps from just one liter. Nowadays, the Mitsubishi i can push 64ps out of a 660cc kei car motor.
Like the 1925 Otomo, it couldn't compete with cheaper imports from Ford and Chevy, and production was halted in 1921.
[Images: Autoblog, Mitsubishi Motors]