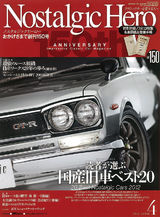 The 150th volume of Nostalgic Hero just hit the stands as a special edition in which the editors pick the Top 20 Nostalgic Cars of 2012. Back in 2007 they issued a Top 50 list, and some have risen, some have fallen.
There's much room for discussion, and keep in mind that some of these cars represent different things in the Japanese market than they do in the US. But without further ado, the envelope please… 
20. Hino Contessa 1300 Coupe
19. Suzuki Fronte Coupe
18. Subaru 360
17. Datsun Fairlady 1600/2000
16. Daihatsu Midget
15. Nissan Sunny Coupe 1200 GX5 (B110)
14. Nissan Skyline HT 2000GT-ES (C210)
13. Mitsubishi Colt Galant GTO MR
12. Isuzu 117 Coupe
11. Toyota Celica Liftback 2000GT
10. Isuzu Bellet 1600 GTR
09. Nissan Bluebird 1800 SSS (510)
08. Toyota Corolla Levin 1600 (TE27)
07. Honda S600/S800
06. Toyota Sports 800
05. Mazda Cosmo Sport
04. Nissan Skyline HT 2000GT-R (C110)
03. Nissan Fairlady 240ZG
02. Toyota 2000GT
01. Nissan Skyline HT 2000GT-R (C10)
So, do you agree? Sound off in the comments below.