Ever since our visit to Calty Design Research we've been fascinated with the lost concepts borne from that studio. The bizarre 1977 Toyota F110 was unveiled at that year's Tokyo Motor Show, depicting what a luxury sedan would look like in the coming decade. And since that decade was the 1980s we'll guess, "What is cocaine, Alex?" as the enhancement they used to conceive it.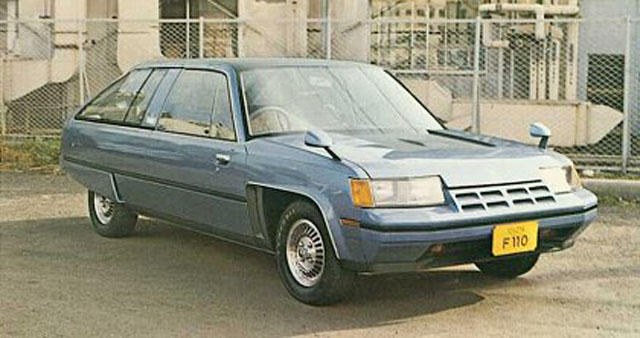 The idea was to maximize cabin space given dimensions defined by Japanese vehicle tax codes. As you may have noticed, the F110 is asymmetrical, with one long sliding door on the driver's side, and a conventional door plus sliding rear door on the passenger side (with no B-pillar).
Though it's hard to make out in these photos the seats are upholstered with a thick, tan shag and it wears a hood emblem resembling either a crab, tick, or Space Invader. It never made it into production, though if you squint you can see a tiny hint of 1983 Camry liftback.