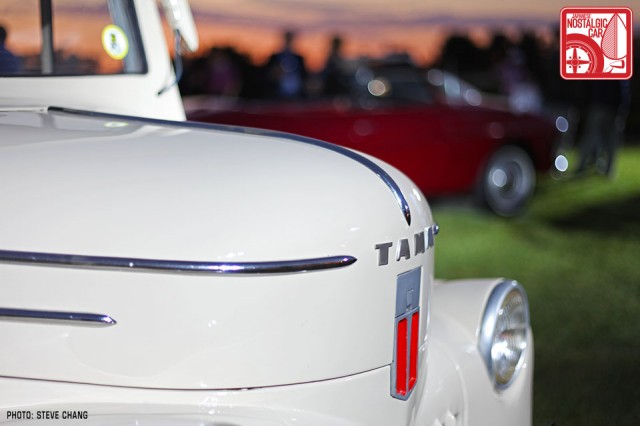 In December Nissan will turn 80 years old, and in light of that milestone this year's multi-day Nissan 360 press event was all about heritage. Part 01 of our coverage spotlighted the company's rich motorsports lineage, including some race cars never before seen on US shores. However, Nissan's bread and butter has always been street cars for you and me, and in that respect there's an even longer history to study.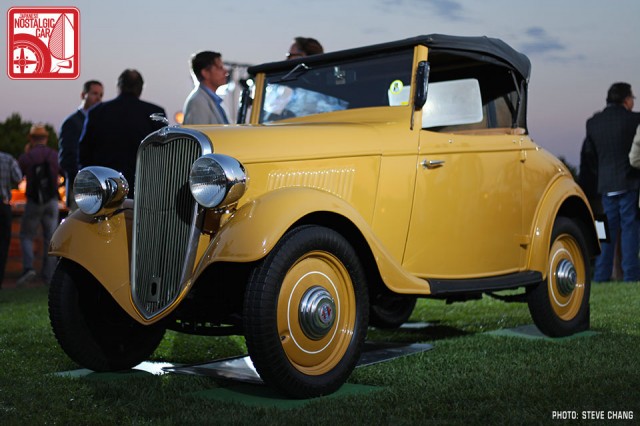 In addition to its legacy race machines Nissan shipped over several landmark passenger cars from Zama, and parked them on the mega-swank back lawn of Pelican Hill Resort in Newport Beach. The sound of clinking of wine glasses and meat being carved by people in puffy white hats indicated this was not your typical Datsun gathering. We saw precisely zero slammed 510s on Rotas only concours-level originals with a gorgeous Pacific sunset view over Catalina Island.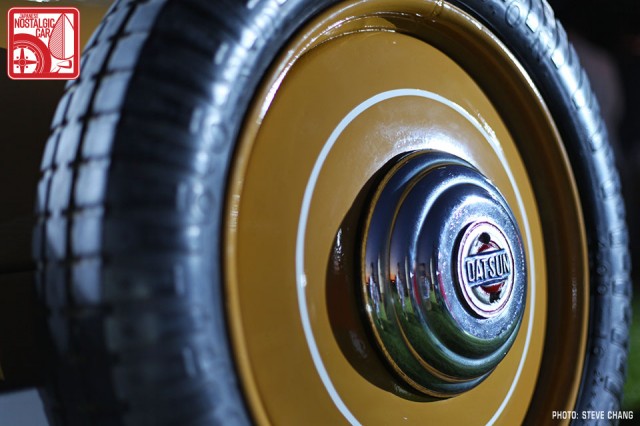 It may seem hard to believe, but this is likely the first time these cars have been displayed with such reverence. Till recently, no one has cared. Nissan as a company was founded in 1933, and one of their earliest products was the 1935 Datsun Type 14. Its 722cc motor made only 15 horsepower, but it was sold in markets as far away as Latin America.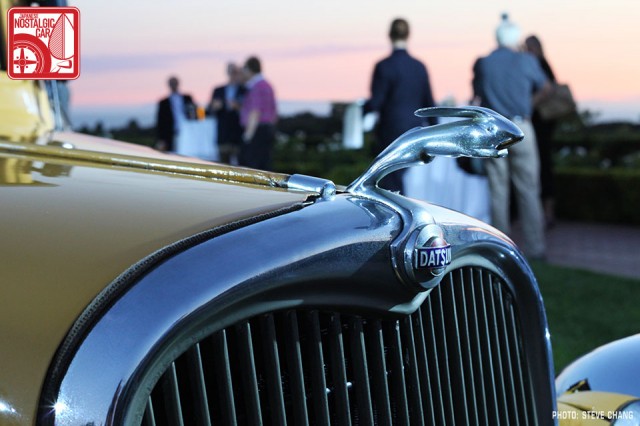 It could barely be more basic, but it did boast flourishes like Ryuichi Tomiya's leaping hare hood ornament. Most know the name Datsun originated from DAT — initials of main investors Kenjiro Den, Rokuro Aoyama and Meitaro Takeuichi — but the word, pronounced datto in Japanese, also sounded like term describing the movement of a dashing hare.
Hence the inspiration for the Type 14's radiator topper, a leaping rabbit. These ornaments graced Datsuns for only one year, making them extremely collectible today. In the rare event they do come up for sale, $1200 seems to be about the going rate.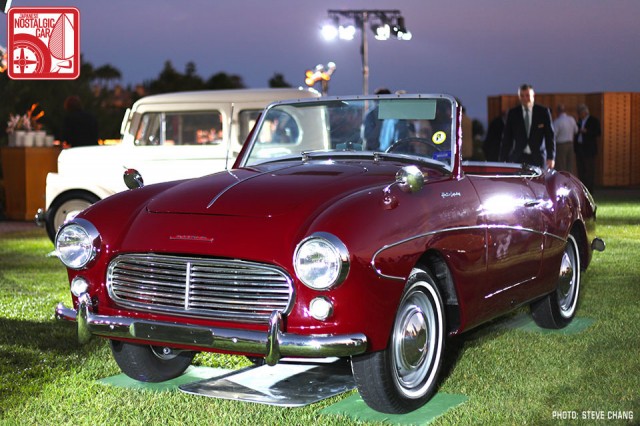 Before the Z, before even the famed Datsun roadsters, there was the Datsun Fairlady 1200. Built on the same chassis as a 310 Bluebird, it was an early attempt at a home-grown Nissan sports car.
Its 60PS motor didn't exactly set the enthusiast community ablaze, but the SPL213 was notable for being a US-only car, never sold in Japan. All 217 units built between 1961-62 were left-hand-drive. This rare example was shipped, along with John Morton's BRE 510, from its home at Nissan USA's collection in Tennessee.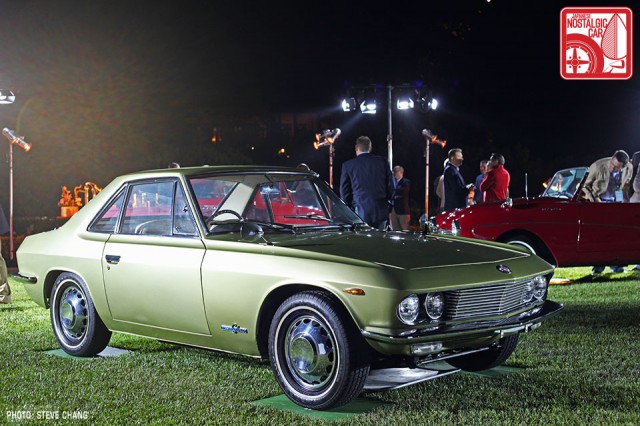 If we had to pick one star of the show, it would be the 1966 Nissan Silvia, one of 554 built and resplendent in its trademark metallic green. Many auto journalists on hand didn't even know what it was, but all loved its crisp lines and distinctive greenhouse nonetheless. If our calculations are correct, this will be the fifth one on US soil, but sadly it will be returning to Japan after the event.
No history of Nissan would be complete with out the presence of an S30. But rather than a Fairlady Z from Zama, Nissan elected to display a bone stock Datsun 240Z. The automotive world was never the same again after the Z, and its presence amongst Skylines, 510s and Silvias showed just how much of a paradigm shift it was in order to stand out amongst those iconic cars. Curiously, this particular example was from neither Zama or Nashville but owned by a local California caretaker instead.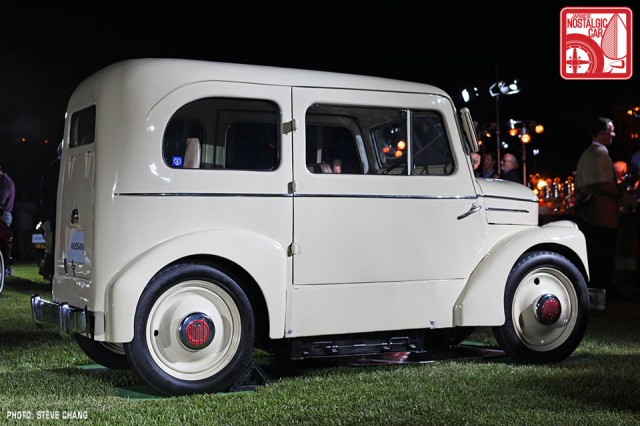 Nissan is making a push to restore many of its Zama cars, and with the success of the Leaf it was no surprise that the 1947 Tama E4S-47-1 would receive the royal treatment. With a range of 60 miles, it may outlast the Leaf NISMO RC we drove in Part 01, but its 22 mile per hour top speed is somewhat lower. Only 228 were built between 1947-48, until Tama switched to solely gasoline powered cars and changed its name to the Prince Motor Company.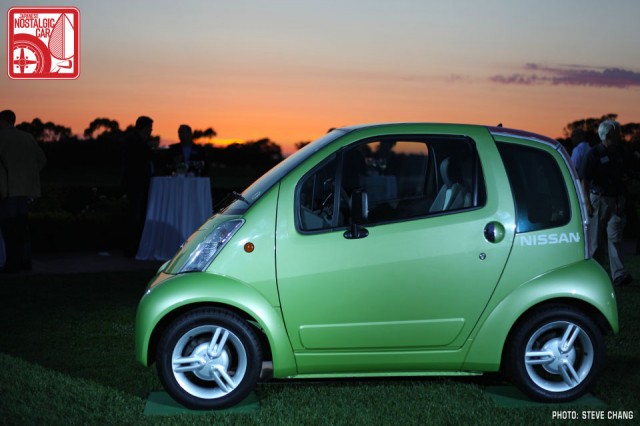 Believe it or not, the Nissan Hypermini from 1999 was actually a production electric vehicle that was available in the US. Granted, production was limited to just 300 units and it was sold or leased mostly to government agencies in Japan and California, and the design has aged better than a Smart Car's. Top speed? 62 miles per hour, but it's rarer than a Toyota 2000GT! Also, check out the adorably primitive Hypermini website left over from the pre-Y2K era.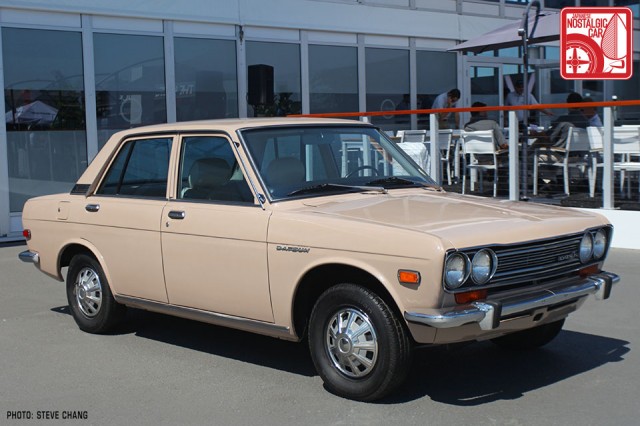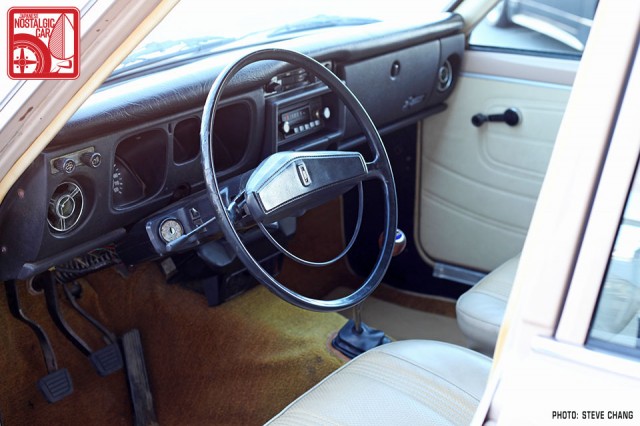 The next two days were spent at El Toro, an ex-Air Force Base where a massive Disneyland of NiMoCo products had been assembled. We were thrilled to find a stock 1972 Datsun 510 sedan greeting journalists as they entered the main building.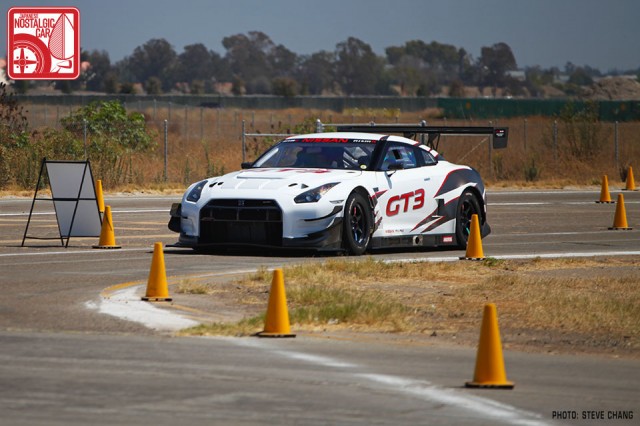 To showcase its global lineup, we were given free reign to drive any Nissan product in the world — GT-Rs, NISMO 370Zs, you name it. That's why we headed straight for the kei cars.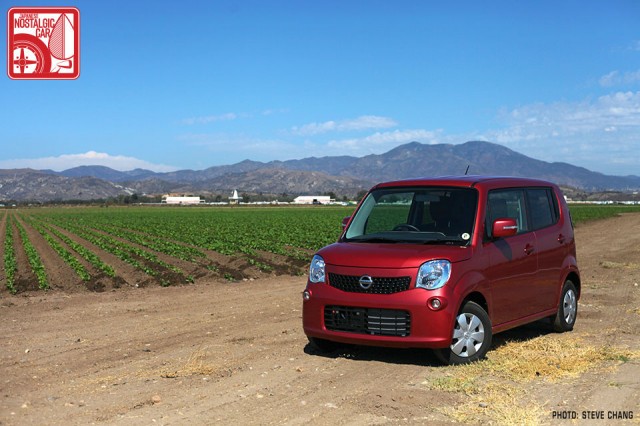 There's an old saying that goes, "It's more fun to drive a slow car fast than a fast car slow." With the Nissan Moco, we could clip apexes within our own lane as we wrung out every single one of its 52 horses. We've driven a few kei cars on our visits to Japan, but bombing along with the Santa Ana Mountains in full view proved an incongruous and dream-like experience.
Plus, it's magenta and cute as a button. It's also manufactured by Suzuki, who also sells a version called the MR Wagon. And since Suzuki is no longer selling cars in the US, this was technically the newest and last Suzuki automobile on US shores.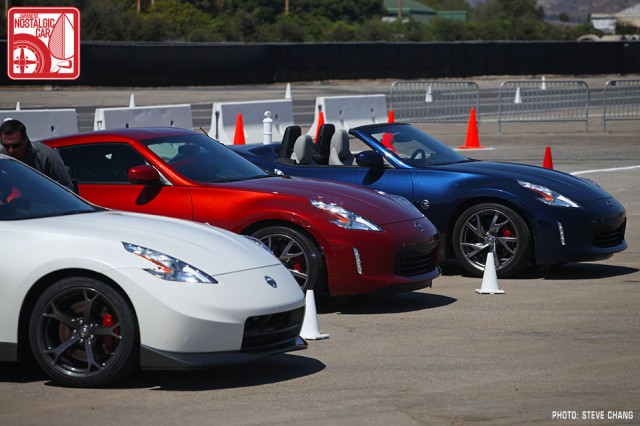 Well, okay, the 370Zs were fun too, even if I couldn't convince any of the cute helper girls to get in the convertible with me.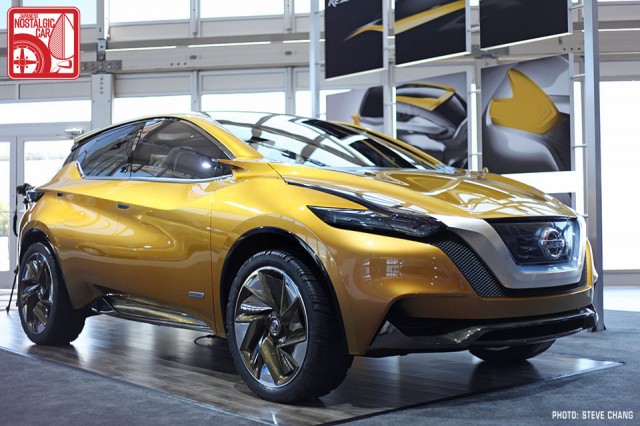 In the main building sat three concepts that are part of Nissan's plans for world domination. The Resonance was, according to Nissan, "inspired by the future allure of hypersonic travel," whatever that means. It has a 2.5 liter inline-four, which basically means it's a more extreme version of the next Rogue/X-Trail.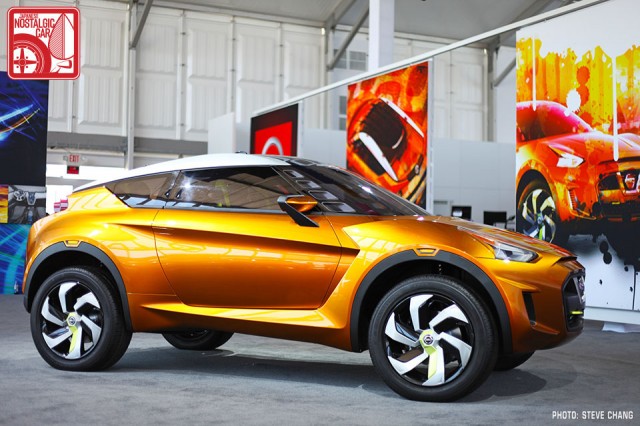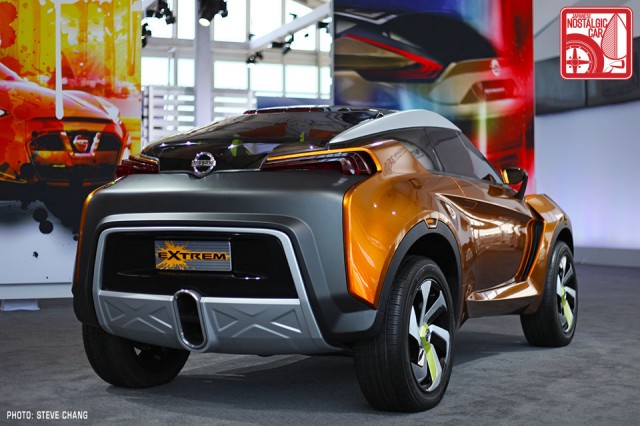 Speaking of extreme, the Nissan EXTREM (Brrreeeaaaw! /air guitar) is an urban 4×4 concept designed specifically for the Brazilian market. The car business there is booming, and Nissan wants to get in on the burgeoning youth market there.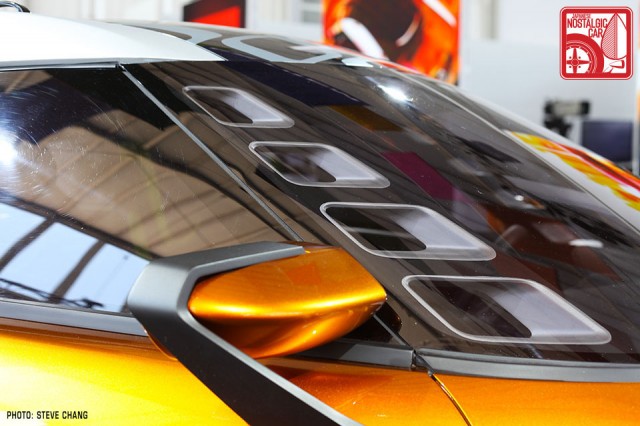 One thing we love about JNCs is the fantastic visibility offered by thin pillars. Nowadays cars have fat trunks at all corners. The EXTREM might have your solution right hurr, but only if you hide the curtain airbags elsewhere.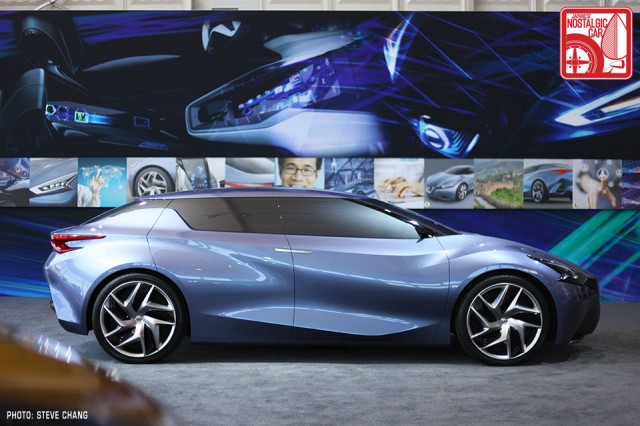 The Nissan Friend-ME was designed at the NiMoCo's China studio. It takes the 370Z's boomerang lights in a new (in our opinion, better) direction and is meant for Chinese customers born in the 1980s. It was our favorite of the three.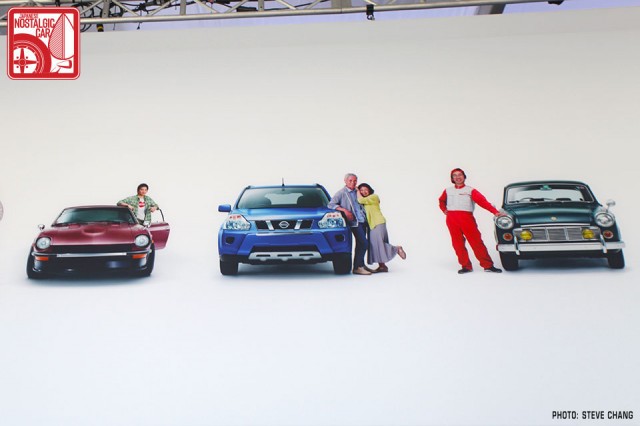 Last but not least, high above the entrance hung several banners JNCers might enjoy. Remember when we told you a team from Nissan's marketing team was at Nissan Jam looking for owners? Here's what it was for.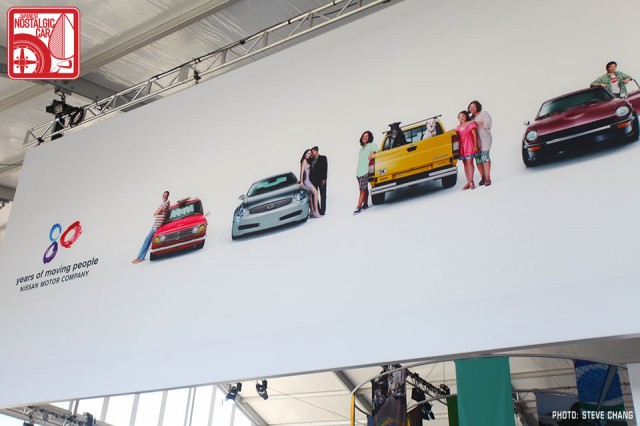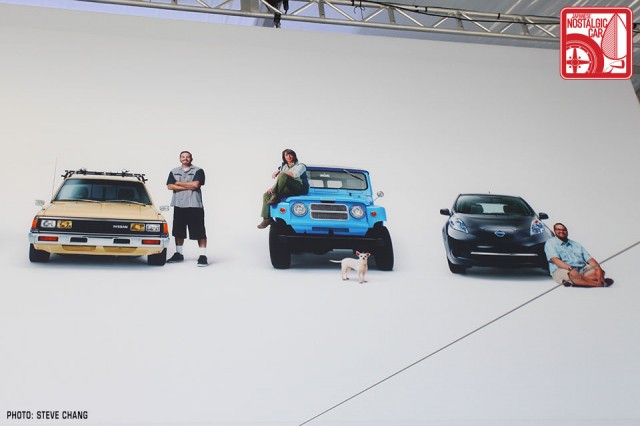 In honor of their 80th birthday, Nissan collected a bunch of owners and photographed them with their cars. We saw some familiar friends in there, including John Williams and his 510 surf wagon, Josh Kreat and his 2+2 280Z, and Audrey Reese and her 1967 Patrol. It was a great way to add the human element to the 80th anniversary. After all, it's we who are buying the cars. Congrats on being part of the celebration!
In the next installment, we get behind the wheel of some Nissan vehicles that we have absolutely no business driving. Stay tuned.