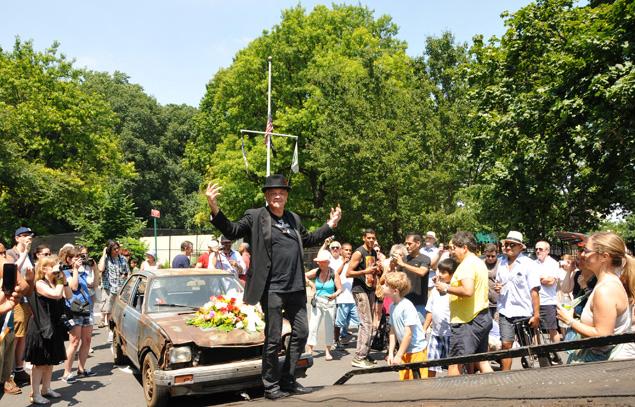 Last Sunday the Inwood neighborhood of New York said goodbye to an old friend, Harry Etting's 1982 Honda Civic. A Dixieland band performed, a New Orleans jazz funeral procession marched down Seaman Avenue, and a wake was held at a local bar as dozens of neighbors came out to bid the car farewell. 
Harry Etting bought "Bluey" brand new 30 years ago. It's been totaled by a drunk driver, flipped up-side down during New York's Washington Heights riots of 1992, and rusted away to near oblivion. But, it's also become a beloved regular in Etting's neighborhood despite its property-value-lowering sheetmetal. With over 171,000 miles on its odometer Etting says, "I've always considered this car to be the most reliable friend I've ever had."
The Civic even led the procession under its own power onto the back of a Hino flatbed, where it would be carted off to the organ donor junkyards. When asked if he would be getting a new car, Etting replied, "I need time to heal." The service took place, appropriately, 24 hrs before Canada's Civic Holiday.
[Image: Josh Max for New York Daily News]