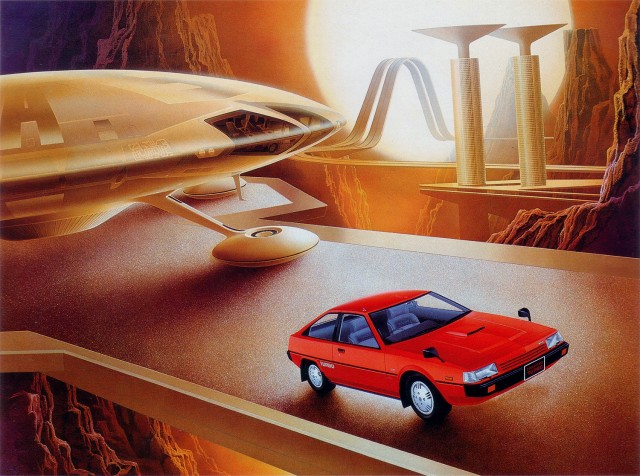 Mitsubishi had big plans for Tredia/Cordia twins when they debuted in 1982. The Triple Diamond Zaibatsu was ready to go mainstream with a front-wheel-drive compact, the wave of the future! Mitsu went as far as commissioning renowned album cover artist Shusei Nagaoka to whip up some sci-fi illustrations. The TV commercials weren't quite as far out, but Mitsubishi recorded a dedicated theme song called "Me and My Baby (Cor-Di-A)" by jazz singer Randy Crawford. 
Crawford was from Macon, Georgia and had a UK Billboard hit. Though only brief clips of her song can be heard in these 30-second spots, a full-length version appears as the lead track on her record Pastel Highway.
Sadly, neither Jackson's LP nor the Cordia were resounding sales successes. For the car, some point to its bizarre quasi-tech styling or the fact that rally-loving Mitsubishi fans weren't keen on an FF hatchback. Our friend Murilee Martin might be the only auto journalist on the planet that consistently speaks positively about it, in the process unearthing bizarre Cordia trivia like these ads.
The "dia" part of the Cordia name originated with "diamond," the part of Mitsubishi's logo that can be traced all the way back to 1870 and the Iwasaki family crest. Depending on whom you believe, the "cor" half came from the English word "cordial" or "cordierite," a mineral. All we know is that dismal sales meant the name lasted only one generation.
Meanwhile in Australia, Mitsubishi skipped the original soundtrack and went with a version of Laura Branigan's cover of "Gloria" from Flashdance. Go figure.