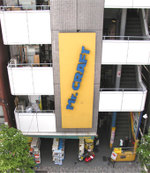 Any car nut who has been to Tokyo has surely passed through the doors of Mr. Craft, a five-story building full of toy cars in every scale, brand, and material you can imagine. Radio control, plastic model kits, diecast, wind-up toys, it was all there.
Sadly, it shuttered its decadent doors for good last September due to bankruptcy. The only remnant that remains is the Mr. Craft blog, on which you can find a ¥150,000 Choro-Q Nissan MID-4 (approximately $1500). It's a loss to collectors everywhere, but at least we won't be tempted to blow our life savings next time we visit Tokyo.
Collectors with minicar withdrawal can now get their fix at Ikeda Minicar Shop near Nippori Station or the Yodobashi Camera mega-retailer in Akihabara.