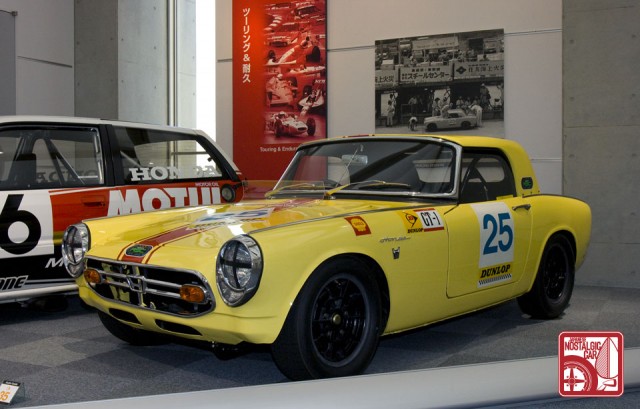 In a quiet corner of the Honda Collection Hall at Twin Ring Motegi circuit sits what is arguably the most famous Honda S-car of all time, the 1968 Honda S800 RSC. As any collector of Japanese diecast or player of Gran Turismo knows, the famous yellow-and-red race car has been immortalized in countless forms.
In the early Sixties the Honda S-series were awe-inspiring to the average citizen when kei cars ruled the roads. The "RSC" which stood for Honda Racing Service Center, was even more so, bumping displacement to 873cc for a claimed 100-plus ps at 10,500 rpm (for comparison, a stock S800 made 70ps at 8,000 rpm). Listen to that motor spit hot fiyah!
This particular S800 RSC is famous for winning the GT-1 class at the 1968 12 Hours of Suzuka, beating out a field of fellow S800s and an army of Toyota Sports 800s. Even more impressively, drivers Kuniomi Nagamatsu and Yoshifumi Kikura won third overall, ahead of much more powerful cars like the Nissan Fairlady Roadster, RT55 Toyota 1600GT, Isuzu Bellett 1600GT, and Prince Skyline 2000GT (A pair of Toyota 7 race cars won first and second).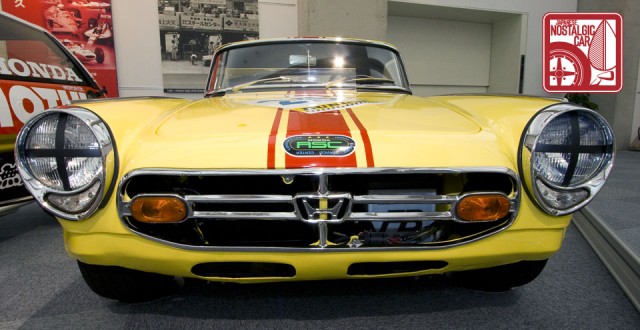 But even as the battle for 800cc supremacy between it and Toyota were reaching crescendo, both cars' days were numbered. Japan's auto industry was developing rapidly and far grander sports coupes (2000GT, Cosmo Sport) were emerging. Still, the S800 had become a legend during a brief window of Japanese motoring history, and earned itself a place as the oldest Honda production-based racer in the automaker's museum.
Photos by Dan Hsu.