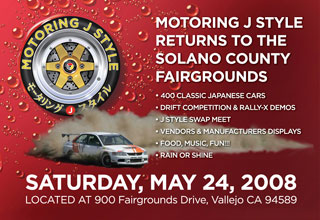 This recent article on Winding Road is a good read on the background of Martin Swig, a well-known California car collector. What it doesn't mention though, is that Swig, along with his son David, in 2007 founded Motoring J Style, northern California's very own car show celebrating Japanese car culture with a focus on vintage Japanese steel.
This year it's back, and it promises to have even more treats in store, centering around a reunion of Peter Brock's BRE race team, whose Datsun 510s took the 1971-72 SCCA Trans-Am 2.5 championships against the likes of Alfa Romeo and BMW. Mr. Brock himself and driver John Morton will be on hand to sign autographs and recount the historic wins and discuss his involvement with Hino's short-lived US racing program. Nissan USA will display the 510 Morton drove to the checkered flag. In addition, there will be displays from Toyota USA along with their brands Lexus and Scion, a drift competition, a dirt track for rally stages and over 400 cars on hand.
Check out our coverage of last year's event here. The 2008 Motoring J Style will be held at the Solano County Fairgrounds in Vallejo, CA on May 24, 2008. Mark your calendars!