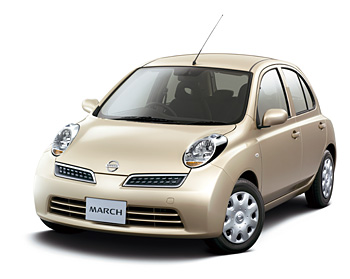 Last month we told you about the 25th anniversary of the Nissan March and the three limited edition cars going on sale to commemorate the occasion. In the consumerist-crazed culture of Japan, however, that's not nearly enough, and Nissan has just unleashed three more of the mega cute compacts on the unsuspecting public of Japan. The official name is the Nissan March 25th Happiness, and comes in the exclusive color of Silky Beige and an "odor absorbing headliner." Where that absorbed odor then goes, we do not know.
Next, is the March Plus Safety, which is everything the 25th Happiness is, in addition to side curtain airbags and xenon headlamps. Does that make the base version the March Minus Safety or March Plus Potential Head Injury?
Lastly, we have the Kisekae version, which offers something none of the others do – upholstery in two styles, bubbly or striped, with matching pedals. Kisekae means "dress up" in Japanese, and we guess it was inevitable, but the car as disposable fashion accessory is alive and well in Japan.
[Nissan]