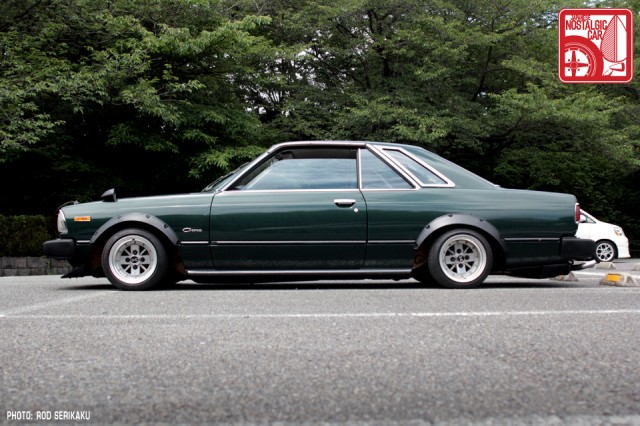 We're devoting the third and last installment of our Mooneyes Mania Cruise's Bluebird-Corona Day coverage to just one car. Why? Because the Toyota Corona teased in Part 01 is utterly steeped period correct modifications from the early 1970s.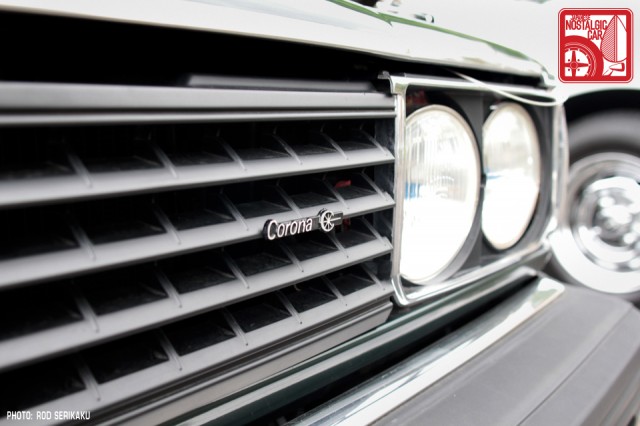 By the time the RT132 came out in 1978 modifying tastes in Japan had a more European feel, as more companies were importing popular brands from Italy, Germany and England. Cibie fog lights, BBS or Cromodora wheels, Recaro Seats and door mirrors were becoming de rigeur. The advent of angular shapes and techno-futurism also dictated the design of these accessories and soon Japan was producing goods under license of popular European brands catered strictly for the consumption of the home market.
The theme of this Corona harkens back to the earlier 70s, when the circuits were full of TA22s and TE27s, and the streets were full of motorsports-inspired highway or "Kaido Racers" racing and representing their home route or expressway.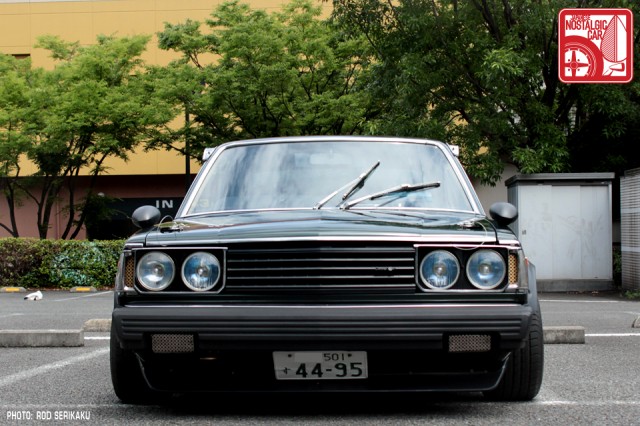 In a style cribbed from the Fuji endurance race Toyota's, its wipers are offset to give the driver's field of vision top priority. Likewise, mesh over the corner lights and turn signals were a popular street mod back in the day, sourced from Japan's equivalent of Home Depot. Originally meant to mimic mesh guards on cooling ducts of race cars, it was a clever way to put fake vents on your ride but still have something of use behind them. The old style hood pins and the bucktooth chin spoiler complete the look.
Upmarket coupe and sedan RT132 Coronas came with square sealed beam headlights, but for this excercise, they've been swapped for round, taxi-spec peepers for a meaner and more nostalgic look.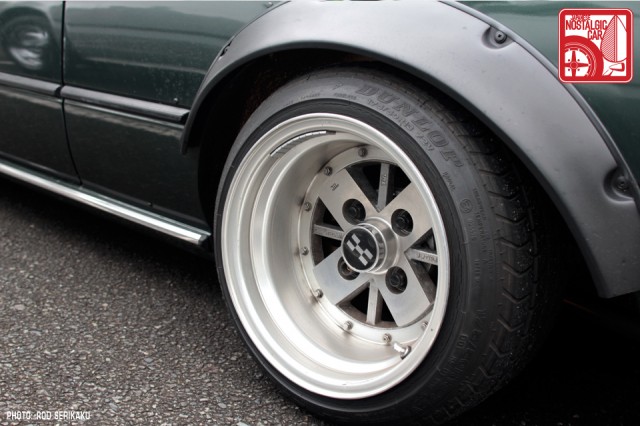 The barrels are an ultra-rare set of Checkman Racing Cossac-Gs. They bear a certain resemblance to the early one-piece TOSCO Rally or wider circuit wheels but with a flat face. In the late 60's and through the 70's Checkman racing accessories from seats, steering wheels, hood pins and sports carburettor kits could be found on many a racing car, going in hand in hand with Racing Mate. Checkman Racing's strong circuit and motorsport heritage fell out of favor in the late 1970s when more Hip designed and youth oriented accessories started to enter the marketplace. When the angular, ninja star wheel designs became all the rage, Checkman's brief foray into aluminum wheels came to an end.
In an effort to become more modern and stylish,  in the 80's Checkman revamped itself to CMR and re-established itself as a motorsports-oriented equipment company, one you'd see advertised in the Japanese equivalent of Grassroots Motorsports. They were popular among the more traditional motorsport oriented fraternity, such as circuit racing, rally, and gymkhana.
This "highway racer" Corona also sports the requisite aero fender mirrors that barely clear the opening hood. The popular ones were made by Napoleon, but by the shape these look like Vitalonis. The rear diffuser was a zokusha accessory popularized by Hiro Racing back in the day. Its interior sports early 70s style racing seats and steering wheel as well.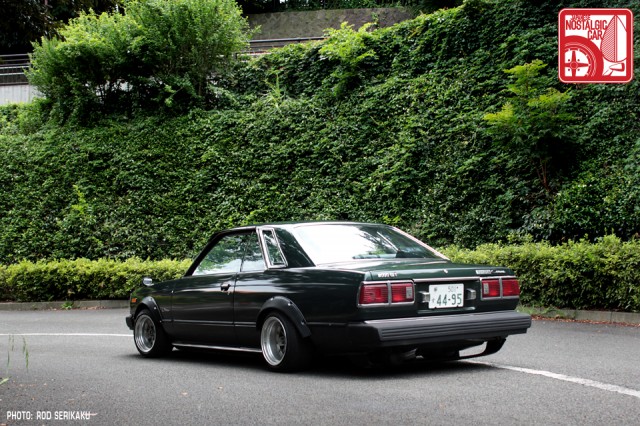 It's thin diameter upswept exhaust pipe is another essential nod to the Highway Racer look. Coupled with the obligatory bolt-on flares, this Corona is brilliant in it's concept and execution. Although the car is from a different tuning era, this bodystyle works really well with the earlier tuning style.
If the owner wanted something a little less costly than an older car, or wanted something different (and rare!) he sure nailed it. All in all, this Corona is a very well done, clever and tasteful representation of an early 70's street car, or Highway Racer, even though it's a more modern car. A lot of ideas can be gleaned from this car and applied to newer nostalgics. For those serious about Japanese car culture, this is your template.
For more of the Mooneyes Mania Cruise's Bluebird-Corona Day, check out Part 01 and Part 02.
Photos by Rod Serikaku. You can see more of his work at AutoNGraphic.