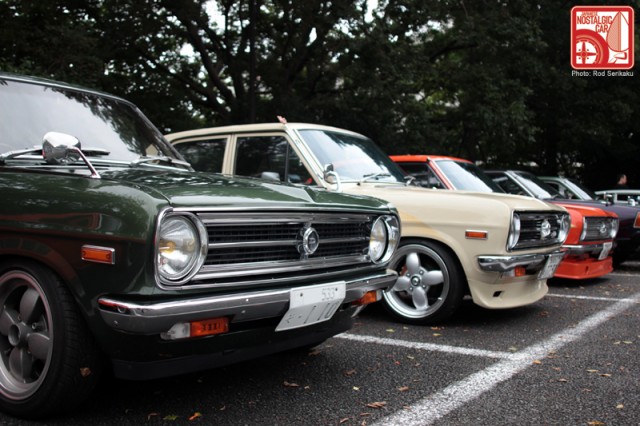 Though the Mooneyes Mania Cruise's Bluebird-Corona Day started out with rain, the Sunnys did come out. However throughout the day echoes of an ancient war between Japan's two largest industrial giants would play out.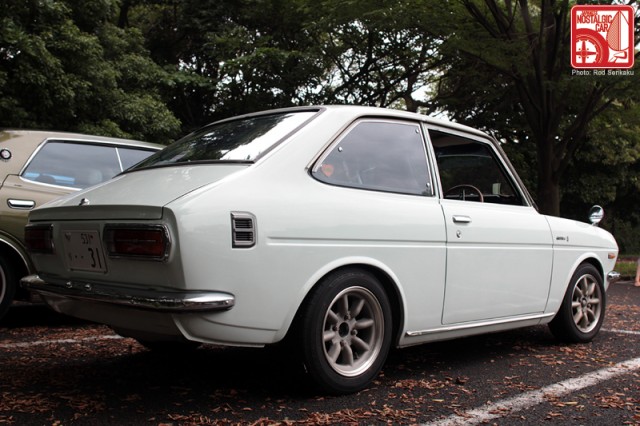 At the dawn of the Expressway Age, Nissan and Toyota were locked in an fierce arms race for customers just starting to outgrow their kei cars. Toyota launched the first salvo with the Publica 700, prompting Nissan to respond with the a new model, the larger (and more powerful) Sunny.
Toyota shot back by making the second-gen KP31 Publica even larger (and more powerful). You don't really see any modified first-gen Publicas, but you can bet this isn't the only P30 with staggered Wats out there.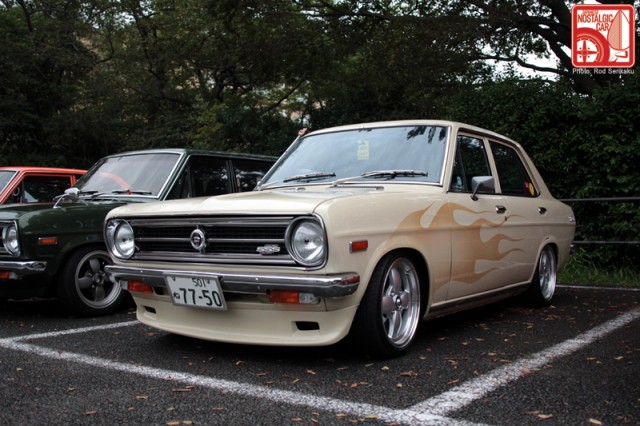 The next-gen Sunny would grow even larger (and more powerful), and the B110 chassis would become one of the most popular tuning platforms in the nostalgic car kingdom. We saw this VTO-shod car not long ago at the Mooneyes Street Car Nationals.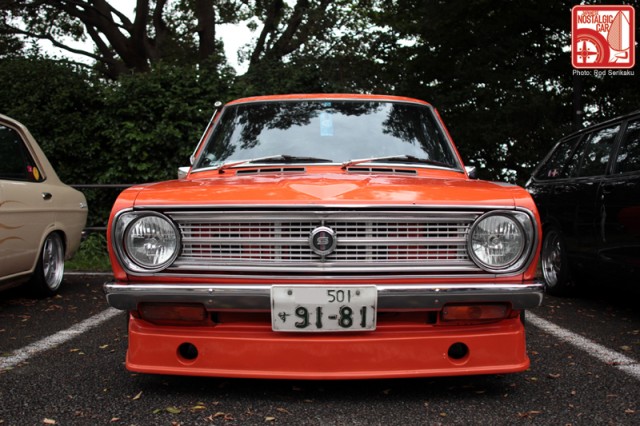 Some of these guys are loyal supporters and have been coming to Mooneyes events for years. Aftermarket parts like this TS Cup style air dam are a testament to the B110's sporting nature.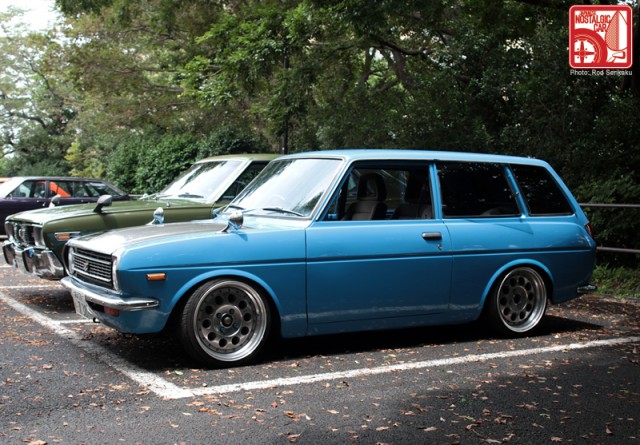 Instead of making the Publica even larger, Toyota just came out with a new model, the Corolla, to contend with Nissan's Sunny and transitioned the Publica to the Starlet model name. This sexy KP37V Publica Van was the longroof version of the white one above.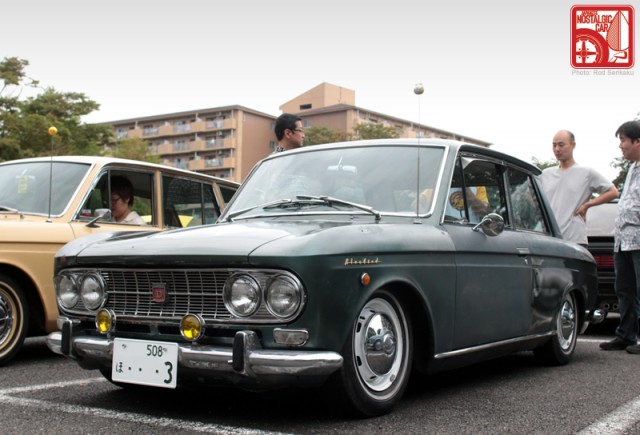 The entry-level segments weren't even the forefront of the arms race. The real battle took place in the upper echelons, between the Bluebird and Corona. In fact, the sales battle got so heated that the era became known as that of the BC Wars.
For most of the 60s Bluebirds of the 110, 210 and 310 variety were consistently trumping the Corona T10 and T20. However, when the 410 came about the Italian lines of its Pininfarina-commissioned body didn't sit well with the Japanese public and sales took a hit. Perhaps if Nissan had given them accoutrements like yellow fog lights and window visors and low-down suspension, things would've been different.
That's when Toyota swooped in with the T40 barikan Corona. Its sleek styling was a home run and the Corona became a mainstay of the Toyota stable until 2001. Toyota won that particular battle, but Nissan struck back with its seminal Bluebird 510 and, if the long view of history is taken, became the overall victor in the great BC Wars.
In case you missed it here's Part 01 of our Mooneyes Mania Cruise Bluebird-Corona Day coverage.
Photos by Rod Serikaku. You can see more of his work at AutoNGraphic.