It's impossible for me to pick a favorite nostalgic, but if I had a tanto against my finger I'd probably yell out "Toyota Crown!" at the last minute. Show me photos of the annual Mooneyes Crown Picnic and you might as well siphon the drool directly from my salivary glands. 

Mooneyes held the first Crown Picnic in 1990, meaning it's been going strong for 20 years! As with past years, the gathering took place at Mooneyes HQ in Honmoku, Yokohama.

Even with two decades under its belt that's no match for the Crown itself. The model name has been in continuous use since 1955.

The S30 Toyopet Crown ushered in the first generation of Crowns. Due to their suicide doors, they're known as the kannon Crown, named after the double door Buddhist shrines that used to adorn Japanese homes. We've loved this mint green one ever since laying eyes upon it at the 2007 New Year Meeting.

On Halloween JNC readers debated what the Angel of Death might drive and bert suggested a slammed black Toyopet Crown. So basically, the Grim Reaper lives in Yokohama. If someone were to build a sinister sled like this in the US, "Kannon Ball" would be the perfect name.

Regular readers know that I harbor an irrational desire to become one, like Turbo Teen, with any vintage Japanese wagon I see. But can you really argue with that logic when gazing upon something as gorgeous as this S40 Crown Wagon?

Yet if there's anything I covet more than Crown wagon, it's a Crown pickup. This dropped S50 Crown Pickup on SpeedMaster wheels is cooler than Pluto in winter. Worst of all, we didn't get any open-backs stateside.

Then again, a jet black S50 Crown Sedan, also on SpeedMasters, is pretty darned awesome too. Decisions, decisions.

Black flatness + white walls = pure evil.

I would even sell my soul to have a simple, classic, white one, with or without fender mirrors. Even with stock wheels, all it needs is a proper dump to make my heart go pitter-patter.

But then I see the wagons…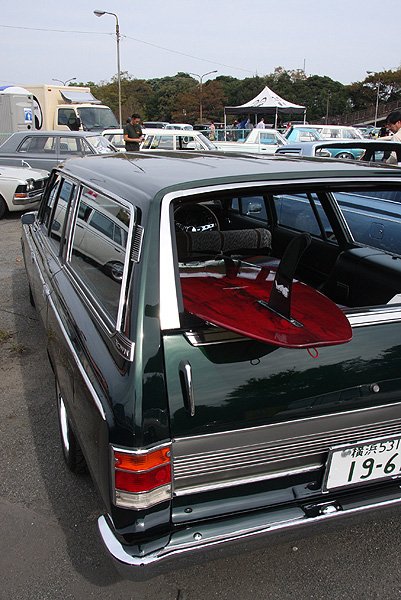 Coolest feature: The rear window rolls down into the tailgate. It's an exhaust vacuum but brain cells are a small price to pay for a ride this cool.

The MS51 Crown Hardtop Coupe was considered high-end stuff at the time, and is the rarest body styles for this generation.

It's too bad they didn't come with quad round headlights, but rectangular ones were considered more sophisticated and thus more befitting of a luxury coupe. I'm torn like wrapping paper on Christmas morning.

Devoted toyotaku will know that kujira, the nickname given to the S60 Crowns, means "baleen whale" in Japanese, which is what the car's terraced front end reminded them of.

The kujiras are the newest generations allowed through the gates at the Crown Picnic. Mooneyes does it strictly old school. Look at those gorgeous behinds. That does, it. I'm calling it for the kujira before my pinky bites the dust.

As if it wasn't hard enough to find a set of nice wheels. Crowns add another layer of difficulty by having five-lugs. But painted steelies never hurt anyone, and we'd probably go with a rebanded set.

Just imagine gliding down Tokyo's elevated expressways in this beauty, all in a vaguely 1970s sepia-toned haze.

Someone alert Captain Ahab, because here's a great white whale.

Some people bring parts to sell at the picnic. I want that visor! For many more pics, click here. If this is somehow still not enough Crown madness for you, here are photos from Crown Picnic 2008.