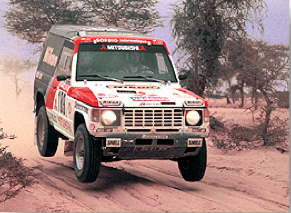 Another day, another cutback. As the worst ecomonic climate in decades hits the auto industry and everything connected to it, Mitsubishi announced today that they are ending participation of the Dakar Rally citing exactly that reason.
It's a shame, too, because the epic race, which started in 1979 as an off-road enduro stretching from Paris, France to Dakar, Senegal, was one of the most brutal motorsports competitions on earth. It tumbles through the harshest African sand dunes, and almost never finishes without claiming a life or two.
And Mitsubishi dominated. It won the race outright a total of 12 times and held an unbroken a record of seven straight victories from 2001 and 2007, a streak that would have likely continued if the 2008 running had not been canceled due to threats of terrorism. All of these championships were won with various generations of the Pajero (aka Montero) SUV, starting in 1985 with the one shown above.
So far we've already seen Subaru and Suzuki pull out of WRC and Honda leave Formula 1. Here's to hoping that the triple diamond mafia returns to Dakar domination once the economy recovers.
Full press release after the jump:
Mitsubishi Motors to withdraw from Dakar Rally

TOKYO, February 4, 2009 — Mitsubishi Motors Corporation (MMC) announced today their decision to withdraw from Cross Country Rallying, starting with the legendary Dakar Rally.

In its 26 entries in this event, Mitsubishi Motors won the rally a total of 12 times, including seven consecutive victories. In addition to this unparalleled record the company also gained 4WD technology that informs its production vehicles, most visible in their durability and off road performance.

The sudden deterioration of the global economy made it necessary for the company to focus its resources more tightly, leading to today's announcement.
[Mitsubishi]