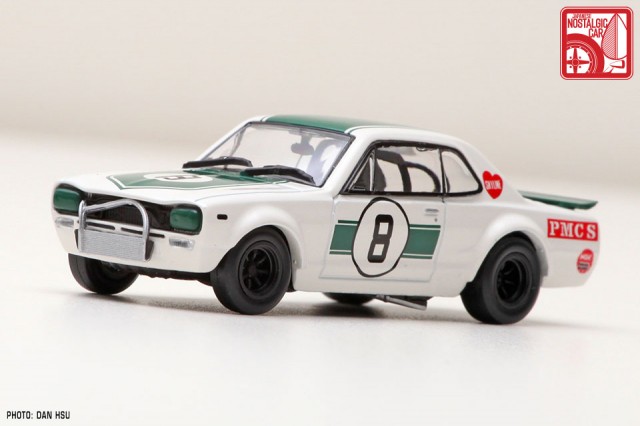 Before we get started, we're excited to announce that DaBox Toys has offered JNC readers a 7.5% discount if you purchase with the coupon code JNC2013. Now let's take a look at this week's minicar.
Most of you probably know Kyosho as the maker of plastic model kits and R/C cars, but since the early 2002 they've also been making some of the highest quality 1:64 scale diecast cars money can buy.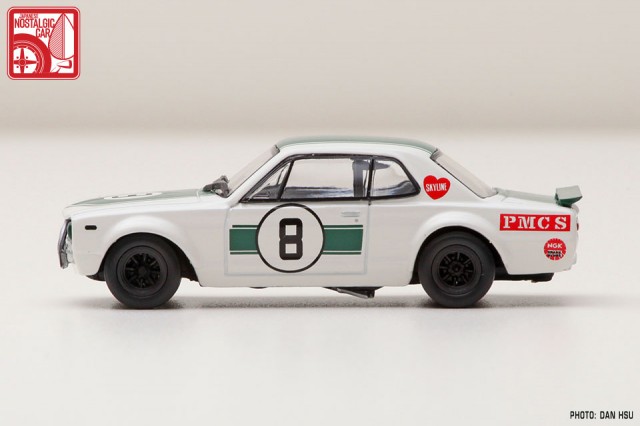 As much as we love the Tomica Limited Vintage cars we've featured in past installments, the main problem is their rule of never making a model that already exists in the regular line. And since there's already a regular KPGC10 Skyline GT-R Tomica, TLV will never make one in ultra-detailed form.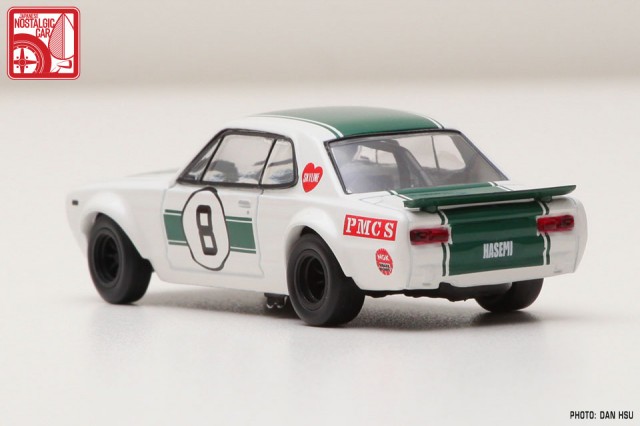 However, if your 1:64 scale garage is simply aching for a hyper-realistic hakosuka, this Kyosho's for you. The body itself is die-cast metal, and although the base is plastic don't let that deter you. The spoiler, roll cage, and taillights are all separately molded pieces. From the front, the headlight covers, external oil cooler and even the windshield wipers are individually molded. It even sports era-correct black Watanabes with old school balloon tires.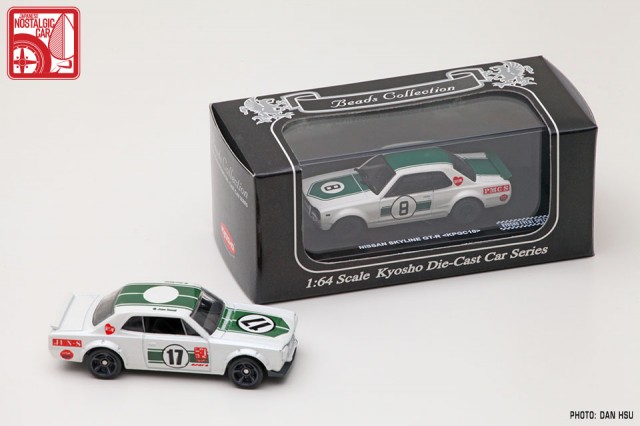 Masahiro Hasemi is one of Japan's most famous Nissan racers, and before he piloted the legendary Super Silhouette KDR30, he drove a KPGC10 Skyline GT-R just like this, (except 64 times bigger) in the Touring Sedan class at the 1971 Japan Grand Prix. It's one of our favorite Japanese racing cars of all time, and here's an image of it next to our beloved Hot Wheels version.
Like most adult collectables from Japan, the Kyosho comes at a price — in this case $13.99. However, it's hard to beat the level of detail, and like we said, Da Box Toys is offering JNC readers a 7.5% discount with the coupon code JNC2013 at checkout. Enjoy.