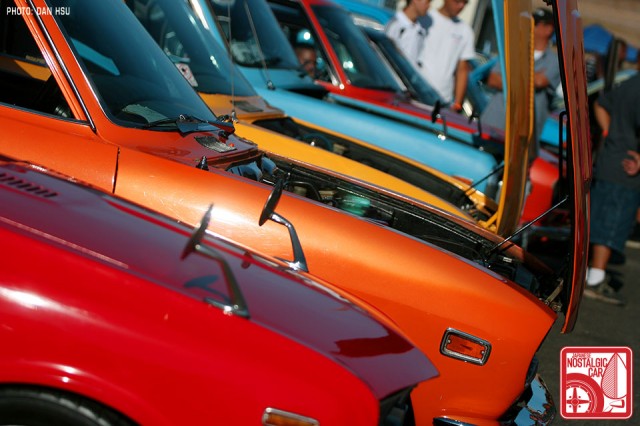 Mazda likes to brag that on any given weekend there are more of their cars on America's road-race circuits than any other marque. It's true that Mazdafarians love wringing their cars out, and MazFest has been one of the best events to offer them cheap track time. SevenStock, on the other hand, has been one of the premier rotary-themed car shows in the US for 15 years. For 2012, the two joined forces for one massive shindig.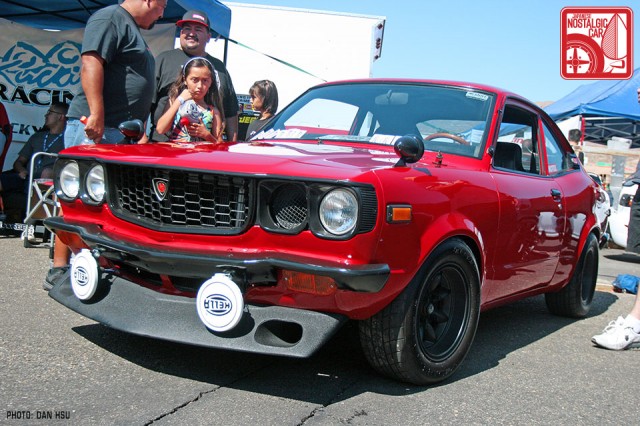 The joint affair brought out Mazdas both old and new, rotary- and piston-powered, from all over the western US. We saw this sinister RX-3 just two weeks ago at JCCS, but it was blocked by the Motul booth and we couldn't get a clear shot. We were glad to see it again and get a clean snap of it!
Like the legendary Woodstock music festival, SevenStock provided a wonderfully festive atmposphere, one exemplified by these guys and their brilliant homemade "Rotor Head" hats. Stylish and functional, it no doubt helped shade them from the 100 degree heat.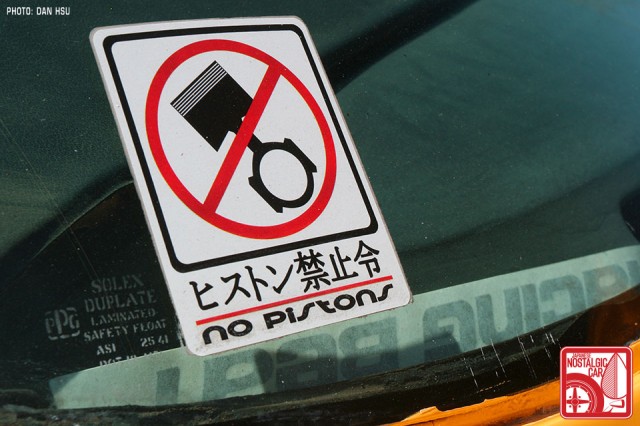 Naturally many of the rotary powered cars sported anti-piston propaganda.
A piston being terrorized by a shark-mouthed rotor? Now that's high art right there. Note the excellent plaid rear seats in this JDM Savanna RX-7.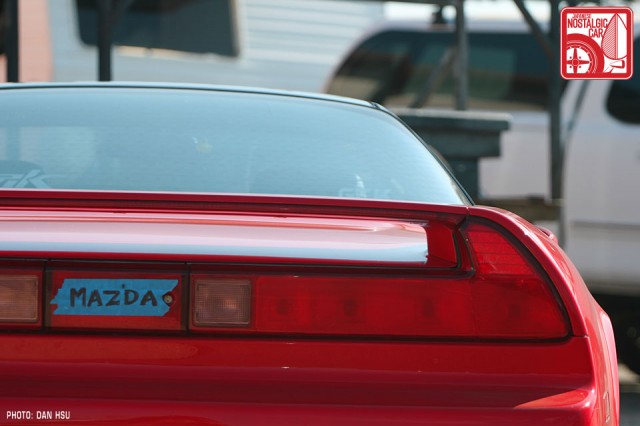 Even the mighty Acura NSX got into the spirit of things.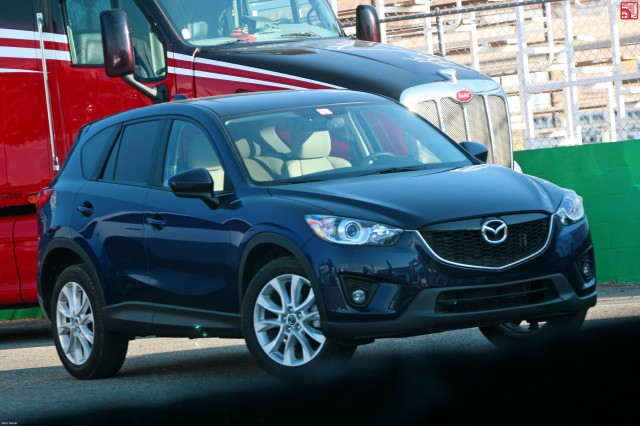 The festivities were held at Willow Springs International Raceway, about two hours north of Los Angeles. To bring all our gear we asked our friends at Mazda to for their latest stuff-hauler, the 2013 Mazda CX-5. We already thought it was a pretty sharp looker, but it also turned out to be the best handling SUVs we've ever driven. Once unloaded it was promptly displayed at the giant Mazda/Mothers Car Care trailer.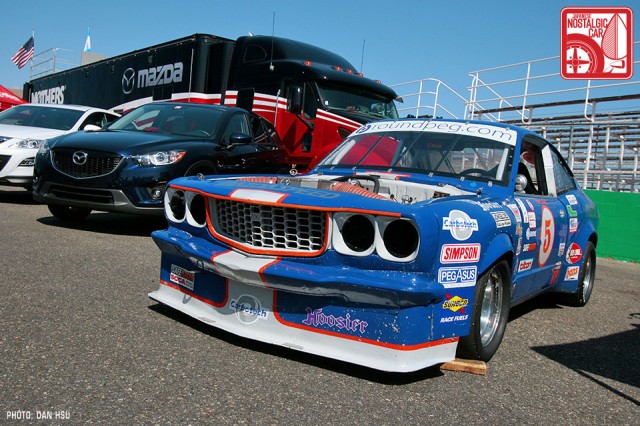 Our jaws dropped when Aaron Downey's incredible SCCA E-Production RX-3 race car pulled up beside us. This is probably the only remaining RX-3 that regularly sees road racing duty in the United States, at least in SCCA. His racing number is 5, a nod to Speed Racer.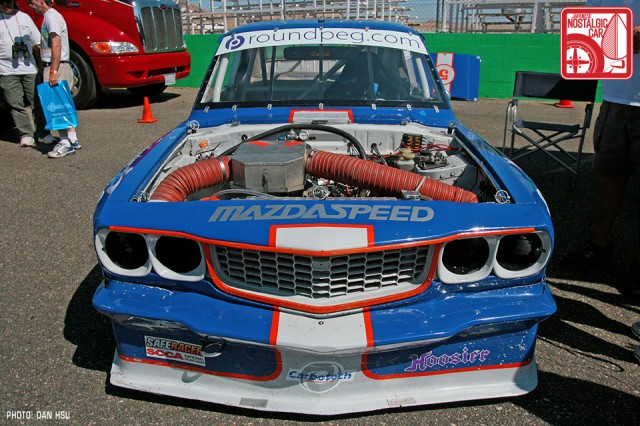 The engine is a 12A street ported by Jose Rodriguez of San Leandro and runs Weber 48mm IDA down draft carbs. There isn't any component that hasn't been lightened or modified for performance. Aaron's father Randy built the car and engineered the chassis, which still rear runs leaf springs but is full of clever tricks pushing the rulebooks to their limits. The amazing thing is Randy he doesn't drive the car, but he makes the car go like stink with his Bunta-level intuition.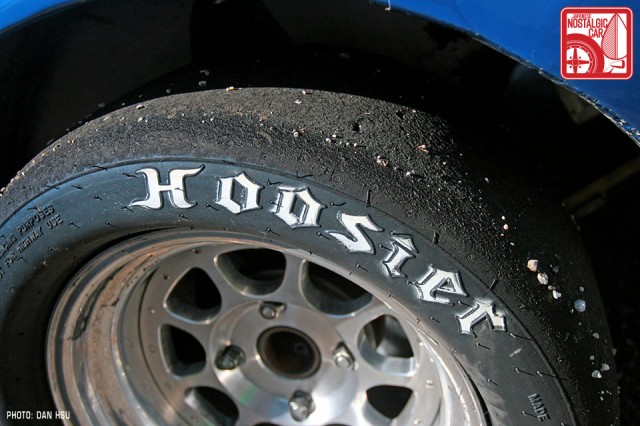 Aaron's the only one in his class running 13-inch wheels. It's the exact opposite of new-car trends, but the decision was made to give the car a lower center of gravity and reduce weight. Though the brakes have to be smaller behind those wheels, they still last because the car is lightweight enough.
Watch Downey put that low center of gravity to use at the 2011 SCCA Runoffs at Road America. Although Downey didn't win E-Production this year, the title still went to a Miata, beating out their cross-Honshu rival Nissan's Datsun 240Z.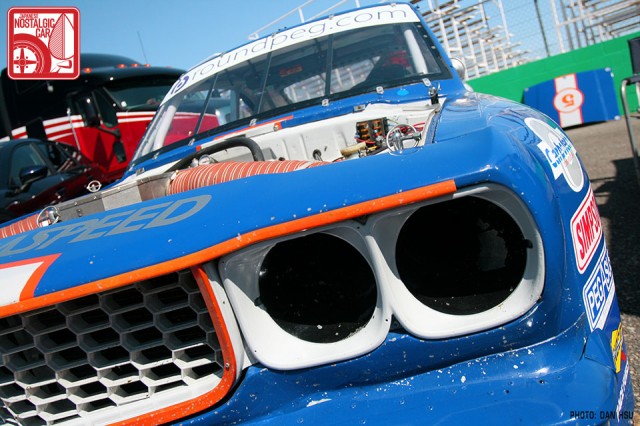 Amazingly, Downey's car sports some ultra-rare parts like an original metal "shark face" front end from the kouki RX-3s. There's an Australian outfit making fiberglass reproductions, but Downey even has the stainless steel trim U-shaped grille surround and eyebrows, albeit painted orange. Each one of these pieces is worth several hundred dollars alone.
A bit further down Mother's trailer row was a Mazdaspeed MX-5 prepped for the MX-5 Cup one-make race, showing exactly why Mazdas are so prevalent in road-racing.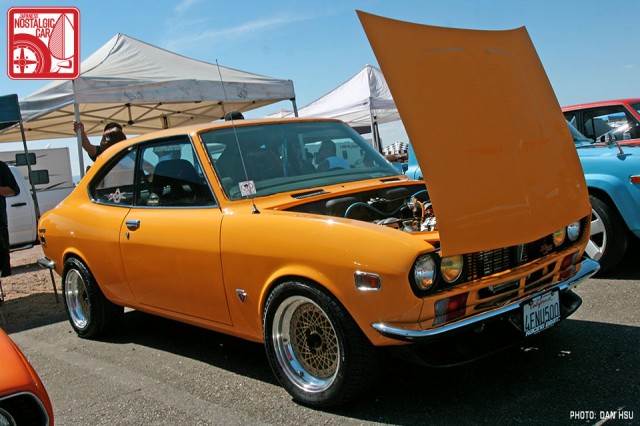 So apparently this RX-2 is part of a car crew called 2Evil. They were close to showing it at JCCS but alas, it wasn't meant to be. Two weeks later they were able to bring it out to this show, however, and it looks like they just need to put some finishing touches on it to make it a real looker.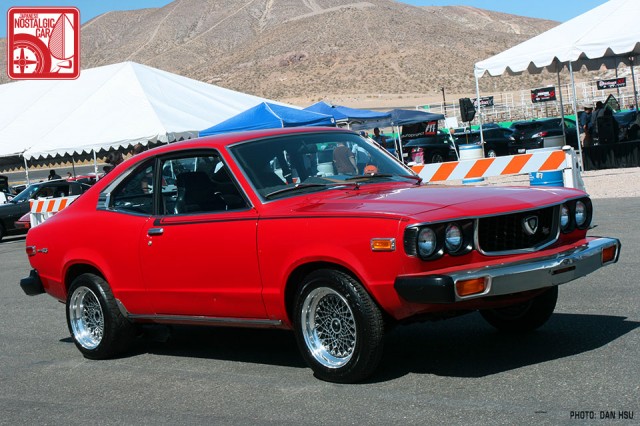 We first saw this beauty of an RX-3 at JCCS and briefly glimpsed a classic white Racing Beat air cleaner sitting on top of the engine. It belies what could be a very potent powerplant in a sleeper-stock (wheels aside) exterior, US-spec safety bumpers and all.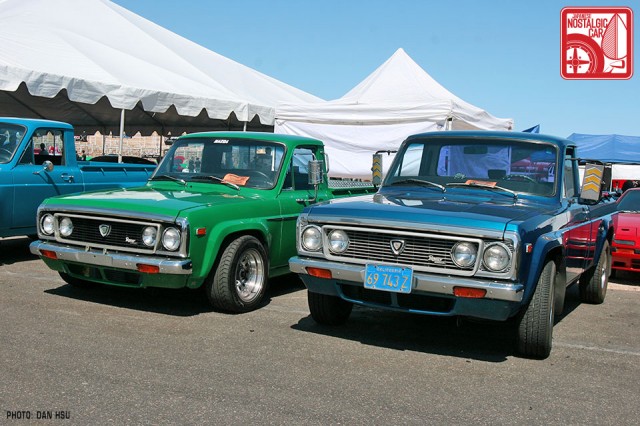 Across from the early RX cars was a gang of rare REPUs, and SevenStock is probably the only place in the world where you can see more than a couple of these at a time. The fact that they have a 13B power and look so strangely burly probably should have us re-thinking our coolest Japanese truck choice. Where else can you find a pickup with a rotary emblem embedded in the grille?
These weren't the only Wankel-motivated pickups present, however…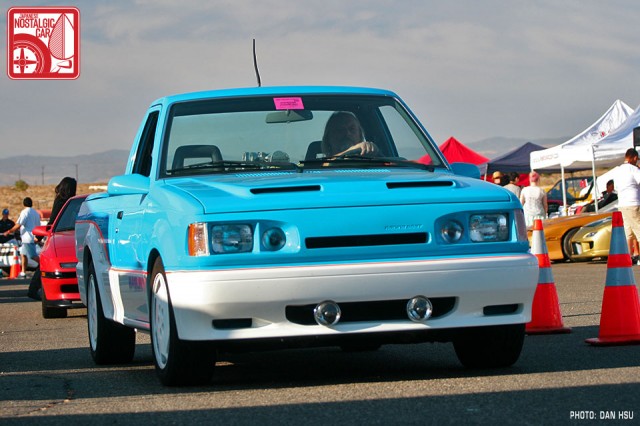 Allan Rodgers' owns the Racing Beat California Haulin', a 1989 Mazda B2000 pickup converted to a 13B turbo. The truck was featured in both Hot Rod and Truckin' magazines back in the day.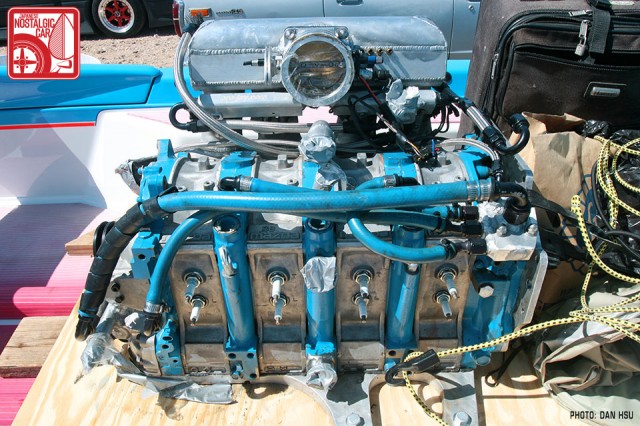 Allan had a little surprise in his 80s hot pink bed — a massive four-rotor engine ready to be dropped into a new project. He was still undecided as to what car he should install this monster in. We nominated an RX-4, a large chassis that's still smog exempt. What do you think? Tell Mr. Rodgers your ideas in the comments below.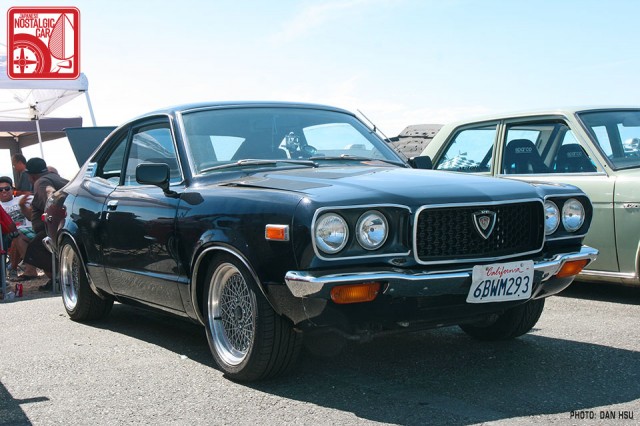 One of our favorite cars at the show was an understated "pig face" RX-3. Old school rotarians often go for retina-searing hues, but here's solid proof that everything looks good in black and simple Epsilons.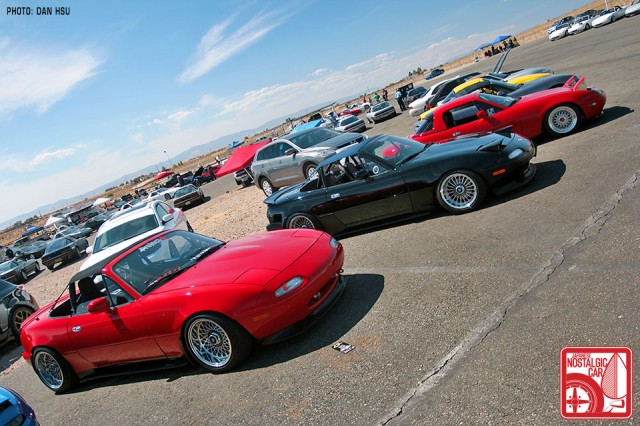 Who says Miatas are girly? The Project-G crew was rocking some seriously stanced NAs, some of them coming from as far as Las Vegas. I wasn't familiar with Project-G until this show, but apparently they make some sharp aero pieces for Miatas. This is a good thing, because in two years the NA will cross the 25-year-old Nostalgic Threshold and there may be a JNC team member adding one to his garage.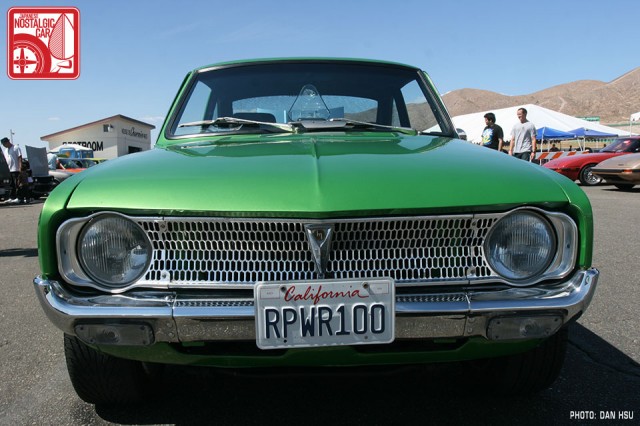 The Familia line has yielded some of Mazda's most sought after cult classics. After the rare and expensive Cosmo Sport, the Mazda Familia Rotary Coupe — or R100 as it was known in the rest of the world — brought Wankels to the masses. Its light weight was great for performance, but also meant that many were built and destroyed for drag racing.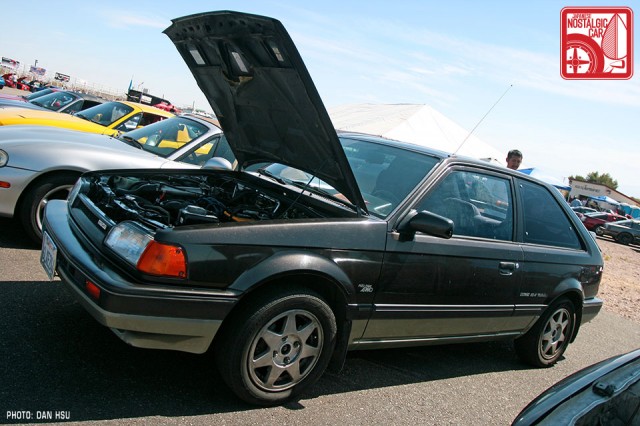 In the late 80s Mazda homologated the Familia economy hatchback into a limited run of the 323 GTX. A decade before the US saw the Evo or WRX, here was a street legal rally car boasting AWD and a 132hp turbocharged 16-valve twin-cam four. It's estimated that only 1,200 were sold in the US, making them not only a barrel of steaming fun but extremely rare to boot.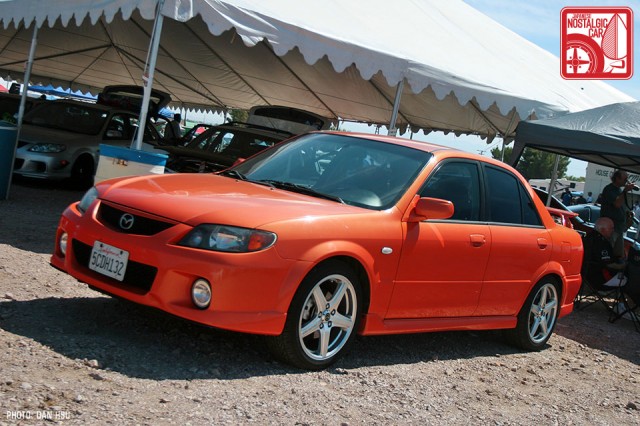 By 2003 the US-market 323 had become the Protege, but in Japan it was still called the Familia. A very limited Mazdaspeed Protege was released that year, equipped with a 170hp turbocharged engine, a Racing Beat-tuned suspension and 17-inch Racing Hart wheels standard. Also, it came in one of those retina-searing colors — this one's called Spicy Orange.
Let's cool our eyeballs by gazing upon a beautiful silver-blue RX-2 on classic Enkei 92s. The color and the light combined just so to accentuate that lovely rear haunch and character line.
This well patina-ed RX-2 sedan was considerably less lustrous than the coupe above, but it looked like a newly rescued addition to the R-Power crew. Hopefully it'll brap again once they're done reviving it.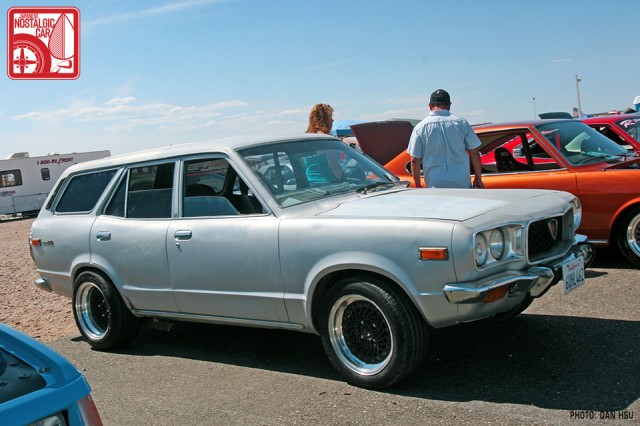 This RX-3 wagon was another example of a well-worn Wankel that has found its way into the hands of an enthusiast. We look forward to following the progress of these cars as they're restored to their former glory.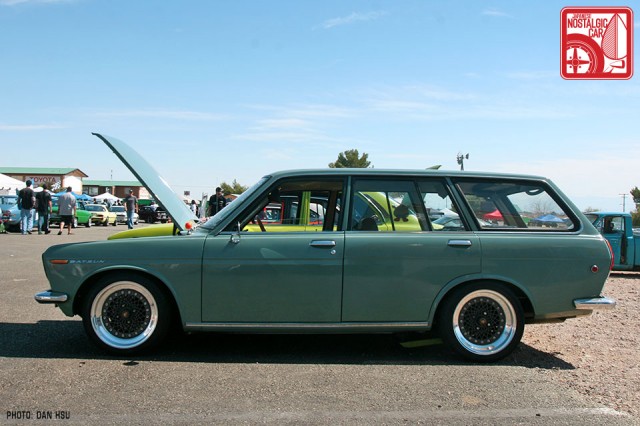 This may look like a 510, but it's another one of the many Datsuns converted to 13B-power. Blasphemy to some, perhaps, but it does not violate Roper's Rule of Three.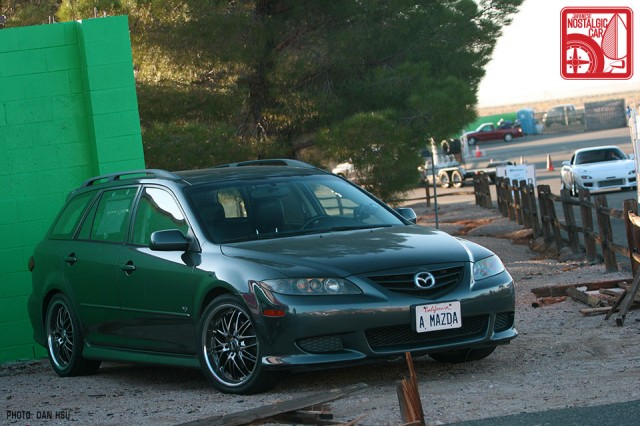 Mazda has always found a way to make their wagons sexy, in many cases better looking that the sedans they're based on. The Mazda 6 is no exception, and it's a pity they've stopped importing them. Have you seen the new one? Demand that Mazda bring it here immediately!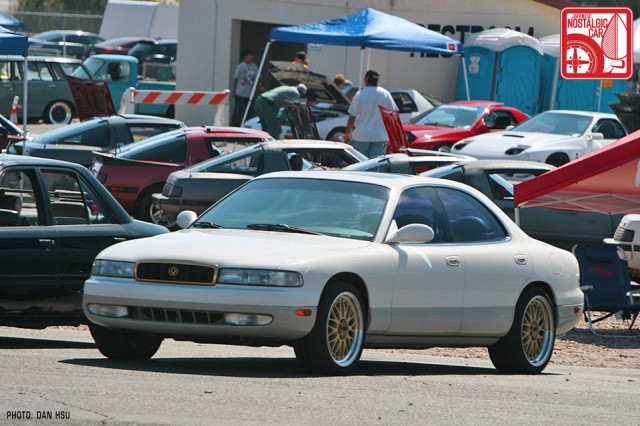 Last but not least, the HD-chassis Mazda 929 is a prime example of the new-and-pistoned cars never seen at previous SevenStocks. The big, RWD V6 sedan is rare these days and seems ripe for a road-less-traveled VIP treatment. You can tell instantly this luxo-challenge to Infiniti, Lexus and Acura hails from the 90s thanks to its "gold package" grille.
We'll get to all those glorious RX-7s behind it in our upcoming MazFest/SevenStock coverage, but for more photos now check out the gallery below.
Special thanks to Kelvin Hiraishi of Mazda USA.