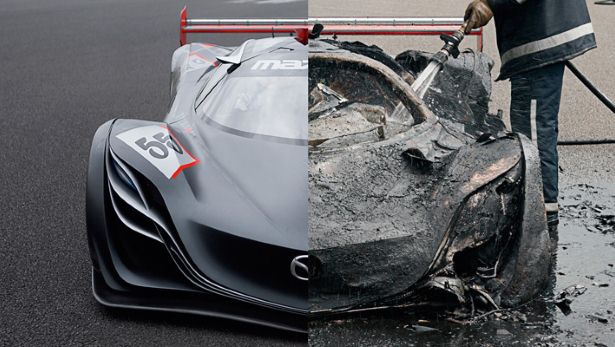 The Mazda Furai is (correction: was) one of the greatest concept cars ever built. After debuting in 2007 it was everywhere. Then it was nowhere, making zero public appearances when the car's very reason for existence was to make public appearances for Mazda. Now the cause for its sudden disappearance has been revealed by the news outlet that destroyed it. UPDATE below.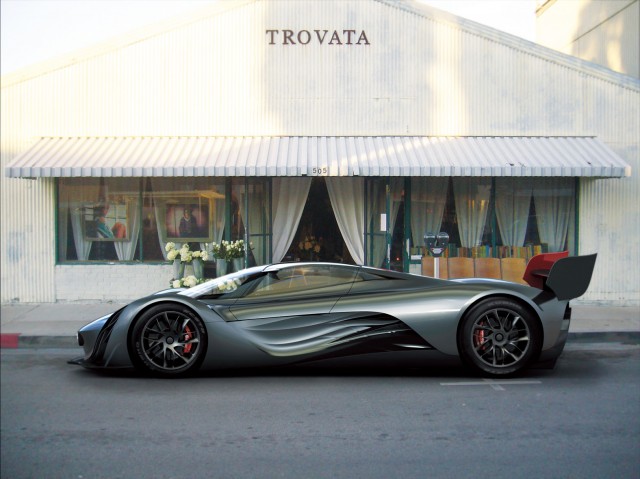 In a teaser for their upcoming 20th anniversary issue Top Gear published today the sad before/after image and the following quote:
The 20th anniversary collectors' edition of BBC Top Gear magazine… reveals a host of until-now untold secrets – including the truth behind the mysterious disappearance of Mazda's astonishing Furai concept (hint: it involves the East Anglia fire service).
In other words, they've ruined it.
We've been petulantly demanding our contacts at Mazda to let see the Furai for years now, and have always received sheepish answers. "I think it's in Japan," they lied, once. Now the truth is out. It apparently caught fire and burned to a crisp while Top Gear was driving it, and now Top Gear wants to sell magazines with the news:
Top Gear was present for the untimely demise in 2008 of the quite remarkable Mazda Furai Concept. Find out how (if that picture hasn't clued you in…) in our bumper anniversary issue.
Mazdafarians, it's time to pick up your pitchforks. Your bridge-ported, rotary-powered pitchforks. Hear the Furai's wail one last time in the video below.
UPDATE: The Top Gear issue in question has been released. Here's a summary of the full story.
Photos courtesy of Mazda.