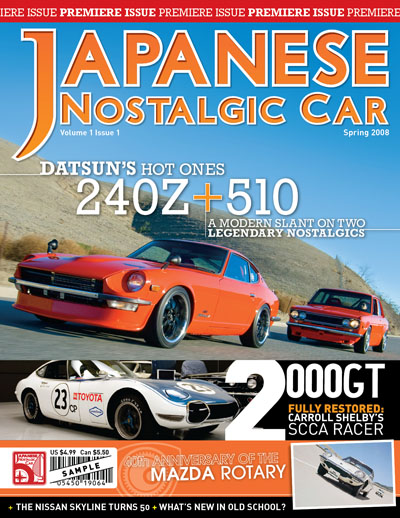 More news about the Japanese Nostalgic Car magazine subscription.
All content in the magazine will be new and unique, not reprints of articles on the website.
The only way to get JNC is to subscribe. It won't be available on newsstands just yet. If we went into detail about how difficult it is to get an unheard-of title onto the shelf at your local bookstore, your head would probably explode. Ours did, and it hurts! If you're interested in seeing it there, please ask them to carry it!
We've extended subscriptions to 4 (four) quarterly issues for the same low price of $9.99, or 50% off the cover price! If you've already subscribed, don't worry – we'll automatically give you the extra issue at no cost and you don't even have to lift a finger.
International subscriptions are now open! Sorry for the increase in price, but it's all due to shipping costs. We think it'll still be worth your while, though!
JNC will be a collectible, high-quality publication designed for your library. It's printed on thick, glossy paper that's made to last.
And as always, thank you for your support! We would not be here without it, so please help us spread the word. The time has come for a magazine about Japanese Nostalgic Cars!  Subscribe here.