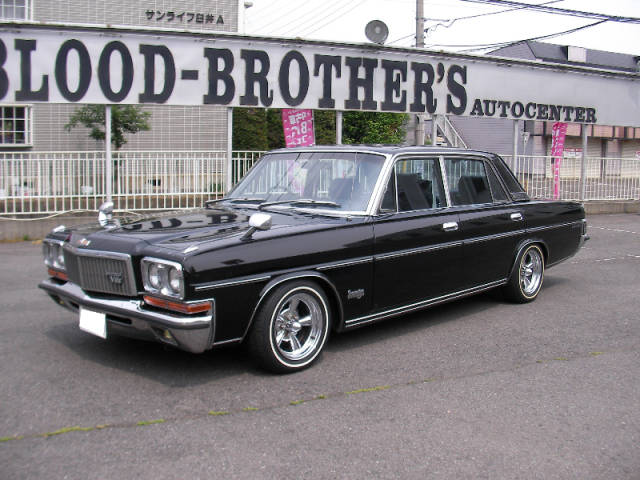 From 1965, if you wanted the very pimpest and plushest the Nissan empire had to offer, then you'd go to your friendly neighbourhood dealer and plunk down a not-trivial six million yen for a President. The Royal Family may have rolled in a Prince Royal, but the Prime Minister was wafted around in a Nissan President. Rather inexplicably, the H250 series President remained in production from 1972 until 1990, whereupon it was replaced by the first Infiniti Q45 (which was called Nissan President in Japan).   
The Q45 must have been like a spaceship in comparison to the old H250, which by 1990 had swelled to 1990kg, and motivated by a 200hp pushrod V8 displacing 4.4L.  At the time, this compared quite favourably with the slightly cheaper Toyota Century, which could only muster 165hp from its four-litre bent eight.
But (if you live in Australia, anyway) you can now have a piece of all this automotive majesty for a reasonable price, because an H250 President is now available on eBay.
The ad says that the Prez was one of a small handful imported into Australia, possibly as a consular vehicle for the Japanese embassy.  And more importantly, it looks very complete.  The only possible deal-breaker seems to be that it needs front glass, but hey, you never know what Nissan Japan has stashed away in its inventory, and after all, they made the damn thing for almost 20 years!
The car is up for auction with a starting bid of $500, and no-reserve. Am I alone in thinking that this car is only a coat of paint and a set of Mooneyes Speedmasters, from greatness?
Fun Facts:  in 1971, the Pres was the first JDM car to come with ABS (a rear-axle only setup) and donated its Sumitomo-made 4-piston brake calipers to the factory Hakosuka and Zed race cars of the early 70s.