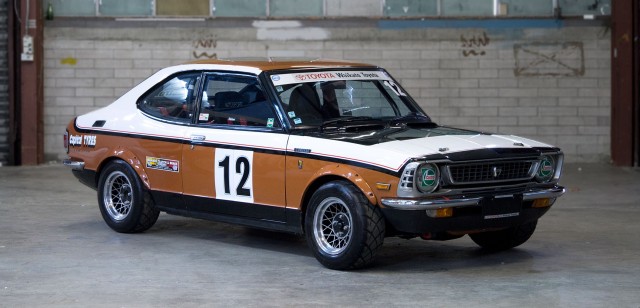 Here's something we wish we saw more of in the States — a vintage Japanese race car with well-documented motorsports provenance. According to the auction, this TE27 Toyota Corolla Levin is one of three imported to New Zealand in 1973 to compete in the Heatway Rally. It had old school work done to its valvetrain and bottom end and seems to have retained many of its period mods, like twin 45 Dellorto carbs. And since it came directly from Japan, that motor is a 2T-G. 
The auction lists a bunch of impressive sounding events — "1st New Zealand Historic Saloon Class Final national race meeting at Baypark Raceway, April 1975 Race 21, Intermarque Classics, 1st place of 20 cars" — but we have no clue as to their significance. Any kiwis care to enlighten? The car underwent a four-year restoration in 1989 and seems to have been thoroughly documented by various New Zealand historic and motorsports clubs.
Coupled with the the Aussie 1968 Toyota 1600GT that we fell in love with earlier this year, we are reminded that the US sorely lacks respect for cars like this. Few appear to have been restored, kept or documented. Even one of the original 1979 IMSA RX-7s — which kicked off one of the longest streaks of victory in US road race history — is reportedly decaying in a shed somewhere.
The auction house expects to fetch AUD $38,000 to $48,000 for this car (USD $39,000 to $50,000). The auction will be held October 19 and the Lot Number is 89.
Hat tip to Terry Y.