The Yayoi "sakura" wheel has long been considered the holy grail of vintage Japanese barrels. Now, a never-used ultra-deep set can be yours for the low, low price of — pinky to mouth — one million yen ($10,000 USD). 
A seller on Yahoo Japan Auctions has a set of staggered cherry blossoms in the common RWD Toyota and Nissan 4 x 114.3 lug pattern. Normally, 14 x 10 -36 offset fronts would be crazy deep already, but in this case they are absolutely dwarfed by 14 x 12 -61 rears.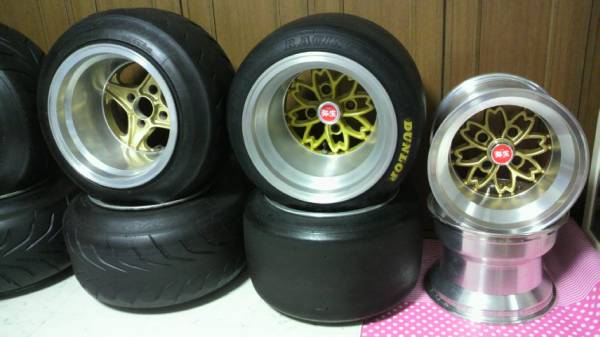 The rears even come with a set of old school Dunlop racing slicks already stretch mounted. Should you be too impatient for the six days till the end of the auction or if you'd rather secure your purchase before some pompadour'ed bosozoku swoops you, you can buy it now for a mere $12,000.
via Hightopfade.