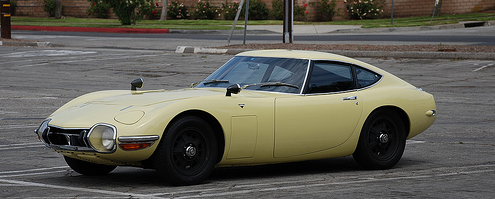 Hang on to your organs. This one might cost a kidney, lung and an eyeball or two. You all know the rarity of the Toyota 2000GT, but here is one of 62 originally sold in the US. What's more, Bellatrix Yellow is not only one of the prettiest 2000GT colors, but one of the rarest as well. According to the seller, who purchased it from a Japanese collector that had brought the US-sold LHD car to Japan years ago, it's immaculate in every way. Asking price? $375,000. For those who keep track of such things, the serial number is MF10-10147. Find it on BringATrailer.com.
In 1999, we saw a Bellatrix Yellow car on eBay (possibly the same one?). We contacted the seller, who told us the reserve was a cool $150,000. Alas, it appears we've missed our chance to get one at a bargain price. Stupid concern for internal organs.
Hat tip to Erik L. and grndfx.