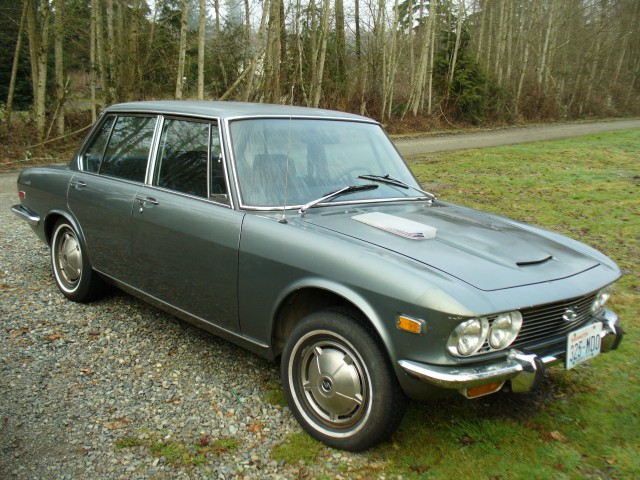 A number of alert readers informed us of this ultra-rare 1972 Mazda 1800 sedan over the weekend. For those well versed in JDM Hiroshima steel will recognize this as the pre-rotary Mazda Luce, one generation before the 13B made it the RX-4. UPDATE: More photos and info from the owner below. 
This competitor to the Nissan Cedric and Toyota Corona Mark II was designed at Bertone by a young Giorgetto Giugiaro. Giugiaro would go on to pen the 1960 BMW 2000CS, which practically defined the Bavarian automaker's style until the 1990s. You can see some 2000CS in the Luce, especially in the C-pillar.
As the name implies, it's powered by the later 1.8 liter four-cylinder engine, which succeeded the Luce's original 1.5 unit. Additional cooling for the 1.8 mandated the vents on the hood, which many purists felt did an injustice to its lines. According to Wackypedia, this is one of 100 1972 models and one of 2,178 total sold in the US from 1970-72 (and an additional 2,576 wagons sold from 1970-71).
It appears to be in excellently kept and very complete. Find it on Craigslist in Maple Valley, Washington for the low, low price of $4000.
UPDATE: Straight from the owner, Gordon's, keyboard:
No one has ever smoked in the car, the interior is in new condition with the only thing being that the woman that owned before me wore high heals and tore up the driver side carpet no one ever sat in the back seat untill 2000 when I purchased the car and only my grandson has been in the back seat, no adults and no car seats.

The car has looks of options and i have the original window sticker, jack, owners manual, spare tire, wheel blocks, etc if there is enough interest I could send a copy of the window sticker also.