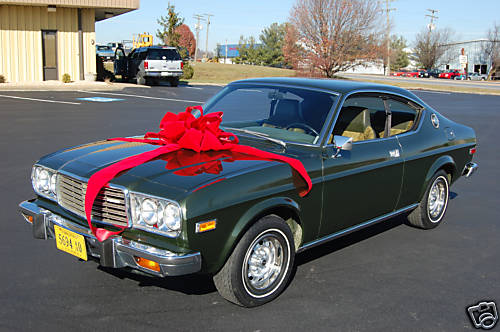 If the story accompanying this auction is to be believed, this could be the lowest mileage Mazda RX-4 in the country. It appears that the prospective customer, way back when this baby was new in 1976, got into a bit of a kerfuffle with the dealer. He refused to fork over the balance, thinking the dealer was cheating him out of something larger and two more doors. The dealer insisted that the man had agreed to buy it already. In limbo, the car sat in the dealer's storage until, as the listing subtly puts it, "THEN HE DIED!" Unquote.
A doctor purchased it in the subsequent estate sale and registered it for the first time in 1999. And now this car, whose velour has yet to be crushed, can be yours for an opening bid of $9,500, while the BuyItNow reveals what the seller's heart truly desires – $18,500. Wow. For that price, you get full documentation, of which there is not much due to the low mileage, and a cheesy red bow. What do you guys think, is it worth it?
Click through for more pics.
[eBay]