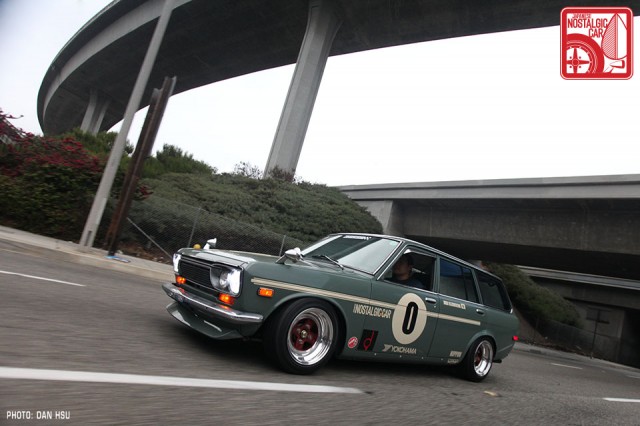 We see a lot of cars here at JNC. A lot. Every so often, however, there's that one singular car that comes along and truly blows our feeble minds. Jun Imai's 1971 Datsun 510 Wagon is exactly one of those cars, and after its official debut at the 2012 Japanese Classic Car Show this year it became one of the most circulated photo subjects on the web. Here's why we love this shakotan sled.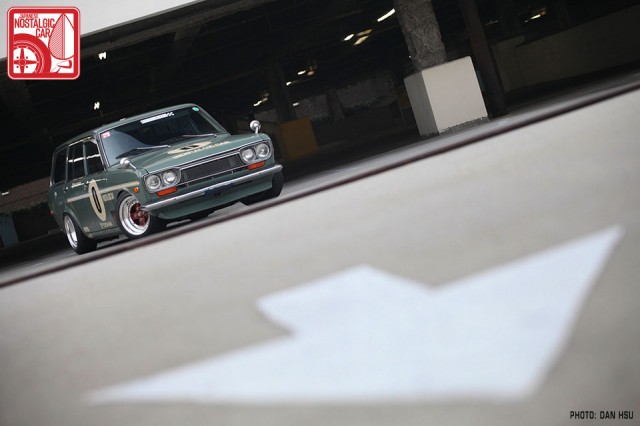 Even before its JCCS appearance, Jun's 510 was quietly gaining notoriety in various Datsun forums and at car meets around SoCal. But the car you see here probably looks a bit different from the one you saw before, and chances are it even looks a bit different than when you saw it at JCCS.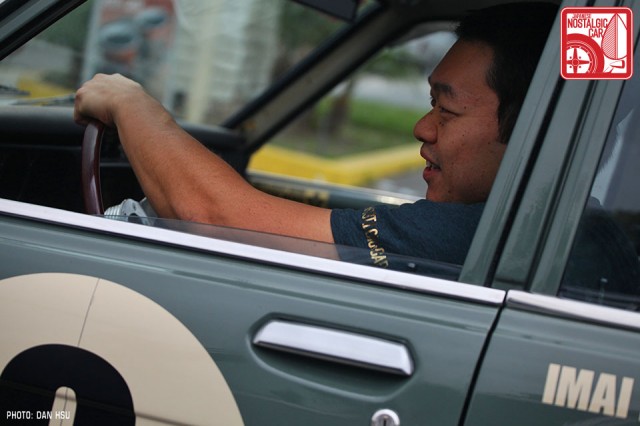 That's because Jun views cars as pieces of ever-changing performance art (pardon the pun), rather than precious works to be kept pure and pristine. At one point it resembled a Showa era delivery van, complete with kanji shop characters spelling out "Imai Co." on the door. At another, immediately after a paint job no less, Jun decided it wasn't shakotan enough and chopped the rear quarter panels (which necessitated a respray) to slam it and add an external oil cooler for a period zokusha vibe. In its current incarnation, the graphics were inspired by a combination of the Bluebird 1600 that won the East African Safari Rally and bosozoku styling elements.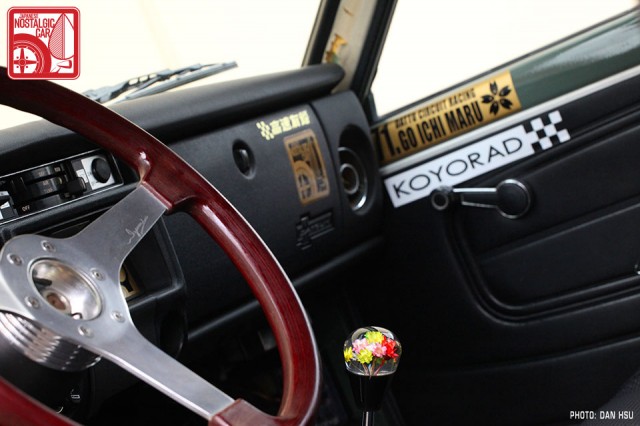 Throughout it all, however, one thing's remained constant — the car is a rolling tribute to its Nihon roots. Influenced by a combination of old Japan and his SoCal Buddhahead street racer uncles from back in the day, Jun says the goal of this car was to look like it was modified in the motherland and brought stateside.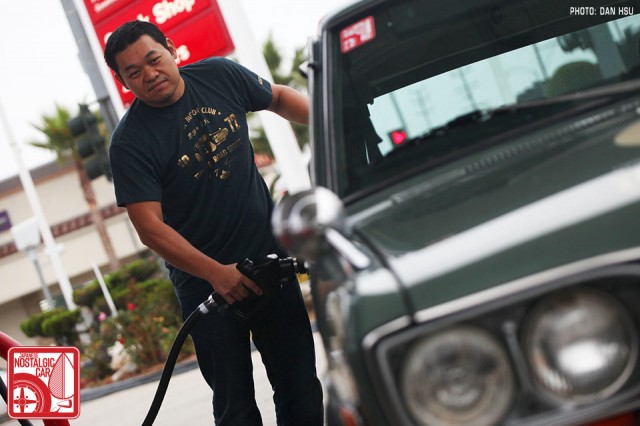 Our day began on a rare rainy Saturday near LAX. We were a bit apprehensive about asking Jun to bring his car out in the drizzle but to our pleasant surprise, he said, "No, I wish it would rain harder so we could get some spray coming off the tires. It would look more like Japan!"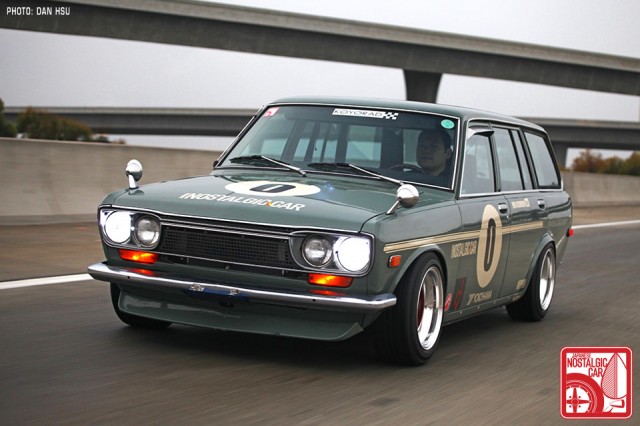 Though the weather never cooperated enough to get those rooster tails, Jun is definitely from the "cars are meant to be driven" school of thought. He wrings out the wagon pretty hard, which can be a dangerous proposition on California's pothole-laden Third World roads.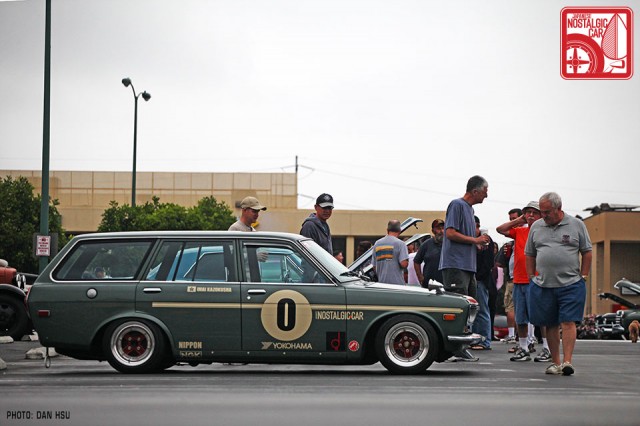 Just for fun, Jun took us to one of SoCal's many early morning car meets taking place in a shopping center parking lot. This one was full of Detroit iron, but when the wagon pulled in a crowd of oldsters promptly gathered. This is Cali, so most of them had probably seen modded 510s before, but we're guessing never one quite like this.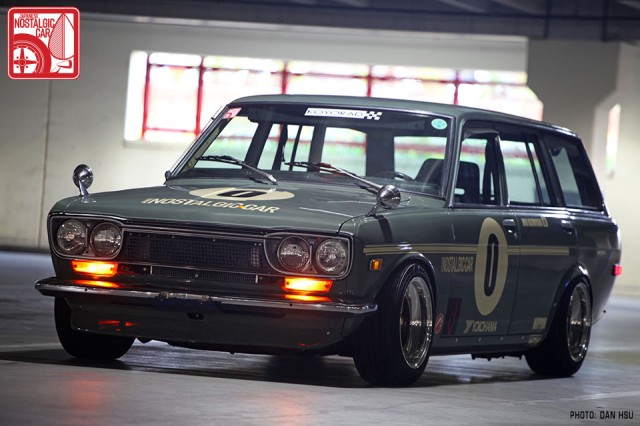 We'd have to agree. This is one eye-catching Bird of Blue. For whatever reason, most 510 owners tend to modify their rides in a pretty new-school fashion — large wheels, powerful modern engines, loud colors. What we really dig about Jun's is its nostalgic tuning style steeped in Nihon tradition.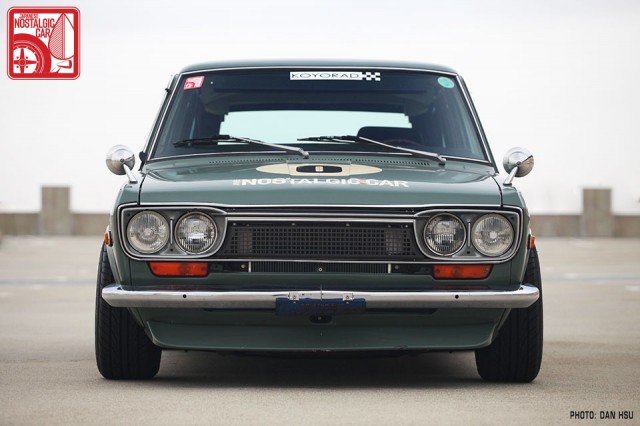 A lot of that comes from the car's shakotan stance. In the front, that's achieved with Ground Control coilovers and 280ZX struts mounted to Tein camber plates. The nose also benefits from a JDM Bluebird grille and SSS fender mirrors for that familiar-yet-different face. Old school Japanese cars often have a jutting air dam to complete the look, and this one was nabbed from a MkI VW Golf.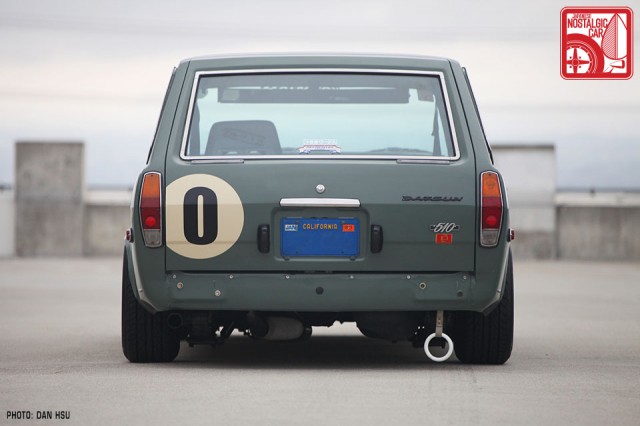 JDM taillights flank the rear and because this is a wagon, to get it low Jun had to put four-inch blocks on flattened leaf springs. Even so, most 510 wagon owners will tell you that it's impossible to get the rear this low due to a step in inner wheel that's stamped into the sheetmetal. Well, that's gone, and while he was at it, Jun also pulled the wheel arches up and out one inch and added fiberglass flares.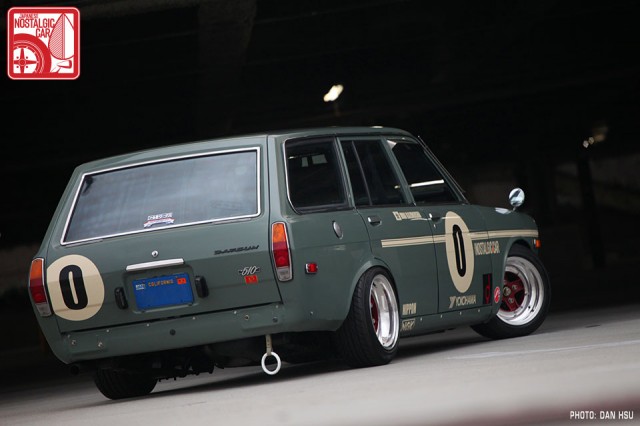 The result is an ultra-Japanese stance topped off by a set of impossibly shiny SSR MkIIs in 14×7.5 -5 front and 14×8.0 -13 rear. All four barrels are wrapped in 185/55 Yokohama S-Drives with a hippari stretch. And if that's not JDM enough for ya, even the tsurikawa is a genuine subway grip from a Japan Rail train.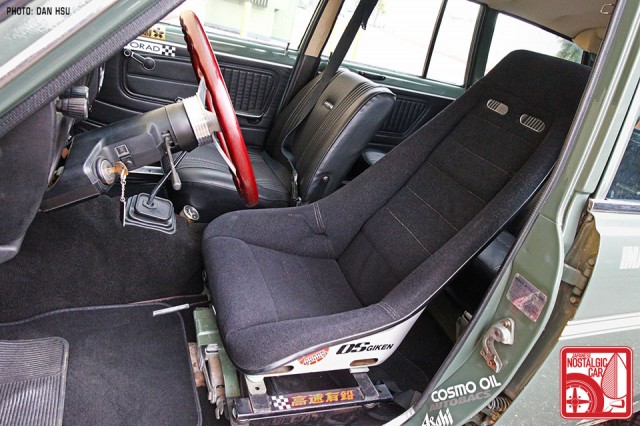 In order to slam this far, Jun even had to cut his driveshaft tunnel. You'd be hard pressed to tell though, as aside from the random 1970s bucket seat the interior is in fantastic condition for a 41-year-old car. In fact, that was the primary reason Jun bought this particular goon.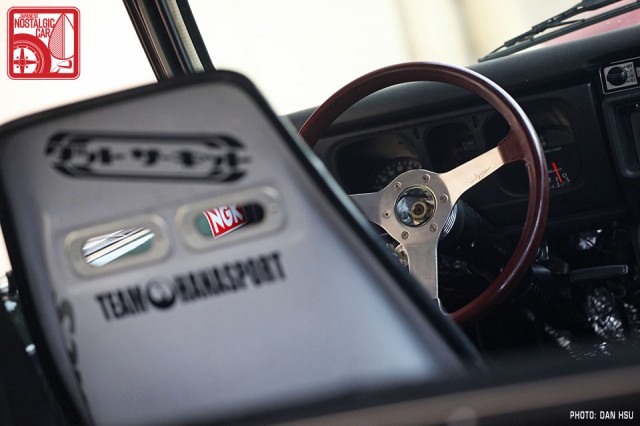 "The exterior looked like it had been parked in a golf course for 20 years," Jun says, "the rear quarter panel was smashed in and there was rust too, but the interior was perfect." That was the right call. It took him about three months of hammer and dolly work just to get it smooth enough for paint, but at least metal is malleable. Plastic and vinyl are near impossible to replace.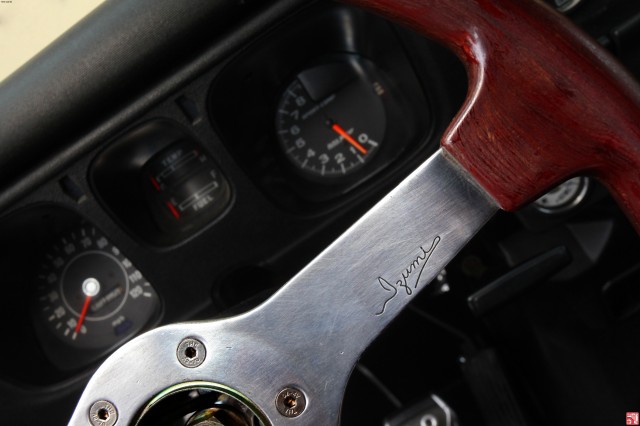 The steering wheel is an Izumi, a Japanese brand that makes OEM wheels for many of the big automakers. It saw stateside fame in the 80s when Carroll Shelby used them on some of the special edition cars he was building for Chrysler.
To top it all off in true zokusha fashion, Jun's shift knob is a suichuuka, Japanese for literally "flower in water" (sui = water, chuu = in, ka = flower).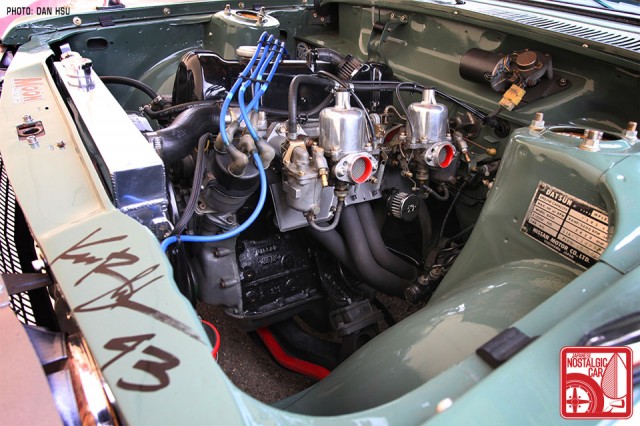 Most Datsun 510 nuts probably skipped straight to the motor section, but Jun's actually running a stock 1.6 with twin SU carbs. Other than a thorough cleaning and paint, Jun did nothing to the engine bay but install a prototype Koyorad radiator that'll be out on the market soon. We're not opposed to swaps, but there's something cool about the rawness of the old L16 that perfectly ties everything together on this particular car.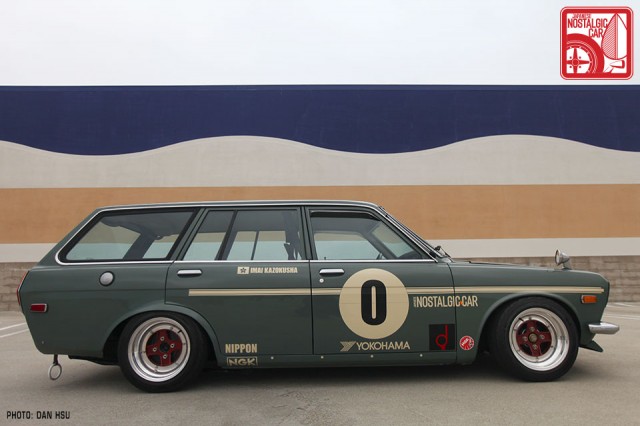 If you haven't figured it out by now, Jun is also the Hot Wheels designer extraordinaire responsible for all the nostalgic castings Mattel has been churning out in recent years, including favorites like the AE86 Corolla, Datsun 510, hakosuka and kenmeri Skylines, Mazda RX-7, Mad Manga, and the 1970 Toyota Celica.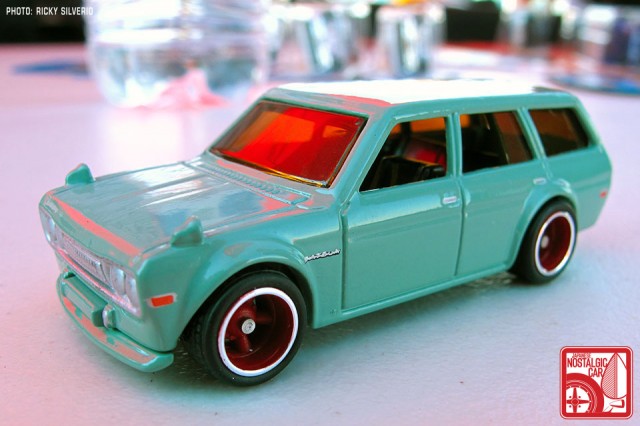 Back in September at JCCS, Jun was at our JNC booth autographing Hot Wheels for his many fans. He brought along a preview of the a Hot Wheels Datsun 510 wagon that is coming out in 2013. Look familiar?
We'd tell you to look for this car on the streets of SoCal, but it's quite likely that by the time you read this article the wagon will have evolved once again. Jun does all the work, even paint, at home, and each time it emerges from his garage things are a bit different. Jun's already inspired a generation of nostalgic car nuts thanks to his work creating 1:64 models at Mattel, but we think his 1:1 scale car can do the same, by bringing some Japanese shakotan style to the states.