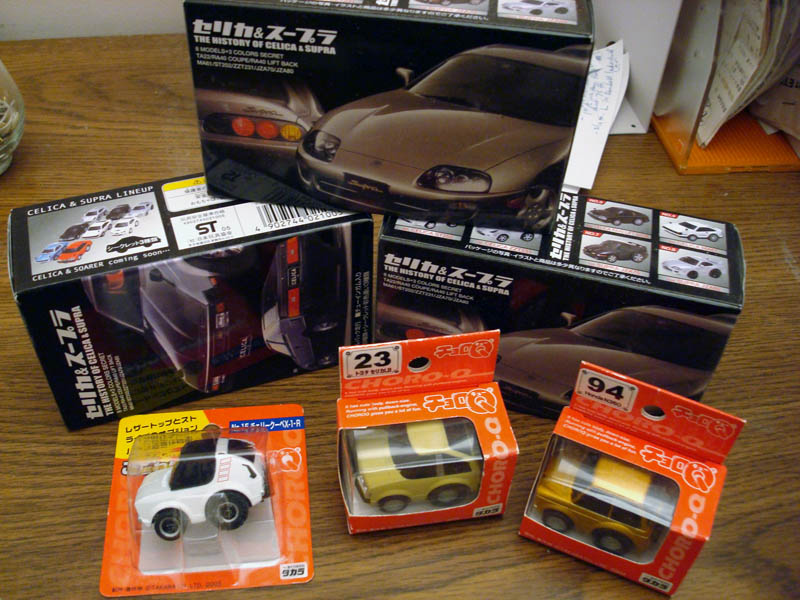 To celebrate our recent magazine launch, we're giving away a few little trinkets that we picked up from our trip to Japan. Nothing special, just a few super deformed pullback cars that fly across your kitchen floor like a startled roach. Those who have subscribed to the magazine will see another contest in the pages of the first issue whose prizes are valued at $100 😉
The three larger ones are mystery boxes from the History of Celica & Supra collection, and their unknown contents can range anywhere from a TA22 Celica to a JZA80 Supra. The three smaller cars are Choro-Qs, a white Datsun Cherry Coupe X1-R, beige Toyota A40 Supra Liftback, and gold Honda N360.
Just send us an email to the feedback address at the bottom of this page with "CONTEST" as the subject and your name and address where you'd like the prize to be sent (which will be kept strictly confidential). On Friday, April 18 at 11:59pm US Eastern Time, we will randomly pick the winners and send out the prizes on Saturday, April 19. If you have a preference as to which car you'd like, put it in the email but the first winner will have first choice. Thanks and good luck!