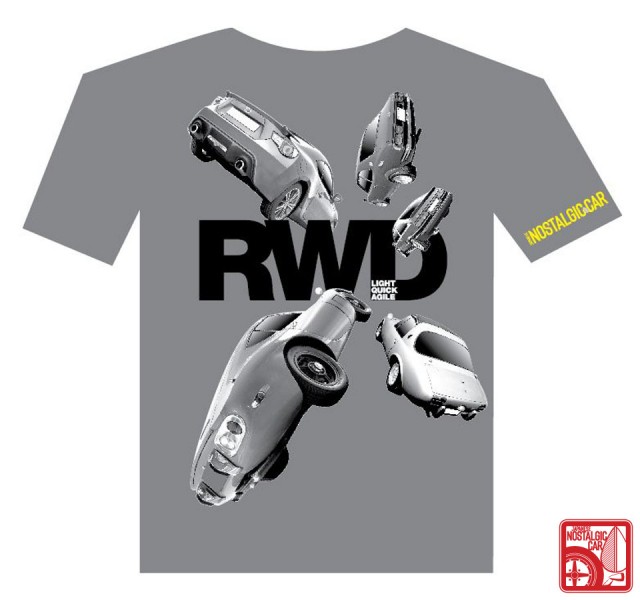 Three letters — RWD. That says it all for the shirt we're debuting at Toyotafest this Saturday, May 5. The lightweight rear-wheel-drive sport coupe is the magic formula that made us fall in love with old school Japanese cars in the first place, and after a decade-long absence it will return to the automotive world when the Scion FR-S arrives at dealers next week.
To celebrate, our new JNC RWD Toyota design features the Americanized Toyota 86 and the cars it drew on for inspiration — the Sports 800 for its FR boxer layout,  the 2000GT for its Nozaki arc, the hachiroku for its namesake, and the TE27 for originating the affordable twin-cam Toyota.
The design works from a distance, where "RWD" in bold letters draws the eye. Those well-versed in automotive lingo will get it right away. Up close, the words "light," "quick," and agile describe what makes these cars the stuff of driving dreams. We used only rear 3/4 views to emphasize the driven wheels, and they're charging straight into the owner's heart. 
JNC RWD Toyota will debut first to Toyotafest attendees in Long Beach, California this weekend. It will be black ink on gray 100% cotton with the JNC sleeve logo in yellow. Sizes ranging from S to 2XL and as always, they will be available in the JNC shop after the show.