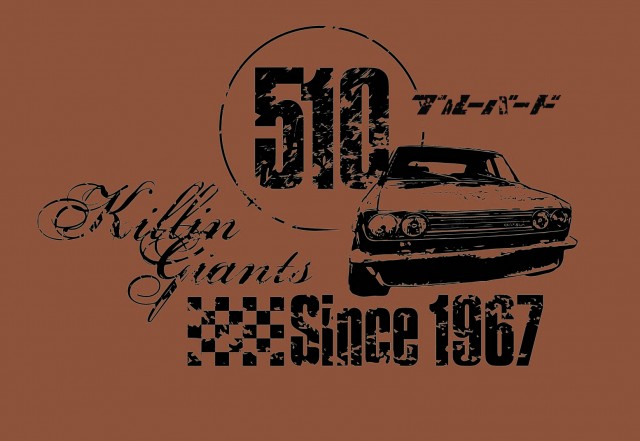 All these years and JNC still hasn't done a 510 shirt? It's the little econobox that could. Launched in August 1967, the Datsun 510 was the underdog trailblazer that took down the biggest names in motorsport — Ford, BMW, Alfa Romeo — and spawned a legend. Get your own Giant Killer this Sunday at the Nissan Jam.
The 510 was meant to be raced. Hard. That's why we didn't draw a perfect show car. It's a battle worn and bruised, like a boxer in the tenth round, but it still looks you right in the face and keeps on tickin'.
In fact, the base car was spotted by friend of JNC Antonio Alvendia in the parking lot of famous Leonard's Bakery in Honolulu. It was no trailer queen, but had the perfect patina for the look we wanted.
"Giant Killer" is brown with black ink and a red JNC logo on the sleeve. Available in sizes S through XXL. Once the goods debut at Nissan Jam, the remaining stock will go on sale in the JNC shop.