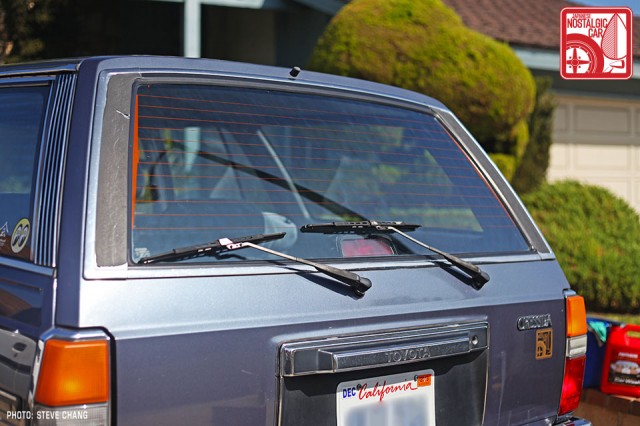 Fasten your seatbelts, cause we're about to enter super-ultra-otaku mode on the scintillating topic of Toyota windshield wipers. Along the way we discover that even when you buy Toyota parts from a Toyota dealer and it says Toyota on the packaging, it's not always original.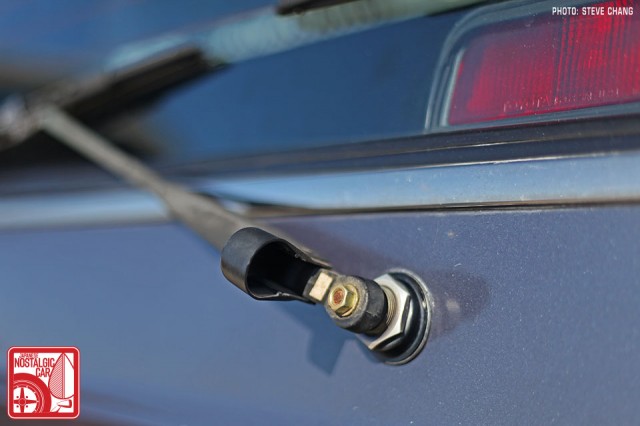 This all started when one of the rear wipers on our 1986 Cressida shop wagon became misaligned. Yes, I say "one of" because among the coolest Bubble Economy excesses of the MX72 was not one, but two rear windshield wipers.
The mechanism could not be simpler. Under a hinged plastic shroud (careful, it gets brittle after 27 years) is a nut that holds the wiper arm to a splined shaft turned by the wiper motor.
The teeth in the wiper arm had been worn and no longer meshed with the splines. Problem is, third-gen wagons are kind of rare. Judging by the wholly unscientific metric of wagon-to-sedan ratio in SoCal junkyards, we estimate that from 1985-88 Toyota sold just one Cressida wagon for every 40 sedans.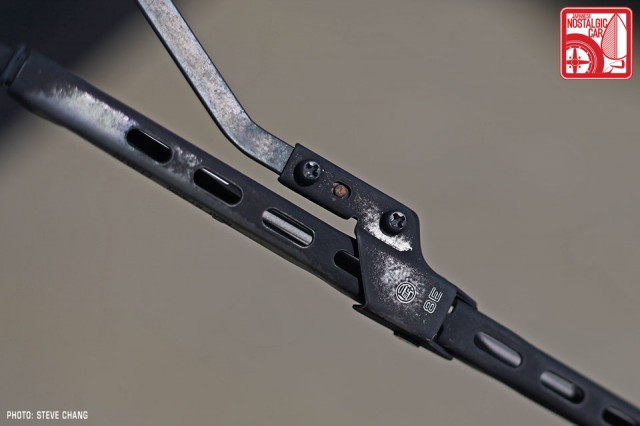 Compounding the issue was the fact that we are sticklers for originality. Do you know how to tell an original Toyota wiper from a vulgar, common Anco? Real Toyota blades have a tiny vintage circle katakana "トヨタ" logo stamp where it attaches to the arm by two tiny, extremely-easy-to-lose Phillips head screws.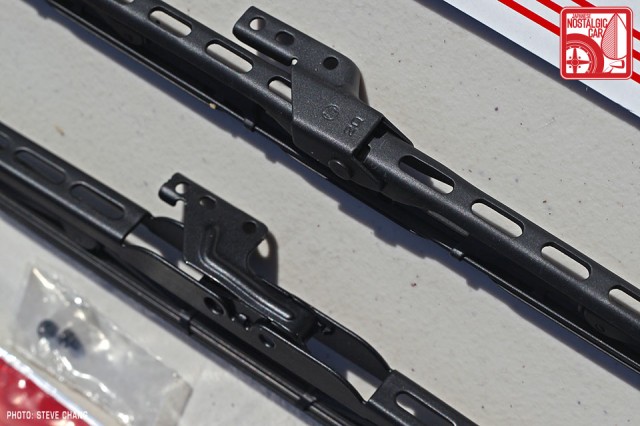 See, for example, this pair of AE86 wipers that we ordered from our friends at Cabe Toyota. One comes with the old school katakana logo on it, one doesn't. In addition, the logo-fied one has a proper classic Toyota hinge, whereas the logo-less, presumably newer, hinge looks like a cheapo piece of stamped scrapmetal from a random supplier, probably forged in the same sweatshop that spits out the wiper brands available at your local Wal-Mart.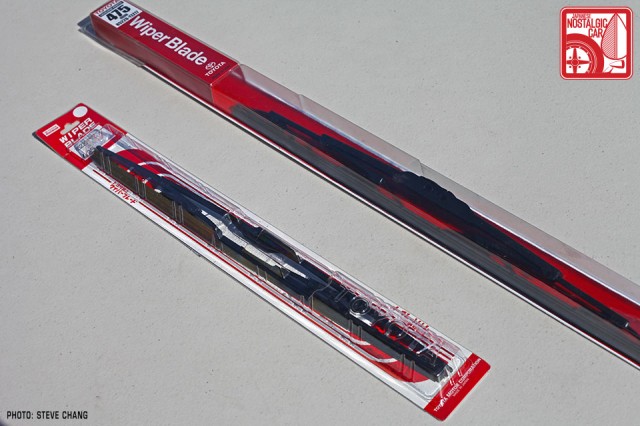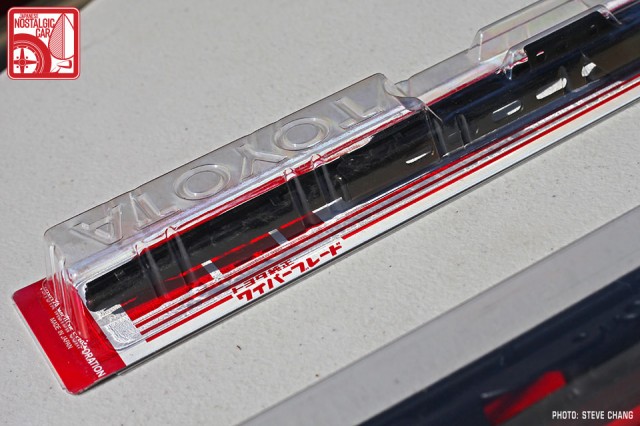 Check out the packaging, too. The old school wiper's is a work of freakin' art. Behold its retro stripes. The molded plastic even resembles a 4A-GE valve cover and comes with a slot to hold the blade in place lest it flop around in the box.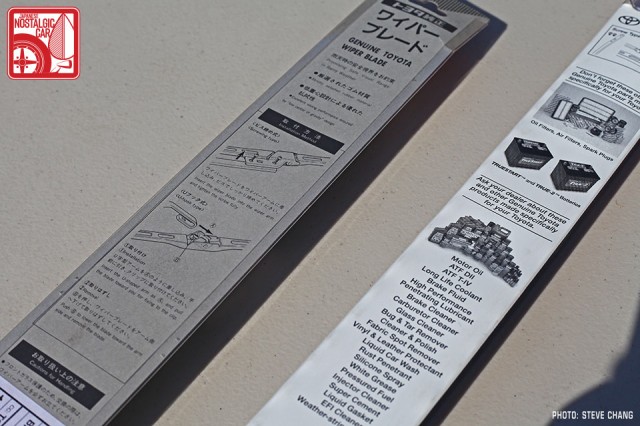 And of course, it has a bunch of Japanese writing all over it to make it JDM tyte, yo. This kind of thing happens all the time. For cars this old, parts are discontinued or sold out and their part numbers substituted with a newer, less good replacement.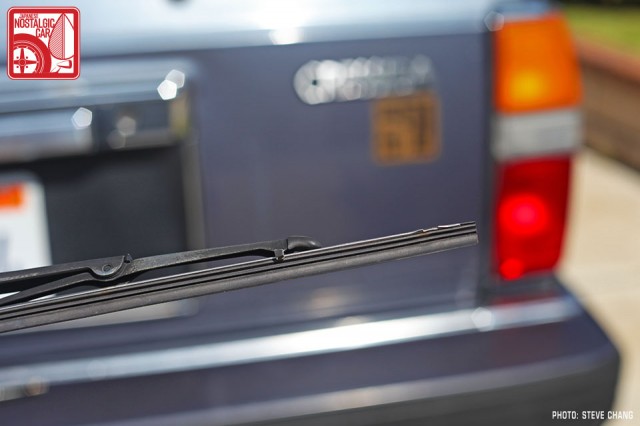 In the old days you could just buy the rubber wiper inserts. All you had to do was squeeze the metal tabs out from the legs to slide the old ones out, and the new ones slid right in.
Nowadays you are forced to buy the whole blade at most retailers, so most older cars have had their original blades cast off into the landfill at some point. You can, however, still order the inserts from most dealers, but restorers like us will still have to find the OG blades to have something to insert the inserts into.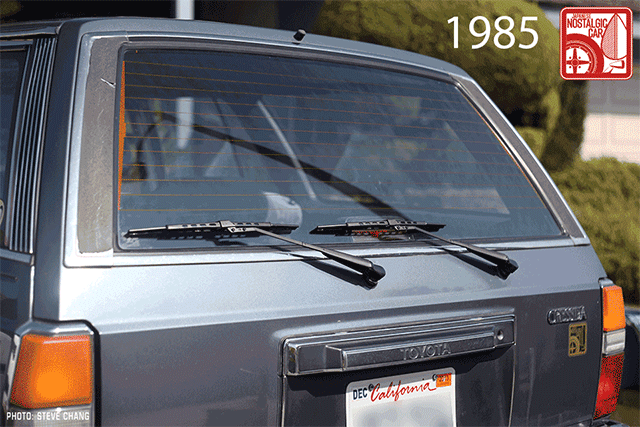 We were pretty stoked to finally find a pair of rear wipers from a 1985 Cressida wagon. Imagine our surprise then, when we discovered that Toyota had changed the rear wiper design just one year into the third generation!
Turns out, the culprit was the CHMSL. Starting in 1986, the federal government mandated that all new cars had to come equipped with  a center high-mounted stop lamp. 1985 rear wipers would obscure the third brake light, so Toyota made longer wiper arms starting in 1986. Argh.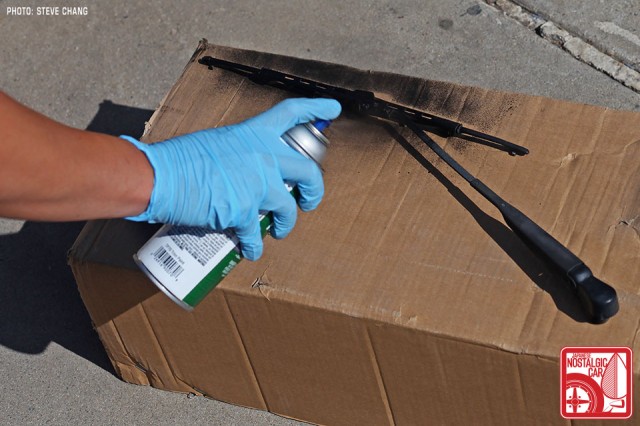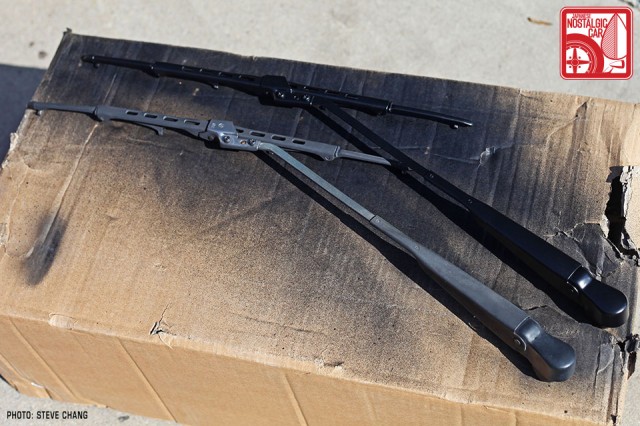 In the end we did find a pair of proper 1986 blades in a junkyard, but they were pretty faded. A quick spray coat of flat black and they were good as new.
Voilà! So there you have it, probably more than you ever wanted to know about windshield wipers. We'll have more of these types of articles from now on, so stay tuned for the next gripping installment (no pun intended).