Skyline. Just say the word and it conjures visions of Japan's greatest motoring icons. From unobtainable high-tech monsters christened "Godzilla" by western journalists to sepia-toned commercials in which teenagers fell in love, the name evokes a meaning for everyone. However, if it wasn't for a car very much like the one JDM Legends brought to the Japanese Classic Car Show this year, "Skyline" may have just been another forgotten model from the early days of Japan's auto industry.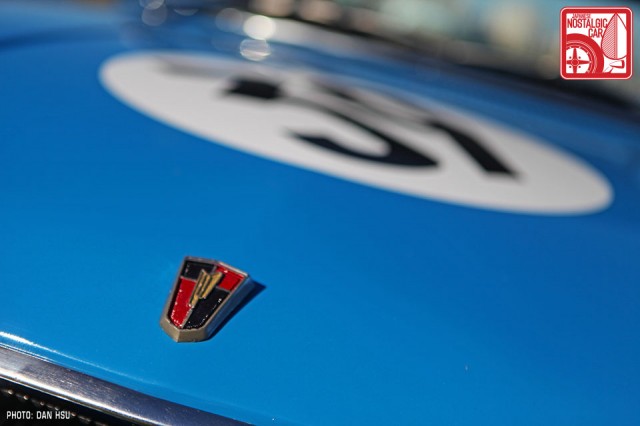 Nissan deserves much of the credit for the Skyline legend, but its seeds were planted years before the merger with the Prince Motor Company. While most of Japan's 1950s auto industry focused on affordable transportation, PMC, a spinoff of the former Tachikawa Aircraft, focused on producing luxury sedans and large commercial trucks.
The Skyline actually began life at the bottom of the Prince range as a mid-sized four-cylinder sedan. It was Shinichiro Sakurai, the man who would eventually be called Father of the Skyline, who decided in the days leading up to the 1964 Japan Grand Prix that he'd stuff the G7 straight-six from a Prince Gloria into the Skyline and enter it into competition.
Sakurai elongated the nose nearly eight inches between the cowl and front tires in order to accommodate the 2.0L motor. He added triple Weber double-barrel sidedraft carbs, putting out about 125PS (123hp), and mated it to a 5-speed close ratio transmission leading to a limited-slip differential. Front discs helped scrub the speed and the whole shebang was enclosed in a reinforced body.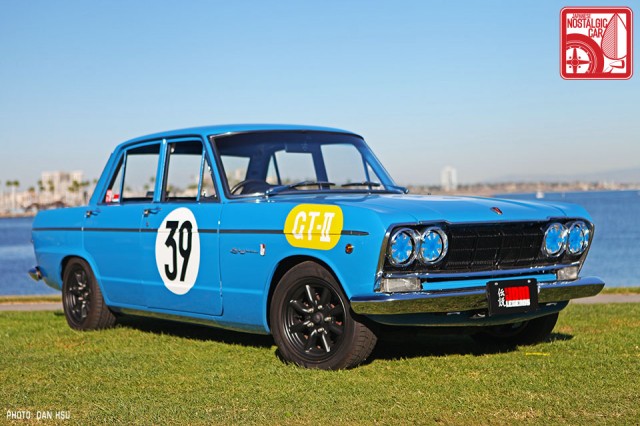 Prince entered seven hotted up Skylines in the race, and it was widely assumed that they would take the GT-II class win. However, a late entry by a privateer in Porsche 904 destroyed that notion. The mid-engined 904 was a 200hp purpose-built race car and the Skyline, essentially a stretched family sedan, had no hope of beating it.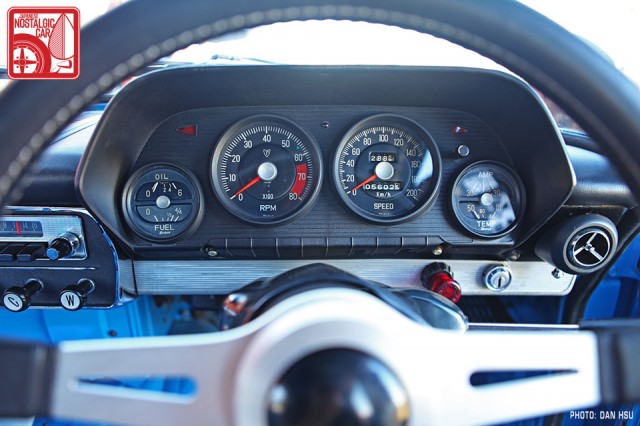 Turns out, it didn't have to. During one particularly heated lap, driver Tetsu Ikuzawa, against all odds, overtook the Porsche and, briefly, led the race. That was all the Skyline needed. The crowd rose to its feet, scarcely believing what they'd seen. The idea that a home-grown sedan from Japan's burgeoning auto industry could get anywhere near an established marque's race car was unthinkable.
Though the 904 ultimately regained the lead and won outright, the moment was seared into countless memories. The Skyline legend was born.
In the end Prince swept second through fifth. It's important to note that Ikuzawa's off-white #41 car ultimately came in third. The blue #39 car driven by Yoshikazu Sunako took second and is still preserved to this day in Nissan's Zama collection.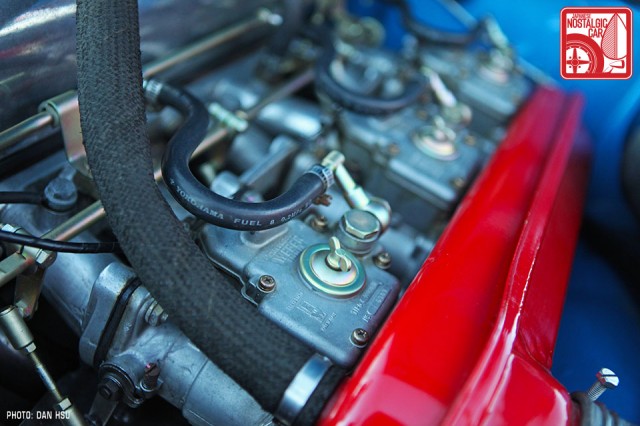 As per homologation rules, Prince baked all the luscious performance ingredients of the race machine — front discs, 5-speed, triple-carbed straight six — into its road car. With its rarity prescribed by an initial production run of only 100 units, the Prince Skyline 2000GT immediately became the premiere Japanese sports sedan.
Remember, typical 1964 cars had single-carb setups and 5-speed transmissions wouldn't become mainstream until the late 1970s. No other Japanese automaker built a car like this. BMW didn't even build a car like this. To put it in a parlance Americans will understand, it was Japan's first muscle car, though technically that term had yet to be coined because the American muscle era was just kicking off with the 1964 Pontiac GTO.
By 1966 the Nissan-Prince merger was underway and dual-throat Weber sidedrafts were getting difficult to secure. Nissan began selling a single-carbed, 4-speed version called the Skyline 2000GT-A, while the full-blown demon with five gears and Weber trips would continue to be sold as the 2000GT-B.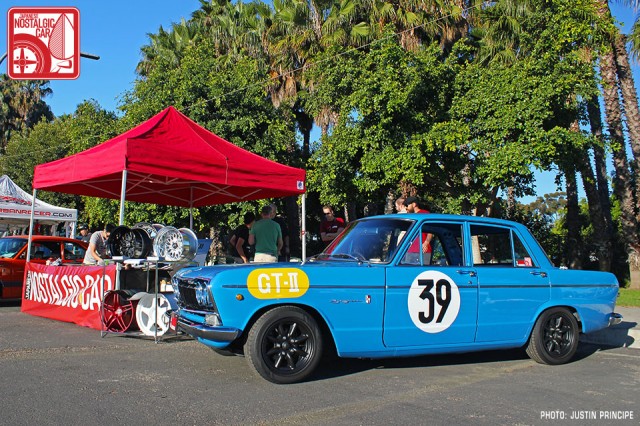 Go to enough classic car shows in Japan and you'll see tribute replicas galore of Sunako's #39. The JDM Legends' 1967 Skyline 2000GT-B, however, is the first example of this iconic machine to be shown in the United States. It was an honor to have both the Salt Lake City-based builder of Japanese classics and their fine machine at our JCCS booth this year.
The JDM Legends crew worked long and hard to prep it for its big debut at Queen Mary Park. The goal for was a vintage racer with period correct modifications that could have been built by someone looking for a weekend circuit car in late 60s.
According to JDM Legends Shop Manager Eric Bizek, it was purchased from a Japanese owner who used it in road rallies like the Japan Historic Car Tour in Hokkaido. However, the car was street driven as well, so concessions had been made to comfort and practicality. One of the first things JDM Legends did was ditch period-incorrect items under the hood and in the cabin (the Momo steering wheel, for example, was replaced with a Checkman three-spoke).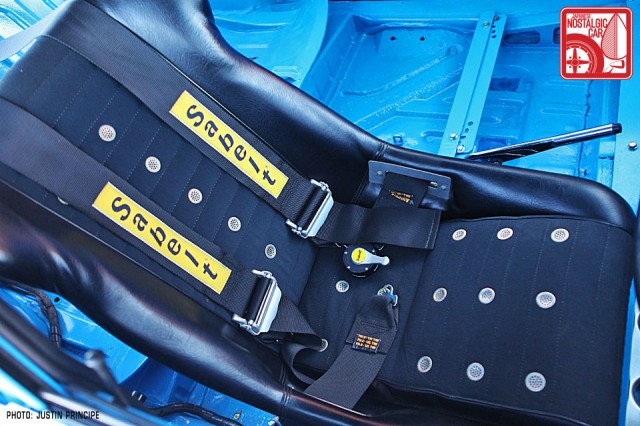 A recline-able Recaro was also removed in order to fit a vintage bucket, taken from a 1969 PGC10 GT-R that JDM Legends has at their shop. Several readers had asked about this seat's brand when we posted the teaser pic prior to JCCS, but so far there's no answer. At JCCS the question was put to Shouji Inoue of Star Road and even he was at a loss, so for now the mystery remains. It does look perfect though, and the yellow Sabelt harnesss contrasts perfectly with the interior's swimming pool blue.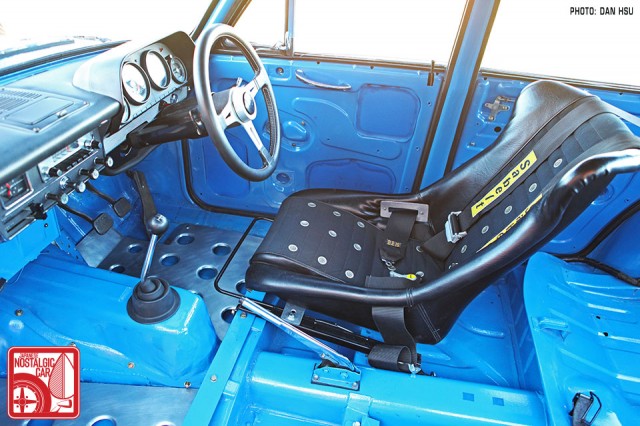 The G7 had been recently rebuilt with a mild cam and head porting, but the 40mm Weber trips required a complete re-gasketing and syncing to work properly. Once tuned, a stainless steel header and twin-pipe exhaust system provided the Gloria six with a brilliant baritone rumble.
While they were at it, the JDM Legends team went over 46 years of wiring kludges and took the opportunity to re-plate corroded hardware. Since the whole body had already been sprayed in the vivid colors of Sunako's #39 car, Eric fabbed two aluminum guards to protect the painted floorpan.
In photos, GT-Bs almost always look larger than they are. By today's standards the original Grand Prix racers look almost laughably tall with their high-profile tires and large, black steelies. Its stretched fenders also give off the illusion of size, but in reality Prince Skylines are narrower than a Datsun 510.
The JDM Legends car, in particular, seems low and agile, in large part due to a custom one-off spring and damper combination built by Bilstein Japan specifically for this car. Satin black RS-Watanabes with a lower sidewall also help reduce the visual and actual mass of its unsprung areas. This car did come with five-lug hubs, and in an interesting side note, and the car is old enough that the lugs on the left-hand side are reverse threaded.
Though JDM Legends pride themselves on building cars that can be driven anywhere, the Skyline was trailered the 1,400 miles down to Long Beach due to the rarity of its parts. Eric says you always have to be ready to return a thumbs up and it was impossible to stop for gas without someone bringing up the 510 they used to own.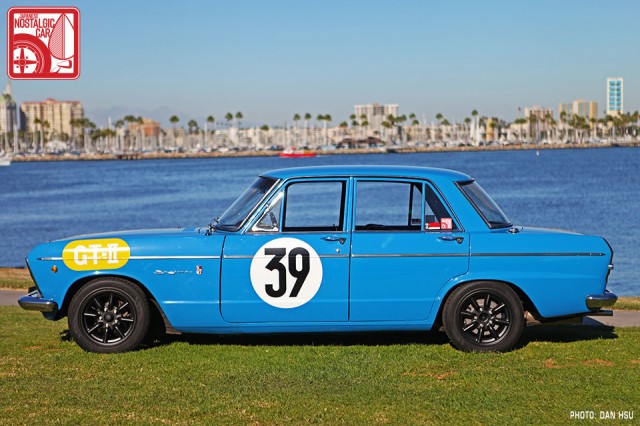 So what will happen to this one-of-a-kind car? "What makes [this job] difficult at times is constantly trying not to fall in love with every car we import only to be heartbroken every time one leaves the shop," Eric told us. "Occasionally we make an exception and a Prince Skyline of this caliber is definitely a good reason to break the rule."
Five years ago when JDM Legends was started, the inventory was largely comprised of founder and co-owner Trey Cobb's personal collection. In order to get the business off the ground, Trey was forced to sell off the Japanese classics he had amassed over the years. "I'm sure it wasn't easy to see them all be brought back to the condition he always wanted them only to have them sold off," says Eric. "And for that reason alone I am more than happy to finally get one back into his hands again."
Though nothing is set in stone, Eric says, "We would like to explore a bit of vintage racing with this car because we all feel that is where this car belongs." We could not agree more.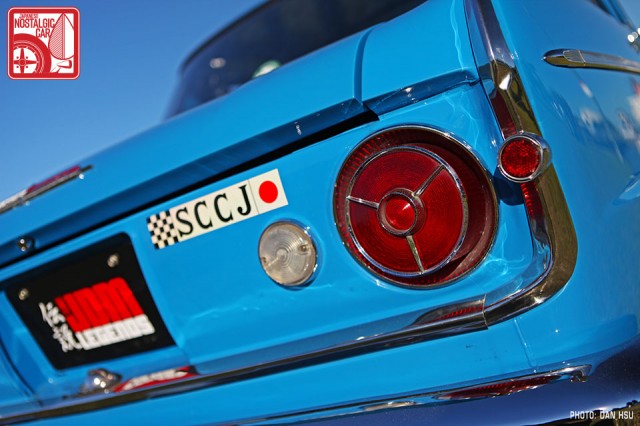 Here we have a car whose popularity and price do not yet accurately reflect its role in motorsports history or performance pedigree. Hopefully now that one has been shown at the JCCS, the elder statesman of the Skyline clan will get the recognition it deserves.