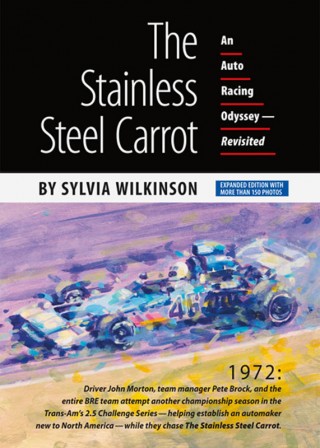 Fans of famed Datsun driver John Morton will have the chance to meet him this weekend at JCCS. While you're there, you might want to pick up a copy of The Stainless Steel Carrot: An Auto Racing Odyssey — Revisited as well.
Back in the early 70s, Sylvia Wilkinson's followed the journey of Morton, team owner Pete Brock and their BRE Datsun 510 during their history-making 1971-72 season. The book contains detailed accounts and photos of those famed years of the SCCA's Trans-Am 2.5 Challenge, where the unassuming Datsun took down some of auto racing's most revered marques and cemented Nissan's rabid following in the US. The only hitch was, that the book's been out of print since 1975. That's about to change.
The book is currently being reprinted and re-released by Brown Fox Books, and the new version has even more photos from 1971-72, and will include forewords by Morton's contemporaries, legends of American racing Dan Gurney and Parnelli Jones.
Wilkinson herself will be at the JCCS as well, so you can get her autograph too. The book will retail for $46, after Morton's racing number. If you're not familiar with Morton and the BRE 510, check out some of our past articles.