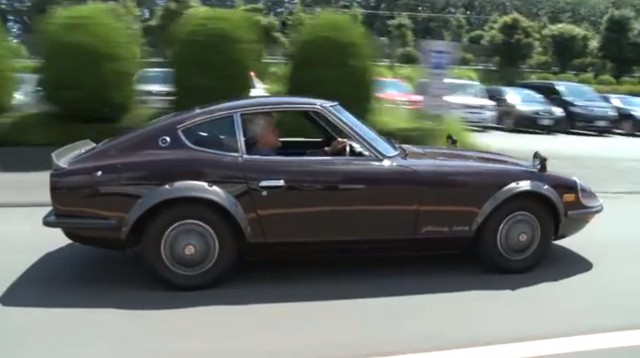 Jay Leno is in Japan. What comes of this trip should be interesting, but for now, watch as he tours the Nissan DNA Garage.
UPDATE: Leno goes to Toyota and drives the Lexus LFA Spyder as well! 
Nissan design chief Shiro Nakamura give Leno a tour of the facility, formerly known as simply the Zama warehouse, and Leno takes a spin in a 240ZG. It is notable that the warehouse now has stanchions and placards next the cars. We've heard rumors that the warehouse will soon be open to the public, and the presence of those items seems to confirm it.
In Leno's own version on Jay Leno's Garage, he gets a tour of one of Nissan's design studios, and elicits some news from Nakamura. 2014 will be the 80th anniversary for Nissan, and they are planning some big to celebrate the company's heritage. A sketch or two on the wall shows that shape much closer to the S30 than the Z34 seems to be in the works. Leno even makes a pitch for fender mirrors!
UPDATE: Bonus video — Leno drives the LFA Spyder too!