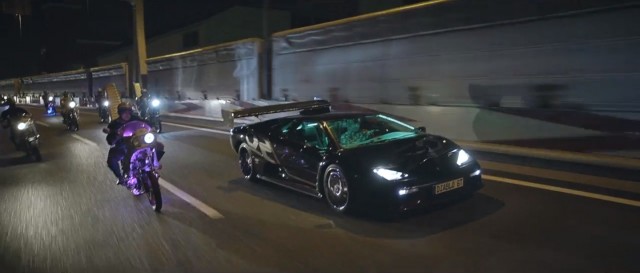 We in the west might think of bosozoku culture as part of "true" Japanese car culture where its extreme style and foreignness is unlikely to ever fully make the cross over to the west. The truth is, most true Japanese people hate the bosozoku. They are known for holding up traffic with their antics and if anyone tries to get by, well, that's what the twirling baseball bats are for.
In this video called, "Underground Hero: Love to Hate Me," Maiham Media explores the life of a gangster as they bousou around Tokyo. As scary looking as these professional troublemakers are, they are not above letting a cool car sweep them off their feet.  
You would not want to run into Shinichi Moroboshi and his tattooed entourage in a dark alley, but even he still remembers the exact time and place he first first saw a Countach. From that day on, he decided he'd have a Lamborghini no matter what. Now, saint that he is, he drives a blinged-out Diablo and wears shiny suits to give dreams to the youth. It's the circle of life.
via Maiham Media.