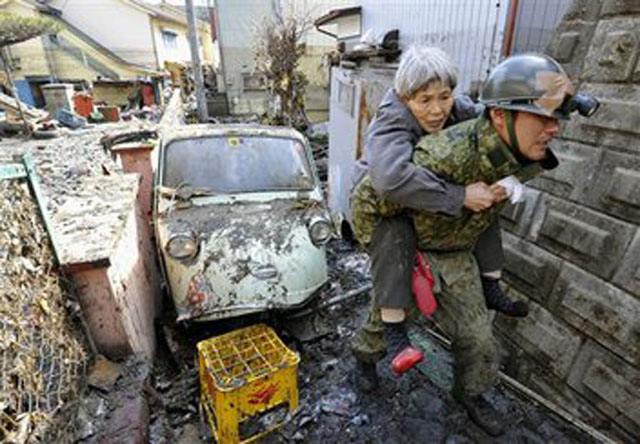 In the aftermath of the magnitude 9.0 Tohoku earthquake of March 11, the Japan's great automakers are mostly at a standstill.  Supply chains, transport and shipping facilities have all been affected by the quake and subsequent tsunami.  There's also rolling blackouts in some areas due to an energy shortage resulting from damage to nuclear plants. How are the automakers responding to the worst quake in Japanese history?
Toyota is donating 300 million yen to relief and recovery efforts and has suspended all manufacturing nationwide.  President Akio Toyoda issued a brief message. "I offer my prayers to all those who lost their lives in the March 11 Tohoku Earthquake and its ensuing aftermath, as well as my sympathy to the survivors and their families. Not only is the struck region one of our production bases, those directly hit and vastly affected include our dealers, suppliers and numerous other partners. With life the number-one priority, we want to do all we can to contribute to the relief efforts. Determined to provide hope for not only those suffering and forced to undergo extreme hardships, but also for the region overall, we will do our utmost toward the realization of recovery."
Honda is donating 300 million yen, 1,000 generators and 5,000 gas canisters toward the relief and recovery effort. Staff is being dispatched to instruct on generator operation.  It will suspend production in factories at Sayama, Ogawa, Tochigi, Hamamatsu, Suzuka and Kumamoto. All regular operations at Honda facilities in the Tochigi area, including R&D centers, will be suspended as well. One Honda employee was killed at a Tochigi R&D center when a wall collapsed.
Nissan is donating 30 million yen, trucks, forklifts and medical supplies to relief and recovery efforts. It has suspended operations at its plants in Iwaki, Tochigi, Yokohama, Oppama, and Zama. Small fires broke out at the Iwaki and Tochigi plants but have been put out and the others have reported some damage. 1,300 US-bound vehicles were damaged at the port of Hitachi, Ibaraki Prefecture. 1,000 vehicles stored in Miyagi Prefecture were damaged by the tsunami (see image) Because of a shut-down of train and transportation systems, about 1,500 employees had to spend the night at work. Nissan also opened its Yokohama headquarters building to the public, providing shelter for at least 150 people. All Nissan Gallery showrooms will be closed and all dealership signboard lights will be blacked out to save electricity.
Mitsubishi (UPDATED) is donating 30 million yen to victims and will supply vehicles to local authorities in damaged areas. MMC has facilities in Nagoya, Gifu, and Okayama, all quite a distance from the affected regions. However, some suppliers have reported damages. Production may resume as early as March 16.
Mazda is donating 30 million yen to relief and recovery and efforts. Although Mazda's production facilities in Hofu and Hiroshima are the farthest from the quake of any automaker, it is taking precautions and closing plants until March 16.
Once again, please consider a donation to relief efforts for Japan. (via JCCS)