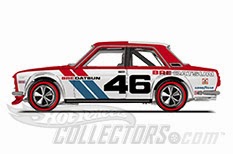 On Tuesday at 9am Pacific Time, Hot Wheels will be releasing a limited edition, online-only version of the legendary BRE Datsun 510. Here's how to get yours.
UPDATE: The car has sold out in a little under 2 hours. Better luck next time!
A few months ago Ben was visiting with John Morton and in passing John mentioned he had signed off with Mattel on another Hot Wheels 510. No further details were disclosed. Coincidentally this was around the same time we at JNC signed off on the Datsun 620. There was a catch though.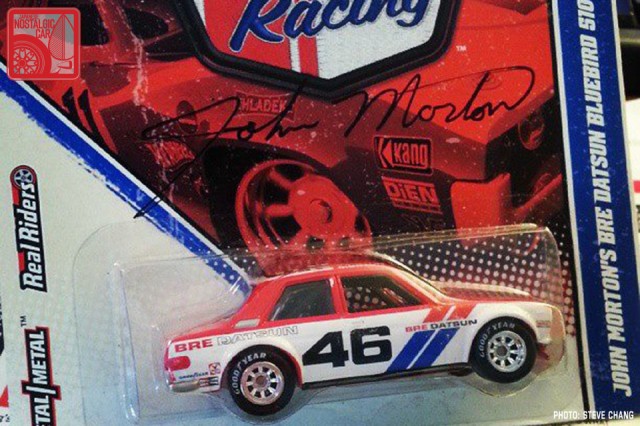 The 510 had already been released as a premium in the 2011 Vintage Racing series (pictured above). However, that (along with many other premium lines) had already been canceled, and Mattel rarely releases heavily detailed authentic liveries in the regular $1.00 line. So where would the BRE 510 appear? Using my powers of diecast deduction, I narrowed it down to the Red Line Club.
And lo and behold, here it is! The Red Line Club (RLC) is an exclusive membership club that you can only join at the official Hot Wheels Collectors website. It was named after the original "red line" tires on the original Hot Wheels cars from 1968. Membership costs $24.99 a year and members get first dibs on limited edition cars like this new BRE 510.
What does the BRE Datsun 510 RLC neo-redline entail and how does it compare to the vintage racing version? First off unlike the vintage racing version, it will not be fusion decaled but fully tampo printed. Mattel's also using a new chrome paint process to be paired with red spectraflame paint (think Christmas ornament). The base will be in chromed metal as well (as opposed to plastic for the regular line cars) and, because it will have neo-redline wheels, the chassis will have suspension and nylon bearings!
Only 3,000 will be made, and RLC members will get first dibs during a 24-hour window starting Tuesday, October 15 at 9am Pacific Time. Each one will cost $9.99 plus shipping. Unfortunately, all 2013 RLC memberships are already sold out, so only JNCers' with existing RLC memberships can purchase them until Wednesday at 9am, when the remaining supply will be made available to HWC members (you can register here).
Many will prefer the replica look of the vintage racing version, but for those who also like the classic redlines of yore and their nostalgic appeal, this will surely be a hit. It'd definitely look great with the RLC Datsun 240Z (which are still available), and great bookends to a historical and significant shift for Hot Wheels.
A big tip of the hat to our dear friend and JNC enthusiast Jun Imai who fought tooth and nail with management to get these cars made. Incidentally, the Vintage Racing BRE 510 now goes for about $75.00 on eBay.
In future articles, I'll dig deeper into other aspects of collecting from locating certain cars or to explain the reasons for why certain models are hard to find and the reasons why some never make it on the shelf.