Hot Wheels is on a tear these days, adding Japanese classics to their lineup as quickly as the diecast cars will speed down an orange track. We were thrilled to be part of the hakosuka Nissan Skyline 2000GT-X (which is showing up in stores now!) but that's not all. You'll also find a kenmeri Nissan Skyline GT-R and BRE Datsun 510 Bluebird on the pegs later this year. Once again the folks at Mattel have generously allowed us to share the first ever published photos of these cars with JNC readers.


The designer of all three nostalgics is Jun Imai, whom we met up with recently at the Eagle Rock Datsun swap meet. He brought out prototypes of the kenmeri and BRE 510 for us to see and we are proud to report they look every bit as incredible as the hako in person. These photos do not do them justice.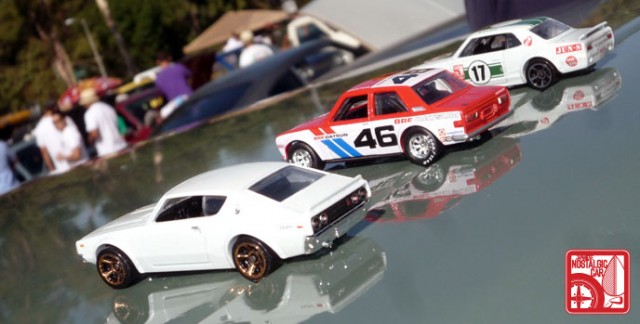 As we've mentioned, the kenmeri will be part of the 2011 First Editions lineup. That means they will be available anywhere Hot Wheels are sold and cost around one dollar. Unlike the hako, the kenmeri will be a street version, as the KPGC110 GT-R was never raced due to increased emissions controls and oil shortages. The car is a beautiful gloss white with bolt-on fender flares, highly detailed afterburner taillights, and a killer stance on gold wheels.


As we reported, John Morton's Datsun 510 is part of Hot Wheels' new Vintage Racing lineup. This is a premium collector's series that costs $4-5, but it's worth it because the cars have metal chassis, rubber tires, and tons of detail. Mr. Imai is actually responsible for the rest of the Vintage Racing lineup too, which contains awesome cars like a '65 Ford Galaxie stock car and Trans-Am 1970 Boss 302 Mustangs.
The kenmeri will be out late summer and the BRE 510 is expected to hit shelves in September, so keep your eyes peeled. 2011 is going to be a great year for vintage Japanese icons!