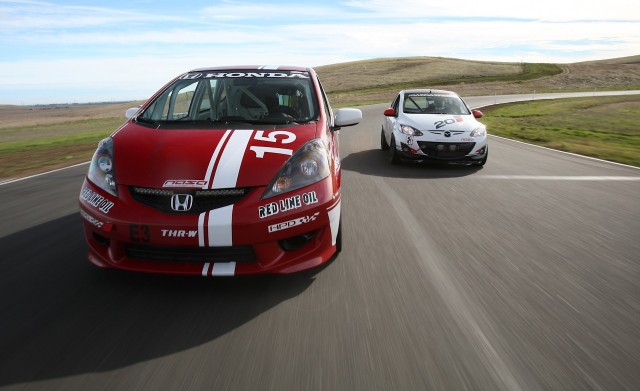 In recent years, the biggest disappointment for Japanese car enthusiasts has been the lack of fun, especially the affordable kind. Gone are the RSXs and MR2s, and aside from the Mazda MX-5, what else is there for the average Joe?
Enter the B-spec class for cars in the sub-Civic class. If you think the use of economy cars for racing is strange, the principals behind it are even stranger. This new racing series was jointly created by new bedfellows Mazda and Honda.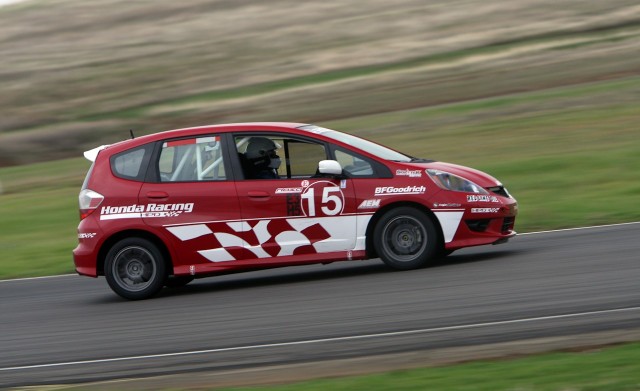 The goal is to allow amateur racers to experience the thrill of racing across multiple sanctioning bodies with a turnkey car costing no more than $25,000.

The stock cars are gutted, fitted with roll cages and a racing seat. The only other modifications are the suspension and new tires and wheels like the 5Zigen FN01R-C on this Mazda 2. And that's about it. If the formula is a success, Ford Fiestas and Toyota Yarises could join the party.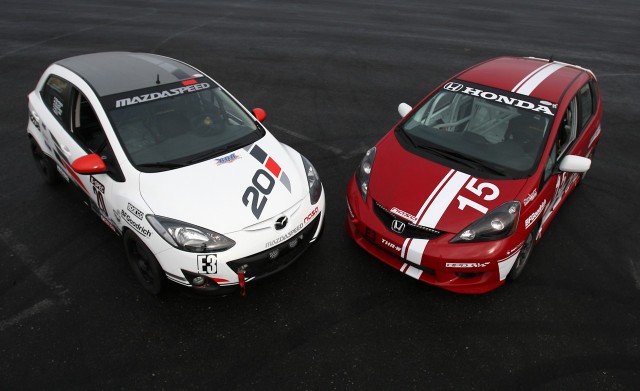 Actually, the situation closely parallels that of the early years of Japanese imports, when Toyota and Nissan were just entering the US market. They were viewed as economy cars, but when Datsun 510s and TE27 Corollas began appearing at SCCA races, perceptions changed. Read this Car & Driver article about racing these cars amongst BMWs and Miatas at the 25 Hours of Thunderhill. The full press release is below.
Mazda & Honda Unveil B-Spec Racers
SCCA & NASA Adopt "Freeshare" Rules

ORLANDO, Fla. (Dec. 9, 2010) – With the goal of providing close racing in affordable cars from a variety of manufacturers, Honda and Mazda jointly announce the formation of "B-Spec" Showroom Stock racing. Honda Performance Development, the racing arm of American Honda Motor Co., Inc.; and MAZDASPEED Motorsports Development, the performance division of Mazda North American Operations, today unveiled their entries for the proposed new low-cost B-Spec, developed from the MAZDA2 and Honda Fit. Both cars will be on display at the annual Performance Racing Industry trade show in front of 40,000 racing insiders.

B-Spec refers to all cars meeting a common set of rules that can be adopted by any race circuit or sanctioning organization. Together, Honda and Mazda solicited an independent body to develop a set of vehicle specifications that will be available for all to use – the motorsports equivalent of "freeware." The final rules should be ready for release within 60 days.
One of the fastest-growing segments of the automobile business, B-segment cars are among the most affordable, and enjoy great support from younger demographics. In addition to the MAZDA2 and the Honda Fit, the category includes the Chevrolet Aveo, Ford Fiesta, Hyundai Accent, Nissan Versa and Toyota Yaris.

Two prototypes for the class – a MAZDASPEED-run MAZDA2 and a Honda Fit, prepared and entered by Team Honda Research-West – debuted at last weekend's 25 Hours of Thunderhill season-ending NASA endurance racing contest in Willows, CA.

Designed to be an entry-level category, B-Spec cars will feature showroom stock racing cars utilizing stock engines and chassis, fitted with a competition roll cage, racing seat and other safety equipment; and manufacturer-approved suspension components, tires and wheels. Weight distribution will be used to balance performance among competing manufacturers.

The manufacturers will use an independent third party to homologate competing cars and provide equalized specifications to any interested sanctioning bodies or race tracks. A racer who builds a B-Spec car will be able to race the same car across multiple sanctioning bodies by simply changing the sanctioning-body decals. Only homologated OEM models will be eligible within the rules.

This is intended to be a grassroots class of racing, and at present, there are no plans for a B-Spec professional series.
[Images: Car & Driver]