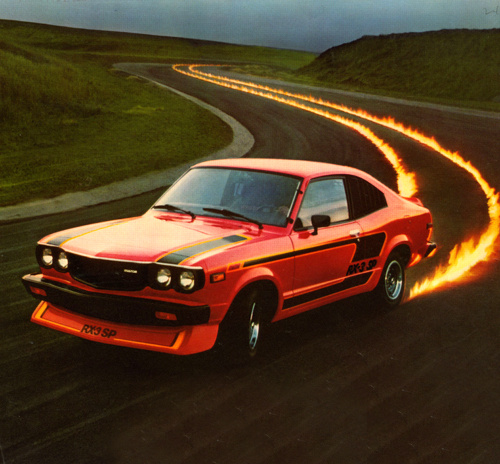 Forza 3 is teaming up with Jalopnik for the next round of downloadable cars for the racing sim. Let's try to stuff the ballot box with J-tin like this Mazda RX-3SP (flames not included). Other candidates include the '84 Mazda RX-7 GSL-SE, first-gen Honda CR-X Si and quasi-nostalgics like the B13 Sentra SE-R, Mazda 323 GT-R, Acura Legend, Mitsubishi Evos I and V, '96 Scooby STi, and ST165 and ST185 Toyota Celica WRC cars.
UPDATE: Looks like the RX-3, RX-7, CR-X and a some of the newer J-tin made it!
Now there's a new batch, including a Datsun 240Z (um, why wasn't this car in there from the beginning?), 1970 Corolla, Pulsar GTI-R, R31 Skyline, AW11 MR2, Mitsubishi Starion, and more.
Hat tip to JamesE.