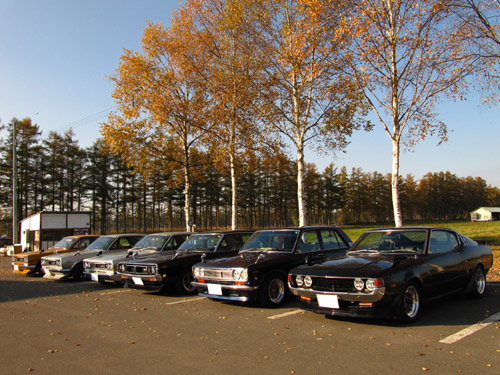 Well, for obvious reasons Japan doesn't celebrate Thanksgiving. So here's a nice autumnal scene chock full of J-tin. And on this special day we'd like to quote the words of JNC reader Dachshund, who composed this beautiful piece of prose in response to seeing a Toyota Crown 2-Door Hardtop Royal Saloon in our JNC Sightings thread. We wish all JNC readers a safe and bountiful Thanksgiving!
I'm [thankful] that we can still today, say we live in a world where an ancient Japanese man can turtle around in the La-Z-Boy of an immaculately maintained, anti-socially-large-for-having-only-two-doors, decades old Crown pretending to be Elvis. He's even managed to use his station to wrangle himself a wife young enough that her hair is rendered in color.

The Japanese have officially redefined, and refined, the meaning of "only in America". We should be ashamed of this.

For some reason I get the impression that the windows of that thing are probably tinted to just the degree necessary, to make all youth culture and hentai around you disappear.

…They probably make the world around you appear ten percent poorer than it actually is, too. It's the kind of car I'd love to drive through a seedy alleyway, just to lightly shoo away all the bums who would try to wipe rags across the windshield.

Someday, we will all be this.
What are you thankful for?
[Photo Credit: Wild West Riders Club]