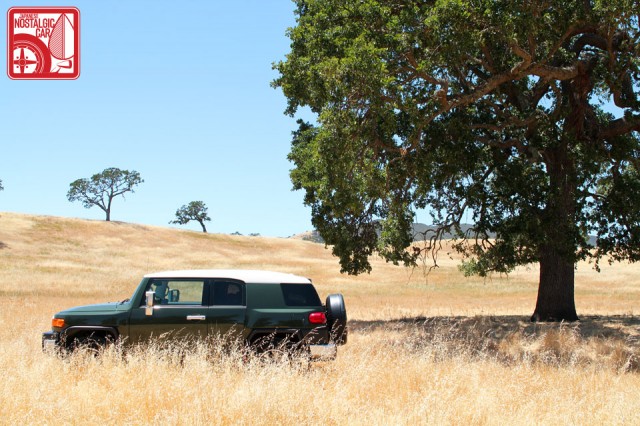 In Part 01 of our Bayline Gathering coverage we promised an in-depth examination of the steed that carried us north, away from our familiar SoCal environs and to the Bay Area in search of precious Nihon metal.
First, let's recap. Why exactly did we need a big-ass SUV? Well, at the major nostalgic car shows we like to give attendees a nice booth to visit with a selection of JNC goods in various designs and sizes. For SoCal events like JCCS and Toyotafest, we just toss everything in the back of the JNC Cressida wagon and go. But! The MX72 suddenly becomes a two-seater when its 100/0 back bench seat is folded flat.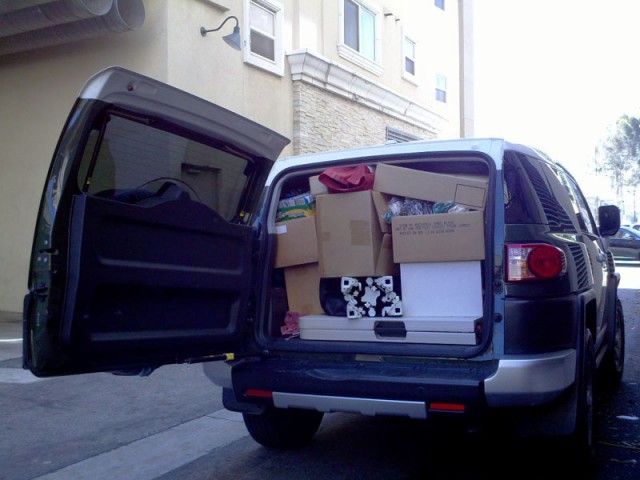 Bringing the rest of the JNC team in a separate car is fine for local gigs, but an eight hour excursion up the 101? It's no fun if you can't play Punch Buggy and 20 Questions with your buds, right? We're tight like that, but not tight enough that we wanted to get un-platonically cozy with each other. We needed a 60/40 split, stat.
Many tire-kickers have been quick to dismiss the Toyota FJ Cruiser for its poor visibility, something about fat B-pillars. Thanks to our gear we had no visibility, but we had no problems changing lanes either. The key is to have your side mirrors covering your blind spot (as opposed to the sides of your car), and the FJ Cruiser has giganto ones to do that just fine. Plus, they have cool little spotlights built in.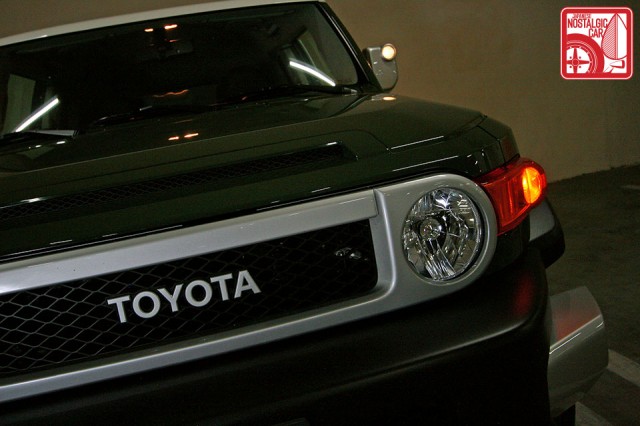 Toyota offered us our pick of the litter but the choice was a no-brainer. After all, we're constantly running our mouths about how Japanese automakers need to recognize their heritage. We cheer the second coming of the hachiroku and mourn the loss of the Mazda rotary, but right here under our noses is a bona fide tribute to one of the most significant Japanese vehicles of all time: the FJ40 Land Cruiser.
Right off the bat you notice the obvious styling cues like the headlight-encompassing grille. But take a closer look, there's something missing. That's right, no newfangled corporate logo! It's the only machine in ToMoCo lineup to wear the old school Helvetica "TOYOTA" on its nose.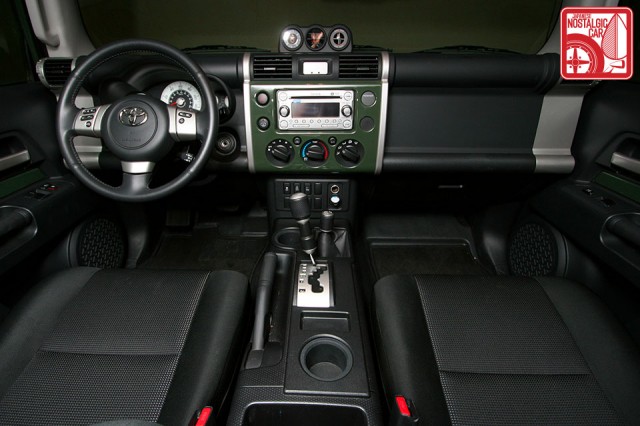 The interior is nothing like an FJ40's, which is a Good Thing. An O.G. Cruiser is as spartan as a jail cell, and riding in one is likely what your Phillips head feels like when you rummage the lower confines of your tool box.
It was actually refreshing to have working A/C (or A/C at all, for that matter) and a stereo that wasn't drowned out by ambient wind and engine noise. The FJ Cruiser's got all the mod cons, yet still manages to throw in some nostalgic touches like body-colored sections of dash and door panel. True, they're plastic instead of painted metal, but charming all the same.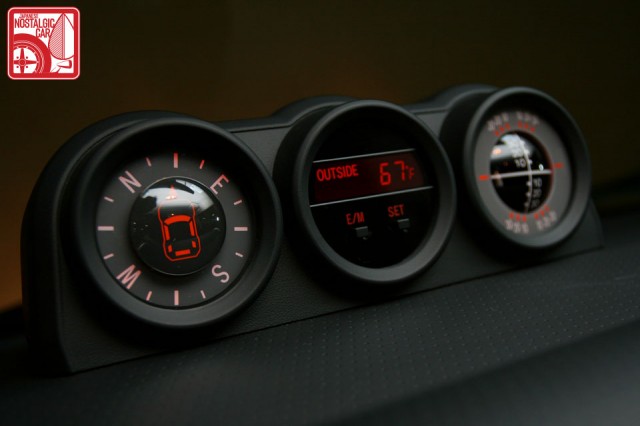 One of our favorite features was this triple pod option on the dash. A 240Z it ain't, but it contained useful information relevant to the off road enthusiast — a compass, thermometer and inclinometer.
We pointed the left one, which was an old-fashioned ball-suspended-in-liquid type compass, towards the big N and threw it in gear. We were off like a bucket of prawns in the sun!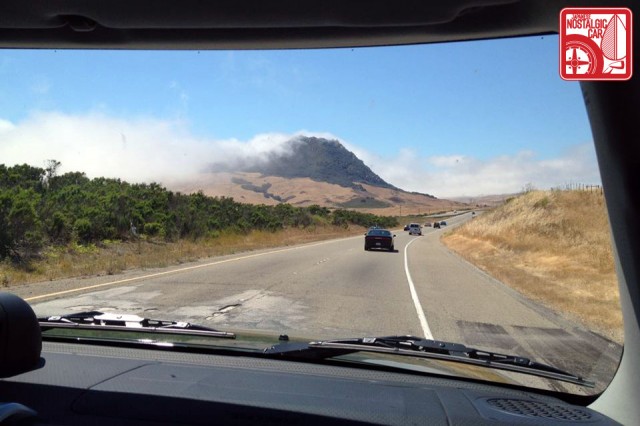 US Route 101 begins in Los Angeles as the main artery into Hollywood. Upon escaping the hillside mansions where your entertainment is manufactured and passing Ronald Reagan's Subaru BRAT, you'll find yourself tracing the Golden State's breathtaking coastline. Just before Solvang, the 101 hooks due north and heads towards scenic San Luis Obispo.
Driving behind a new Dodge Challenger, we pondered how, at the dawn of the 21st century, automakers looked not forwards for inspiration, but backwards. We had been promised Jetson-mobiles, but instead got aggressively retro styling catered to Boomer nostalgia.
For some reason though, the FJ Cruiser is rarely counted among a list that includes the VW Beetle, Chrysler PT Cruiser, Chevy Camaro, Ford Mustang and Thunderbird. Is it because it's a truck? Japanese? Or have people completely forgotten about the FJ40?
It's not as if the cues aren't obvious. The white-capped roof is an homage to the shiro tops of the original, painted to reflect the sun when air conditioning was still an unfathomable luxury. We've mentioned the grille already, and the non-functional vent above it seems hokey until you realize there's a precedent. Even the jutting turn signals are reminiscent of the FJ40's, as are the arcs of the fenders themselves.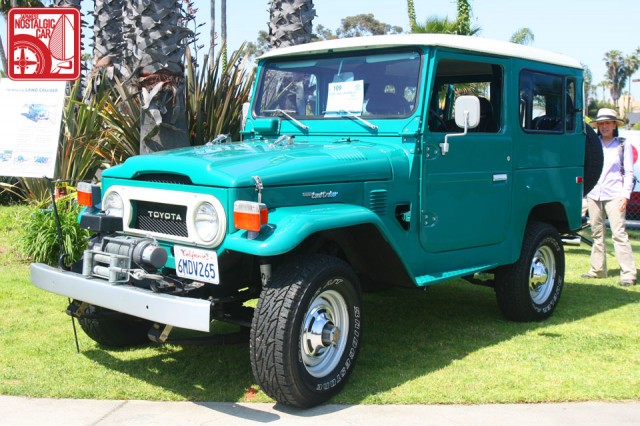 When the Korean War broke out in 1950 the US military suddenly needed a lot of trucks in the Pacific. Toyota responded by building one more powerful than the ones commonly available at the time — Willys Jeeps and the Land Rover Series I — but upon completion the US forces said, "Sorry, we don't need them, actually. We're buying American."
So Toyota knocked on the doors of Japanese prefectural police and emergency departments instead. A fire truck built from the underlying J-chassis was equipped with the now-legendary F-series motor and the resulting 1954 FJ chassis code was dubbed "Land Cruiser."
In San Luis Obispo's Railroad Square there's a sculpture called Iron Road Pioneers by Elizabeth McQueen. It honors Chinese Americans who helped build the First Trans-Continental Railroad in 1869. Its completion shrank the world like no other technology before it, cutting months-long Conestoga wagon journeys to mere days.
We couldn't help but think of how the Land Cruiser must have had a similar effect as it spread like wildfire to 127 countries from Asia to Australia, Africa to the Arctic, the Amazon to the Arabian Peninsula. Its bulletproof reliability and off-road prowess made it the chariot of choice for kings and rebels alike, and according to Toyota there are still more 40-series Land Cruisers running than any other off-road vehicle in history.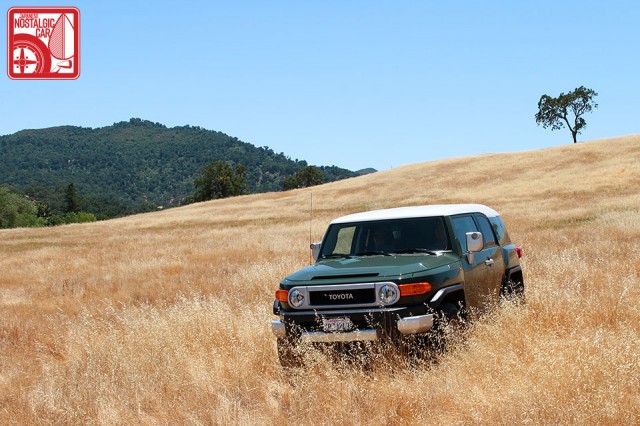 The FJ Cruiser isn't just a pretty face, it's got the off-street cred to go with it. Its underpinnings are shared with the go-anywhere Land Cruiser Prado, a smaller Land Cruiser sold in Australia and other rugged outposts of the world.
Americans might recognize the Prado as the Lexus GX, built on the same body-on-frame platform as the 4Runner. The fact that a Land Cruiser could now double as a Lexus was evidence that it had perhaps strayed from its original mission, and that's where the FJ Cruiser comes in.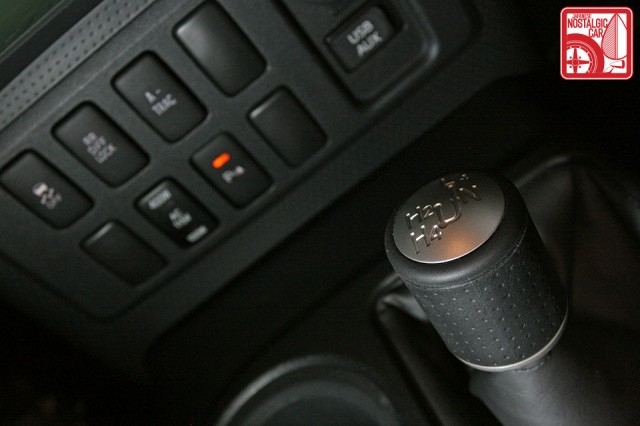 We at JNC have anointed Akio Toyoda to virtual sainthood for bringing Toyota back to its roots. Since becoming president in 2009 the grandson of ToMoCo founder Kiichiro Toyoda has been credited with fast-tracking to production both the Lexus LFA and Scion FR-S. While that's all true and good, in actuality Toyota's roots had been a concern of Akio's long before then.
Back in 2000, he was a lowly VP at NUMMI, birthing grounds of the Tacoma and many other models. There, Akio participated in a skunkworks team that secretly imported Toyota Bandeirantes — FJ40s manufactured in Brazil until 2001 — and fitted them atop brand new Tacoma chassis. It was a fun project, certainly, but the real goal was to test the waters for a modern FJ40 rooted in the Land Cruiser tradition.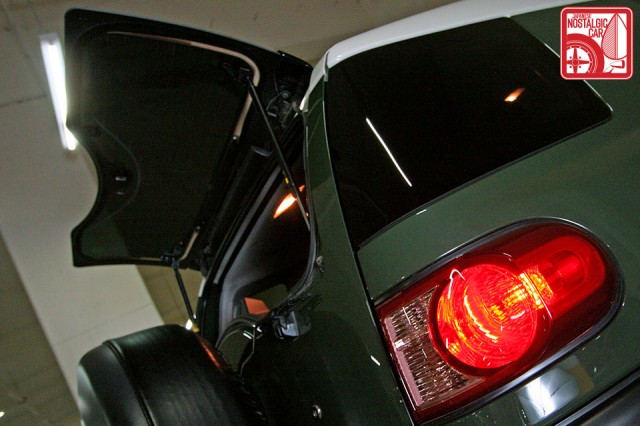 The project paved the way for the development of a true concept car. Exterior design was given over to CALTY's Jin Won Kim, only 24 years old at the time. (Talk about a dream job for a young car designer!) Kim shaped what we know today as the FJ Cruiser based on the notion of a Swiss Army knife with the stance of a pit bull and the heritage of an FJ40 (it is indeed full of surprises — we spent 1,200 miles in it before we realized that the rear glass pops open).
The proof-of-concept was revealed at the 2005 Detroit Auto Show, where it was received with such enthusiasm that Toyota immediately green-lit it for production the following year.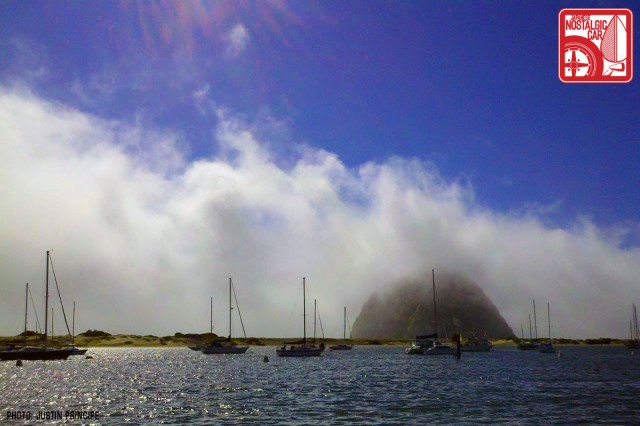 Production began in late 2006 at Toyota's Hino plant in Hamura, Tokyo. We contemplated this as we pulled into Morro Bay, which actually sits on the same latitude as Hamura, separated only by 5,000 miles of Pacific Ocean.
In early 2007, just a few months after production began, we were in Japan for the New Year Meeting. A USDM maniac friend of ours took us out for pizza near Hamura, and as we chowed down on seafood margherita we watched carrier after carrier whisking freshly minted FJ Cruisers to the docks. This was absolute torture for our nostalgic Toyota loving compadre, as the coolest truck in the ToMoCo portfolio wasn't even for sale in Japan.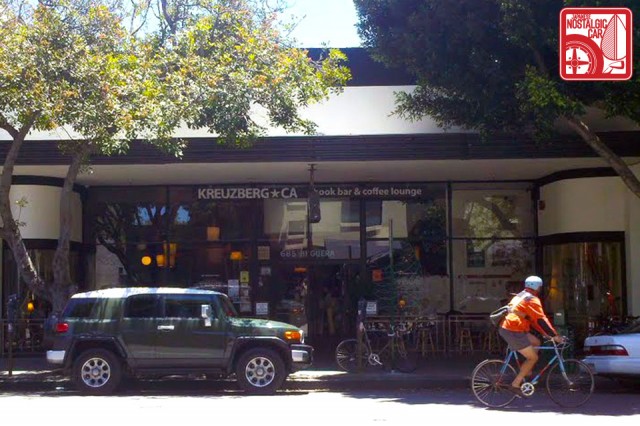 It was a rare case of us Americans getting the best stuff first. By the time Japanese sales began last year, a cottage industry of FJ Cruiser re-importers had already sprung up and been functioning for years.
Having been on the market for five years the FJ Cruiser may lack the novelty it commands in Japan, but we decided to measure its coolness anyway with our JNC patented Glance Back Index. There's only one criteria to this test: how many times do you glance back at the car after you've parked it? During a coffee break at SLO's delectable Kreuzberg CA Cafe, we counted 19 split among three people.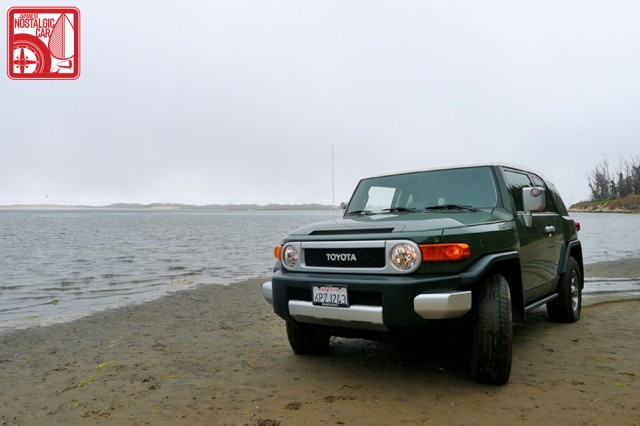 That's not a high number compared to cars like our 1972 Datsun 240Z or even the Cressida wagon we left behind. But for a bone stock car that you can buy off the lot and see on roads everywhere? It's off the charts. Maybe we're just suckers for nostalgia.
Nowadays many, including us, are calling the Toyota 86 a return to the company's roots. But it's not the first model to be named after an old ToMoCo chassis code. Spending a long weekend with the FJ Cruiser reminds us that the journey began several years prior with this throwback to the FJ40. If this is the trajectory Akio Toyoda is following, then we're his disciples all the way.
As for the show itself, we made it to San Leandro and back to LA without a hitch. We even averaged 20 miles per gallon while the truck was packed to the gills. You can see our full coverage of the Bayline Gathering in Parts 01, 02, 03 and 04.