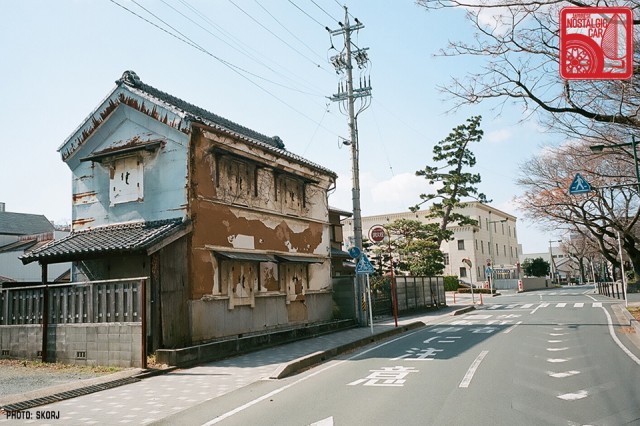 Our destination for this tour was Mie Prefecture, some 250 miles southwest of Tokyo on the far side of Ise-wan (the same wan in Wangan, meaning "bay"). Known for its ancient craft ceramics and as the birthplace of the ninja, Mie is rife with history and culture, but we also hoped for the usual automotive diversions.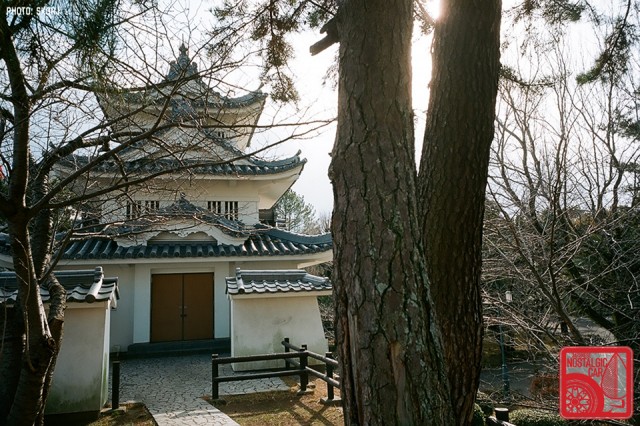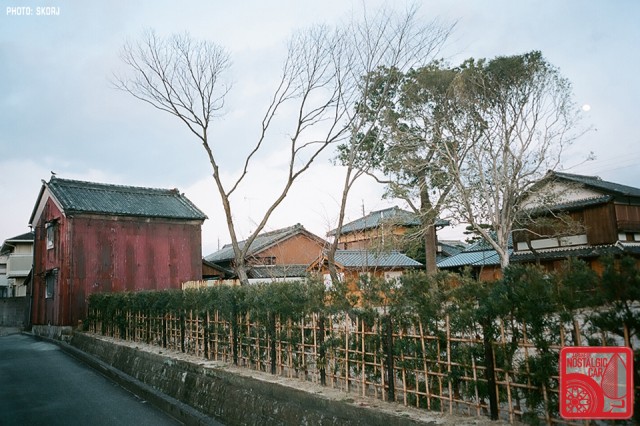 Instead of taking expressways from Tokyo via Nagoya, as would be the fastest route, we planned to hop a ferry from Aichi Prefecture across the wan. On the way south, we stopped to look at the old streets around Yoshida Castle and its original kura still standing.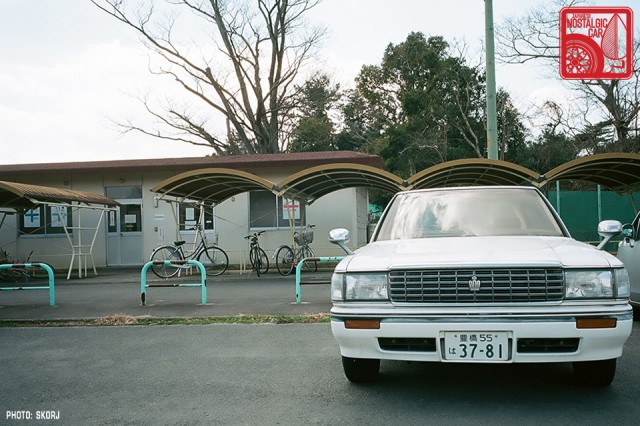 On the local backstreets we came across one of Aichi's finest, a period-plated wing mirror-equipped S120 Toyota Crown, fitting in perfectly with the surrounding old world atmosphere and royal aura.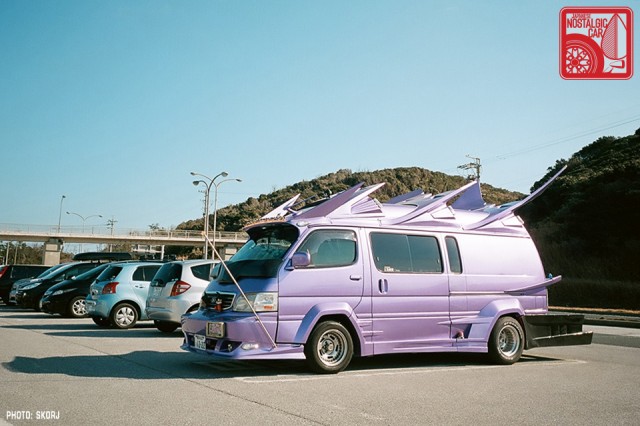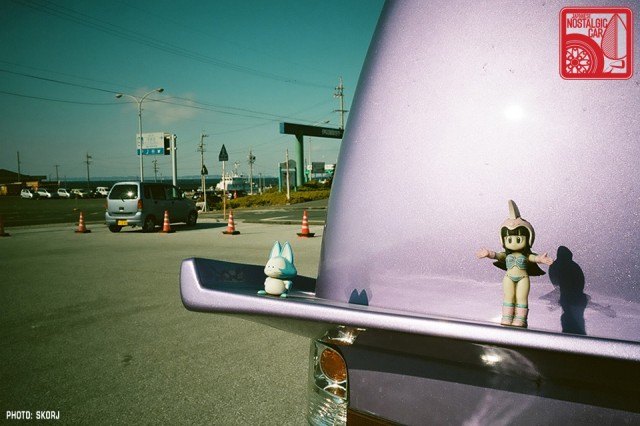 Waiting for the ferry at Cape Irago, we parked our Honda CR-V next to a mildly winged Toyota Hiace. Compared to other practitioners of the vanning lifestyle, a mere three sets of roof-top wings, no fins, and modest overhangs for actual ground clearance, it was obviously a compromised daily driver.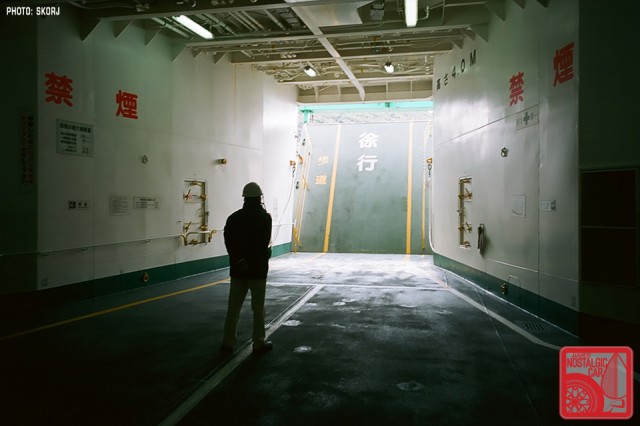 In typical Japanese fashion, the ro-ro ferry has us driving on board smoothly for a departure time scheduled to one or two increments of  "JR Time" — fifteen seconds per increment of departure accuracy. Motorcycles, and even bicycles are chocked and tied down for the 45-minute journey across the mouth of Ise Bay. On the passenger deck above we lounged at a pleasant tatami and table, a typical Japanese setup. We did not pay the extra ¥300 per person for the luxury, upper, upper deck.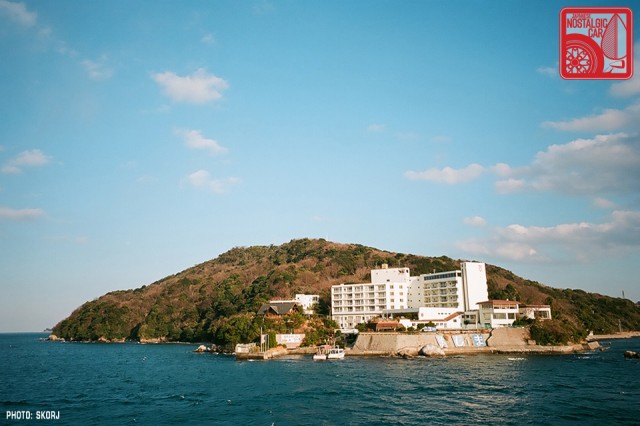 The ferry's approach to Toba City on the western coast of Ise-wan is peppered with numerous islands, some featuring hotels that were obviously designed by the same architect commissioned by the Thunderbirds for their Tracy Island base. With outlooks to both sea and other islands in the bay, views from the ferry are spectacular.
Though another castle overlooks sits atop the hills overlooking Toba, I was more interested in the old Sea School sharing the common grounds. Built in the 1920s, it was magnificently furnished with period appointments and decor.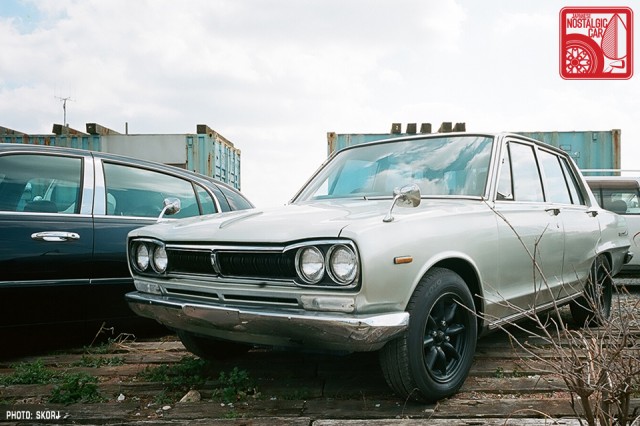 Our destination for the night was the coastal area further south. Taking some back roads there, we discovered a four-door, four-cylinder Skyline Deluxe, sitting outside in the weather, with some very curious for sale company — a USDM Lincoln Town Car and Jeep Grand Wagoneer.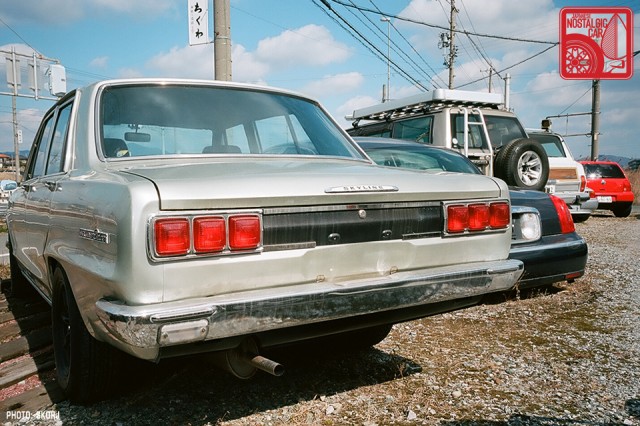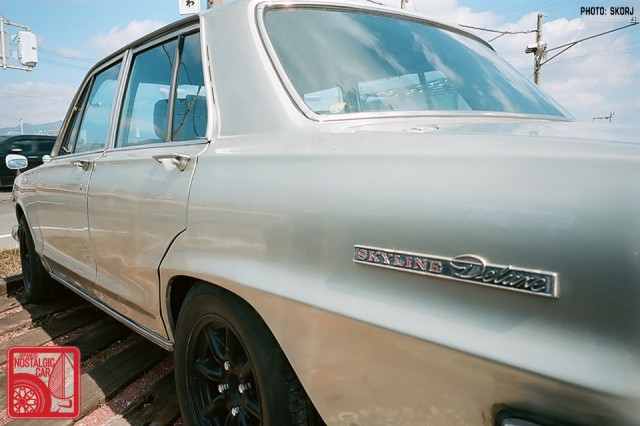 Possibly the most common version of the C10 generation originally built, it is fast becoming the rarest. Though I've seen what seems like thousands of six-cylinder GT-X, GT-R, and GT-R HT spec hakosuka, this was perhaps only the second short-nose sedan I've seen close up.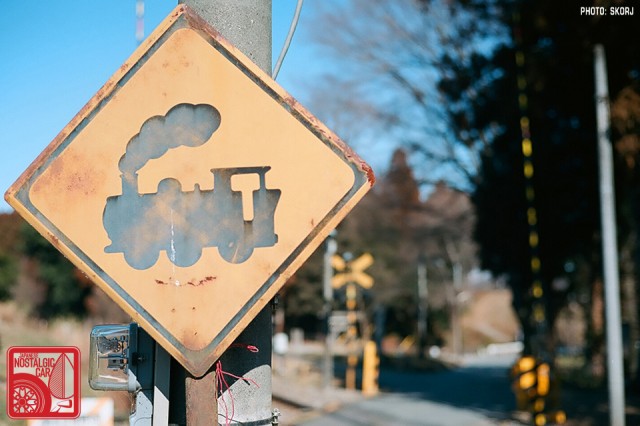 The slow roads cris-crossed with Japan's vast rail network at traditional level rail crossings, where even the warning signs are adorably pastoral.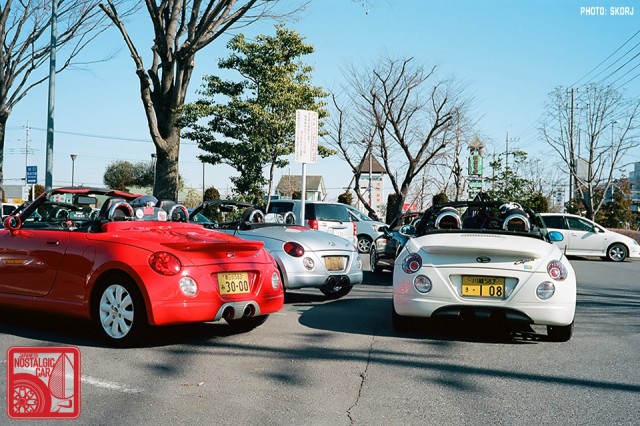 We also stumbled upon the local Daihatsu Copen club's lunch meet, but sadly our CR-V had to sit at a different table than the 660cc steel-roofed kei convertibles.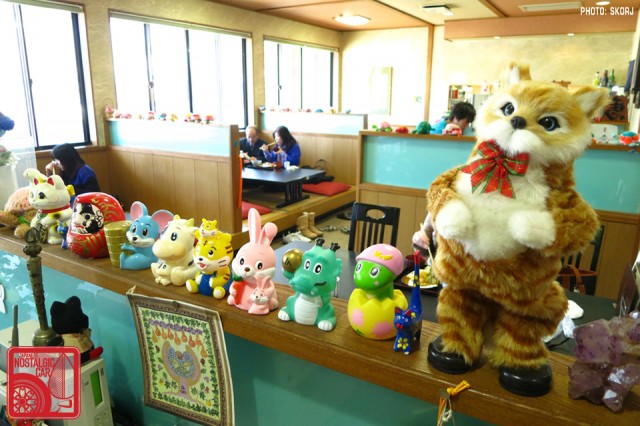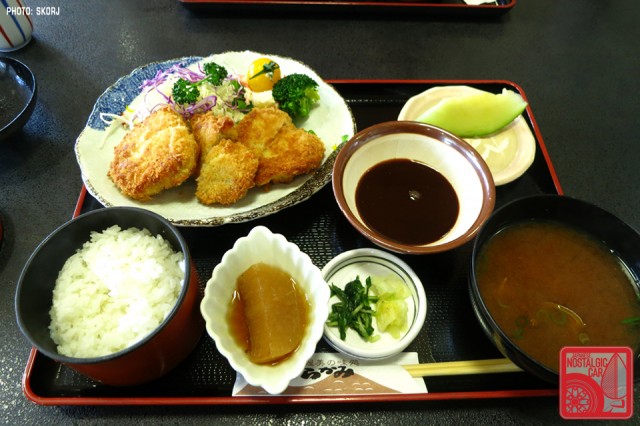 At the most strangely decorated restaurant we had stopped in in quite a while, we dined on a regular favorite lunch of tonkatsu and red miso shiro.
Around the corner from the Ise Grand Shrine, built to honor the sun goddess Amaterasu, a collection of VW Beetles stood out against the Japanese backdrop.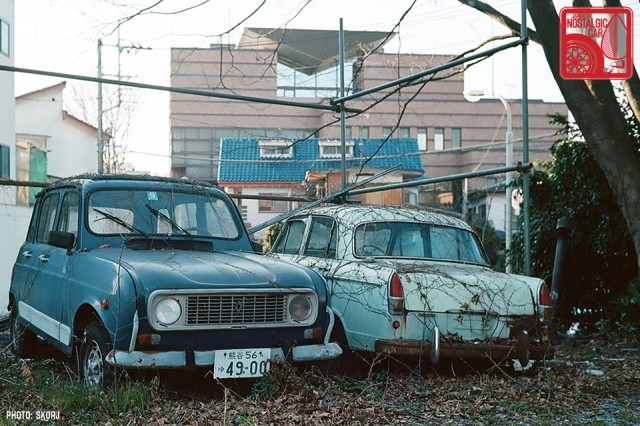 En route to the shrine, we also stumbled upon a lone late-1970s Renault 4 and its companion in decay, a Datsun 312.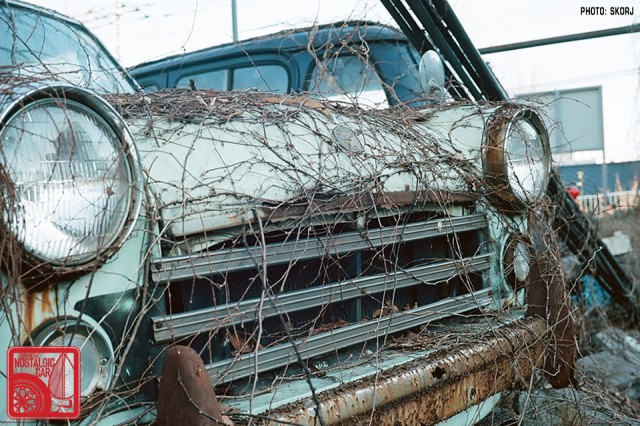 When Nissan introduced the Datsun 312 in late 1962, they gave it a wide, grand grille to distinguish it from the mechanically identical 311 and 310 that had come before. Somewhere along the way though, this particular 312 lost its trademark latticework. The hastily affixed aluminum strips that replaced them were perhaps once considered a temporary solution.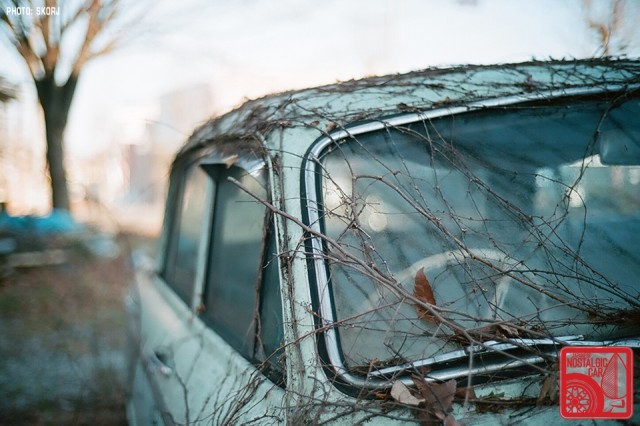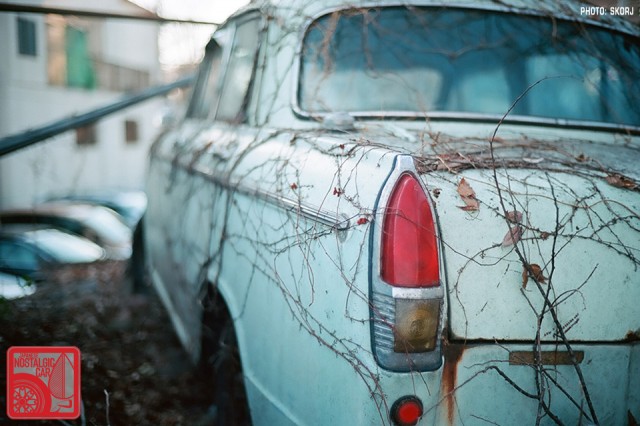 One would be hard pressed to construct a ghostlier scene. Brambles enveloped the old Datsun like a lace veil more befitting of a horror movie.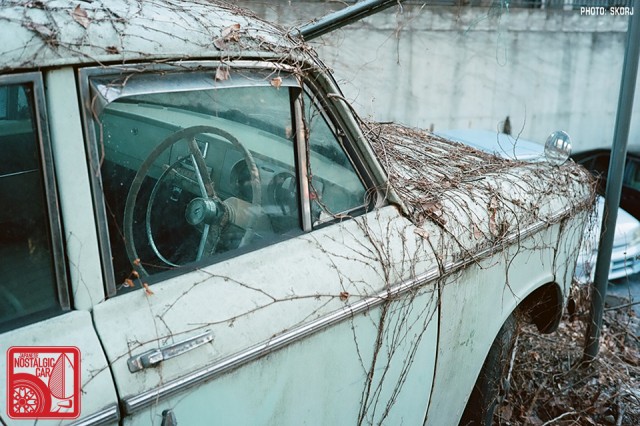 In actuality, the car sat within spitting distance of utter modernity where new machines moved with ease. Though we wanted to rescue the Bluebird predecessor, we had to move on. Next stop: the Ise-Shima Sky-Line.
Stay tuned for Part 02.
Skorj is a photographer living in Japan and co-founder of Filmwasters. All photographs (except food) taken with a Bessa R3a and Kodak Ektar.