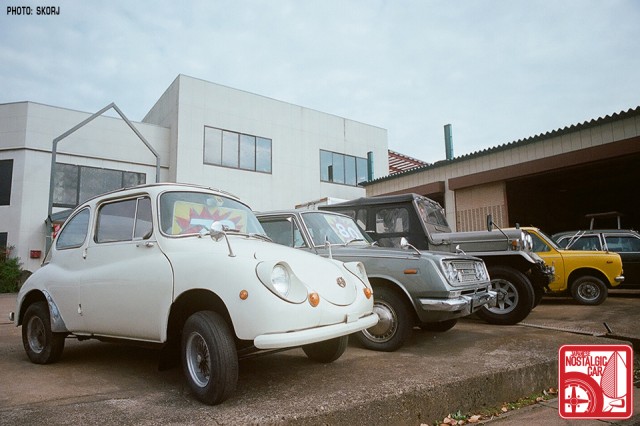 Having not been away in a few weeks, we decided to take a Monday off and spend three days exploring Nagano Prefecture and some of the less traveled valleys near the Northern Alps. Using our usual form of taking the main expressway as far as possible on the first day, dropping off, and taking a few days to traverse the slow roads home, we found ourselves near Nakano City off the Joshin-Etsu Expressway.
Immediately on arrival we came across a JA (Japan Agriculture) yard populated with a curious range of kyusha. JA yards are usually used to store agricultural machinery and other such hardware from the local farms for either display or maintenance. An occasional garage is sometimes present, we assume to assist single machine farmers with either subsidized maintenance or loaner machines for their farms.
This yard though was populated with an acceptable range of classic cars, two Honda Lifes, a pair of Subaru R-2s, a Mitsubishi Jeep, a Subie 360, and a barikan Corona. What a 1969 VW Type-1 was doing there, minus all its wheels though was anyone's guess.
Even more curious were the somewhat conventional price stickers in their front windows. Such collections are occasionally the domain of reclusive shacho, or those sometimes unwilling to openly discuss sales.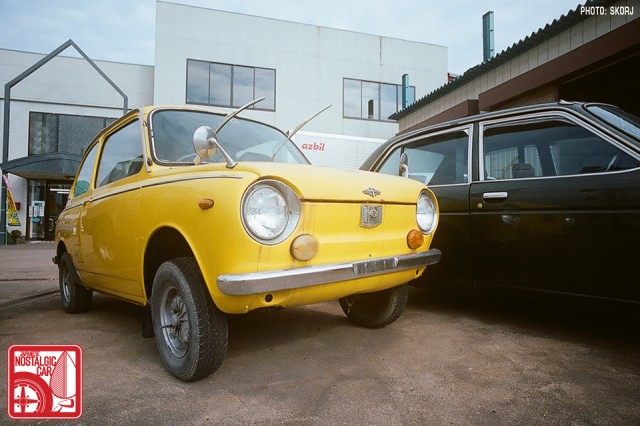 We theorized in this case, the local JA manager was either a kyusha fan himself, or as part of his subsidy campaign to support his local farming constituency, was taking kyusha as trade-ins on farming equipment.
The adjacent garage was obviously being used to repair and restore several cars, including some of the classics, so perhaps it too was being used as apprentice or training school for regional mechanics. I have no idea really, but all very curious.
After lunch, we ventured down a few small winding roads, off into local villages. We explored the rural areas populated with old buildings, some still with mud-hewn walls and thatched roofs dating back many hundreds of years.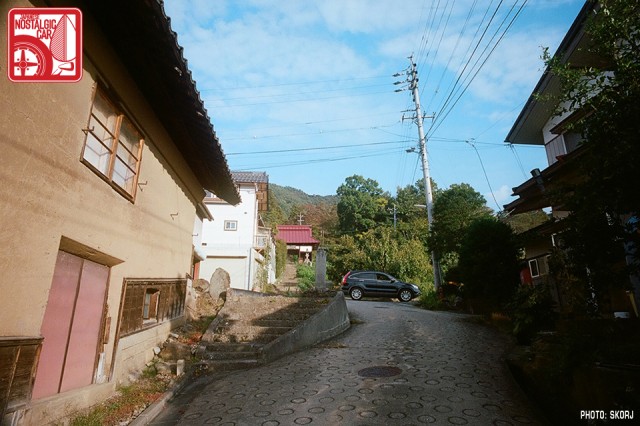 On long trips I have to leave my Honda S800M at home for something with a little more cargo space. Our third-gen Honda CR-V fulfills that duty quite admirably, and we can take it on to wooded trails without worry if need be.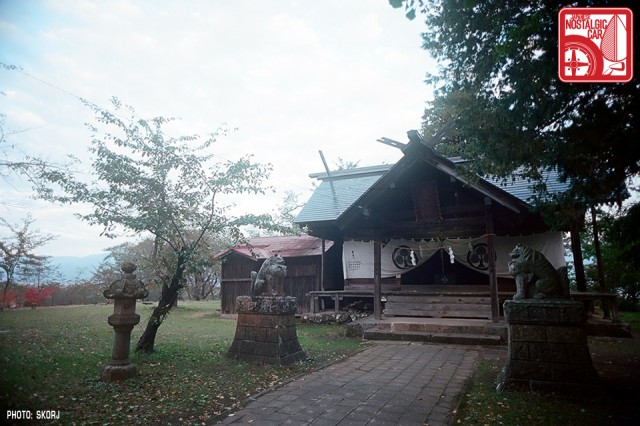 We eventually found our way to Iiyama Castle, or the ruins thereof. A lonely shrine sits amongst the ruins of the former central keep.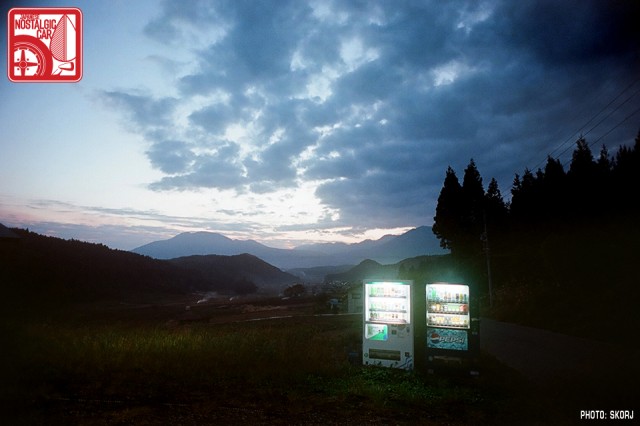 As night fell we made our way to a very un-Japanese hotel on the shores of Noriji-ko. The Noriji-ko Hotel El Bosco has been built in the style of a northern European hotel, in a national forest right on the water.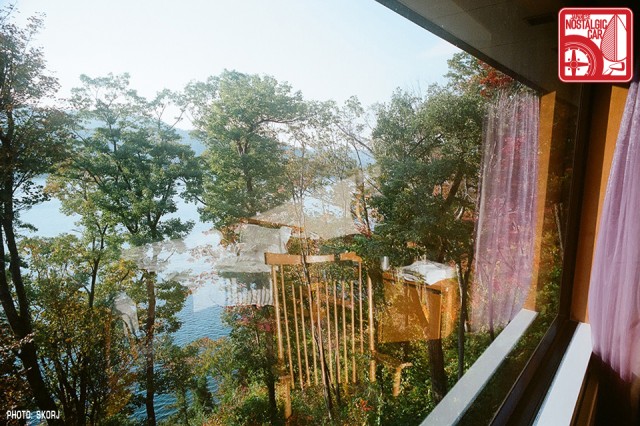 It deserves mention not only because of its truly spectacular location, but also because of its glorious 1970s design with soaring windows, open fired library & quiet reading rooms, magnificent views, and meals of a quality beyond our wildest expectations.
If you are looking for a quiet weekend away, or a mid-week retreat this little hotel is as good as any we've stayed at anywhere in the world. We left the next morning early, with mountain lakes as our destination.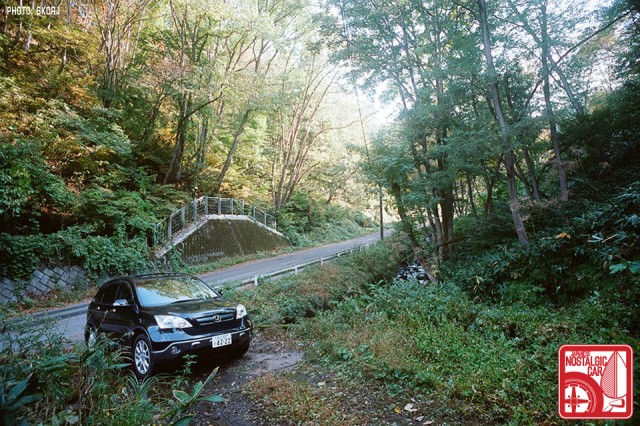 We took some smaller mountain roads, crossed under the Joshin-Etsu, and met National Route 148 travelling south parallel to the Nougu River and to the Nishina-Sanko (Nishina Three Lakes) district.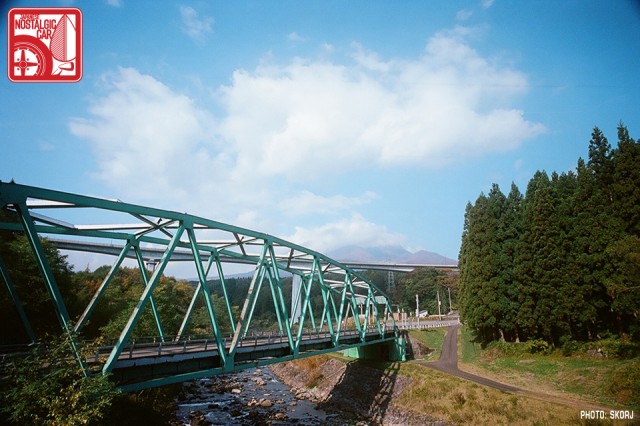 Route 148 is known as the Shio no Michi, or Salt Road. In the Middle Ages, it was one of the kaido (roads) used to transport sodium chloride from the Sea of Japan to central Honshu for processing.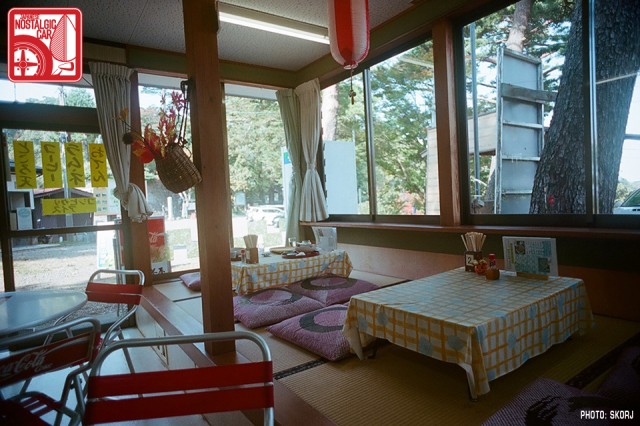 For lunch, we stopped at a mountain soba restaurant, where two oba-san, perhaps sisters, fussed over us as we ordered their recommended special – a rather tasty zansai-soba.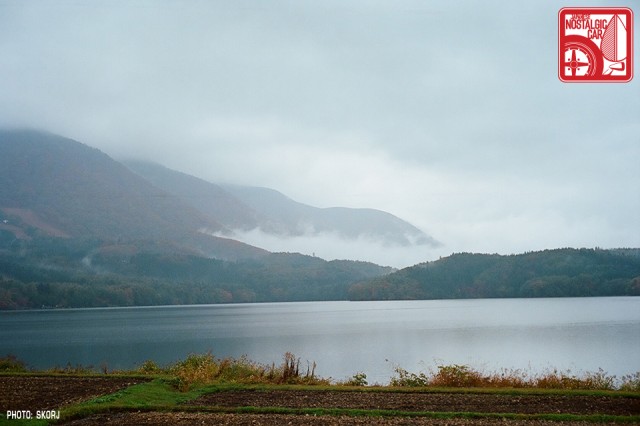 The Salt Road traverses the valley in parallel to the Nougu River, joining the Aoki- and Kisaki-ko, two spectacular mountain lakes. With the clear skies giving way to light rain, we reveled in the low mountain mists hanging over the lakes and the smell of the nearby forests.
The shores are scattered with summer houses, most locked for the winter. Pressing onward via deserted roads, we experienced the solitude and dead quiet of the still lakes and low-hanging mists.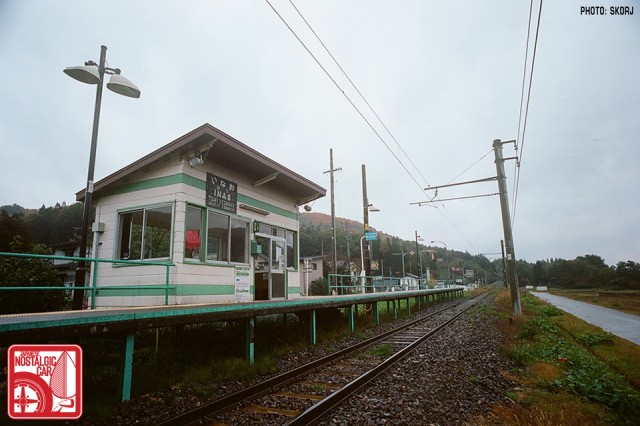 For those traveling to the area by train, the single platform Inao-eki offers a convenient drop off from the slow train, with a short walk to a few local ryokan making a very pleasant weekend diversion for those without cars.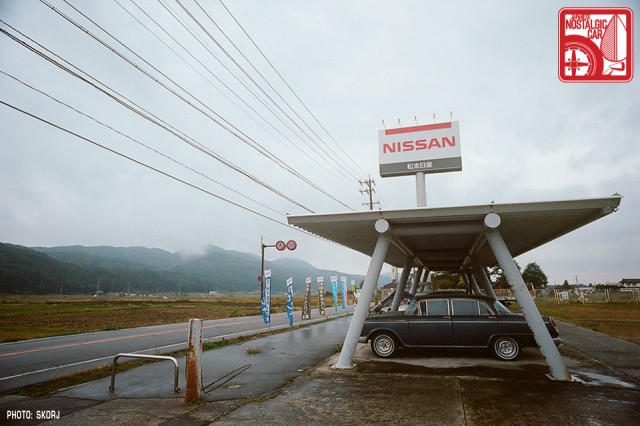 Approaching Matsumoto-shi on National Route 147 outside Shinomachi, we were surprised to see an official Nissan dealer with a row of kyusha on prominent display. In Part 02 of our Shio no Michi journey, we'll take a closer look at these cars and more as we continue down the Salt Road.
Skorj is a photographer living in Japan and co-founder of Filmwasters. All photographs taken with a Bessa R3a on Kodak Ektar 100.