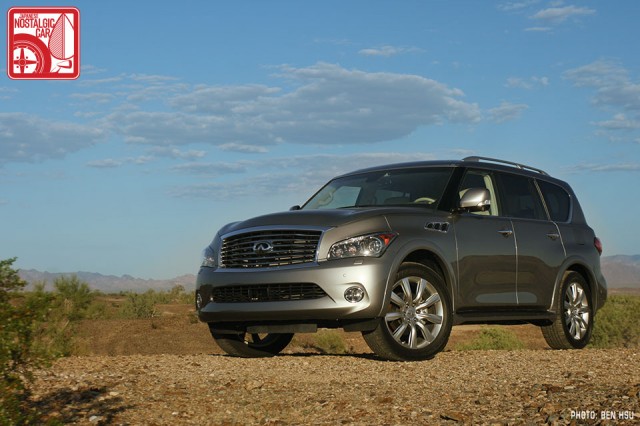 Lawrence of Arabia. The Road Warrior. Return of the Jedi. These journeys into the desert and the hazards that befall their heros were fully seared into our minds as we traveled from Los Angeles to Phoenix, Arizona for the 25th Z Car Convention.
Those of you who attended JCCS this year will probably never forget how skin-meltingly hot it was by the coast in Long Beach. We were headed 400 miles into a barren wasteland in the midst of this record heat wave, and as much as we love the JNC wagon, we love A/C and not turning into a powdery skeleton even more.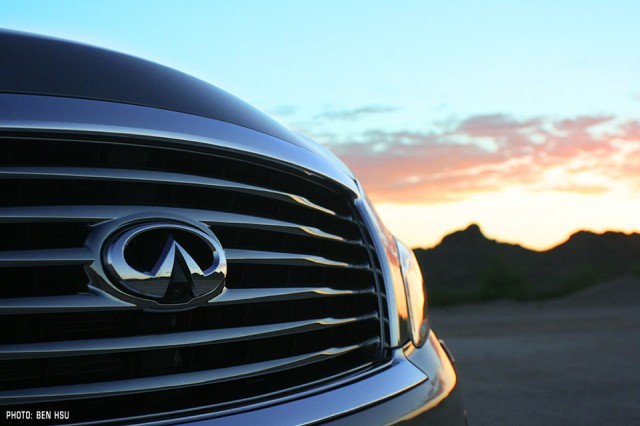 Plus, we were going to a Nissan convention so it seemed only fitting to show some brand loyalty. When they let us have the pick of their litter we immediately grabbed the keys to a 2012 Infiniti QX56, top dog of the marque's portfolio, a $75,000 juggernaut of tech, luxury and indulgence to your every need no matter how trivial.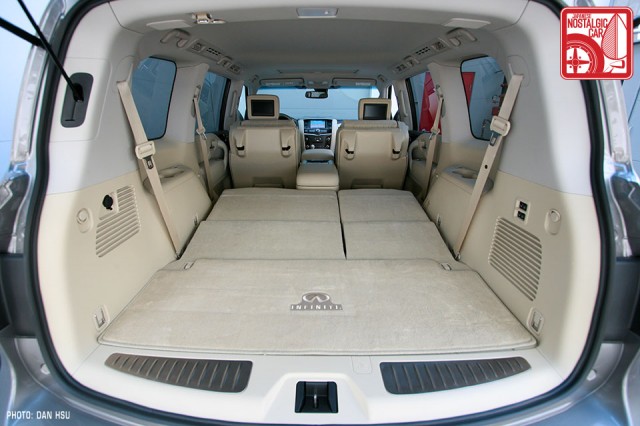 We didn't need a car this sumptuous. In truth, no one does. All we wanted was something that could haul our gear to Phoenix without melting and the QX's cargo hold is absolutely cavernous. It gave us room to bring a friend, Alton "Master" Takeyasu, second place 240Z at JCCS owner and Mattel designer. Thus far, this monstrous three-row seven-seater is the only car that's swallowed all of our gear with room to spare.
That turned out to be quite useful, because the QX simply goes. We found ourselves constantly using the rear view mirror to see if we'd attracted the fuzz, a precaution impossible with any other hauler as it would've been packed to the headliner.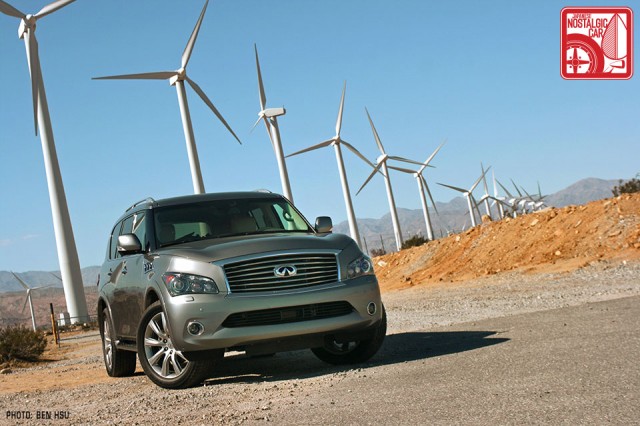 Barreling eastward, we reached the wind farm just outside of Palm Springs in what felt like a blink. Its 4000 windmills suddenly loomed into view like sentinels guarding an ancient valley, but the QX blazed right past them with power delivery as quiet as that of the turbines themselves. With 400 horses on tap, it positively devours the space between you and what's ahead with little effort and a whole boatload of buttery smoothness.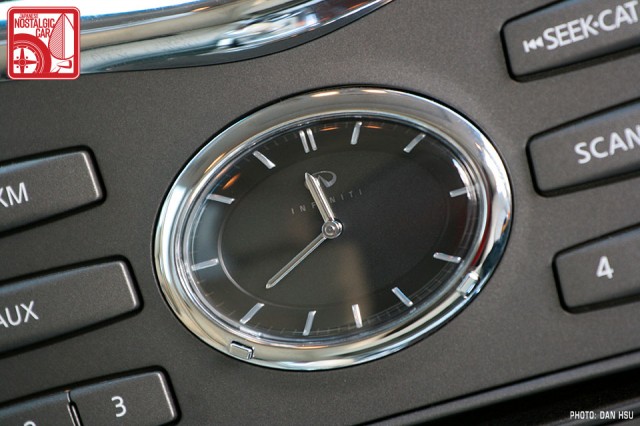 We were making great time across Interstate 10, even with frequent stops to document our road trip with photos. Timekeeping was kept with a completely old school analog clock, despite the fact the QX has so many sensors and cameras you half expect to see Tom Cruise dangling from the ceiling.
When Infiniti debuted in 1989, they actually made a whole commercial (starring the bad guy in Ronin!) about how the timepiece was a key design element appearing on every vehicle. It didn't seem like a big deal at the time, but we're glad to see they've stuck with it lo these many years. Now that everything's digital and you can't tell the damn time unless you turn the car on, it's a charming reminder of how much simpler things were in the old days.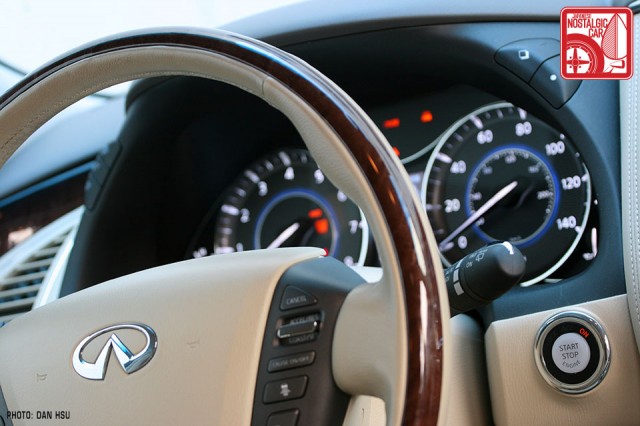 Everything else, however, is gadget city. The QX knows when you've wandered from your lane. It knows when you're too close to the car ahead, or when you're backing into a car behind. It knows when there's something in your blind spot. It knows if you've been good or bad so be good for goodness' sake!
To help you back up, there's a series of four cameras — mounted in the tailgate, under each side mirror and in the immense Infiniti badge on the grille — whose images form together like Voltron a bird's eye view of the car displayed on the GPS touchscreen. Actually there's a fifth one that gives you a butt's eye view too.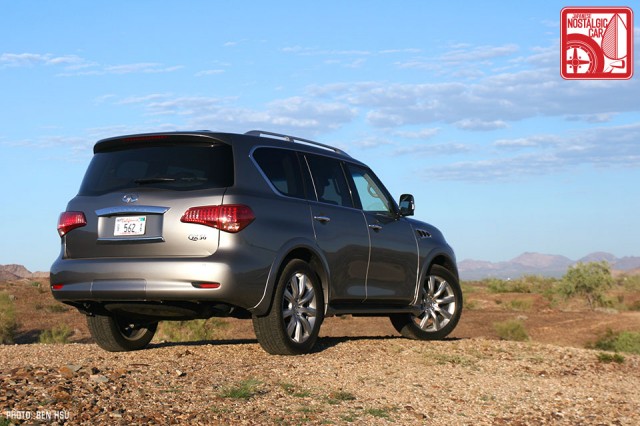 All these electronic eyes are pretty useful because the QX is just freaking gigantic. Without them, Japanese style parking would put many a small child at risk. Even if we weren't normally cruising around in a shakotan nostalgic, we'd still find the QX gargantuan as it easily dwarfs everything on the road — Grand Cherokees, Tahoes, Sequoias, you name it. They all just float by like islands in a stream. We weren't used to this feeling of supremacy.
Just after the California-Arizona border we stopped at Quartzsite (population 3,354) and soft-roaded onto some hills of red rock like the Mars rover. The martian-esque landscape suited the QX perfectly in fact, because it does have a certain extraterrestrial look about it. The designers have done an impressive job of making it look less big than it really is. The trick was to give every surface plenty of curves so that no one panel is too slab-sided.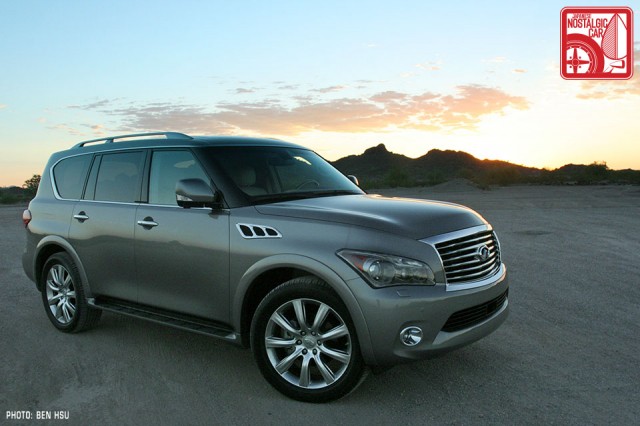 Looking out from the driver's throne, the bulging dome of the hood made us feel like we were riding an Alien alien down the highway. That alone is worth the price of admission. The QX isn't a car we see on every street, and its uniqueness is magnified tenfold in a place like this, where there are no Infiniti dealers within a 100 mile radius.
As the sun went down, we flicked on the headlights for the first time and rolled ahead like a steam engine. On pitch black desert roads the beam spread on this thing was absolutely amazing, striking the fear of God into whatever sand critters were caught in its Sauron-like gaze. In no time we arrived at the western edge of the the sprawling Phoenix metro area. Back to civilization!
The Infiniti HR Giger had carried us to the Valley of the Sun with nary a hiccup, but Phoenix is so spread out that it was still an hour before we reached our destination, the northeast burb of Scottsdale where our friend, Hemmings' Jeff Koch (a closet Japanese car fan at heart despite his many muscle car articles) treated us to some much needed Jersey style pizza.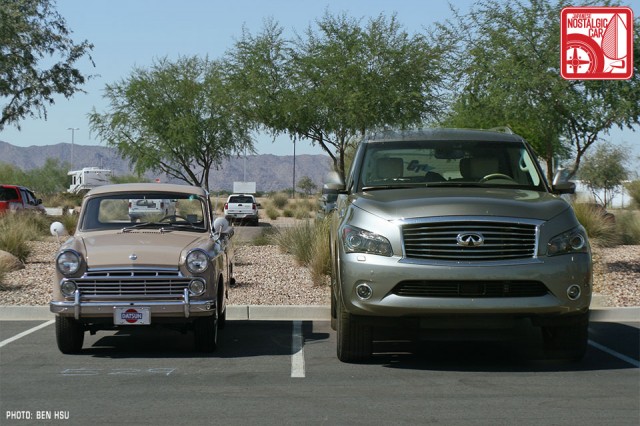 We rolled into the ZCon car show bright and early the next day and you can read all about the event itself and see photos in our coverage here. It was another blistering 100-plus degree car show, so when it was over we were ecstatic to be climbing back into the organ-transport-grade air conditioning of the QX.
Before we left though, we couldn't resist grabbing a shot of it next to our friend Dale Herseth's 1965 Datsun L320 pickup to show just how far Nissan has come in its truck building prowess. 60 horsepower versus 400. A 1.2-liter four-banger versus a big honkin' 5.6 V8. If we wanted to, we could have brought home four L320s with the QX's 8,500-pound towing capacity.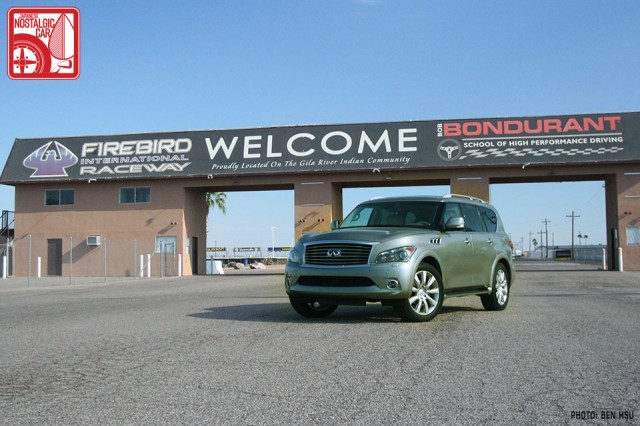 Since we were right next to Firebird International Raceway, it was our duty to explore the world famous Bob Bondurant School of High Performance Driving. Nowadays classes in defensive, racing and evasive driving are taught with a dozens of gleaming new Camaros and Corvettes, but when Bondurant started his school in 1968 the fleet consisted of just three Datsuns.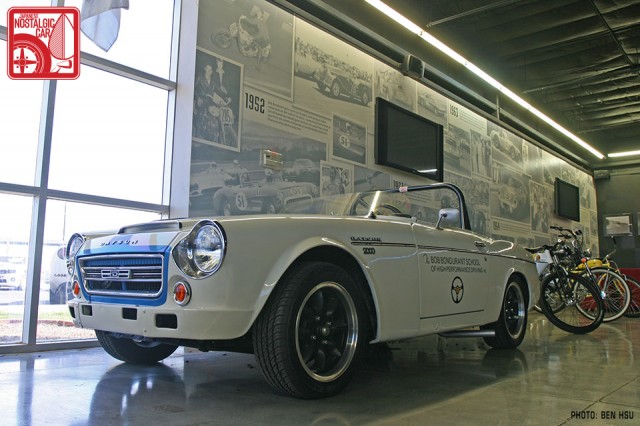 A 1600 roadster, 2000 roadster and 510 comprised the trio, donated to the nascent school by Yutaka "Mr K" Katayama himself. In addition to aspiring racers, law enforcement and bodyguards, Bondurant trained celebrities like Robert Wagner, James Garner, and famed Nissan racer Paul Newman for their most memorable roles in racing films. None of the original cars survived, but this 2000 is a replica of the original Bondurant car restored by Les Cannaday of Classic Datsun Motorsports.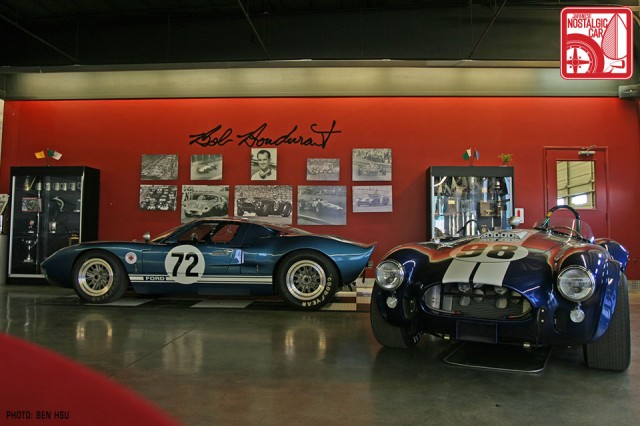 Bondurant himself began racing in the 1950s. He had a storied career driving for legends like Dan Gurney and Carroll Shelby in contests ranging from Le Mans to Formula 1. Tragically, a 150 mile per hour crash in 1967 at Watkins Glen caused injuries that ended his professional racing career.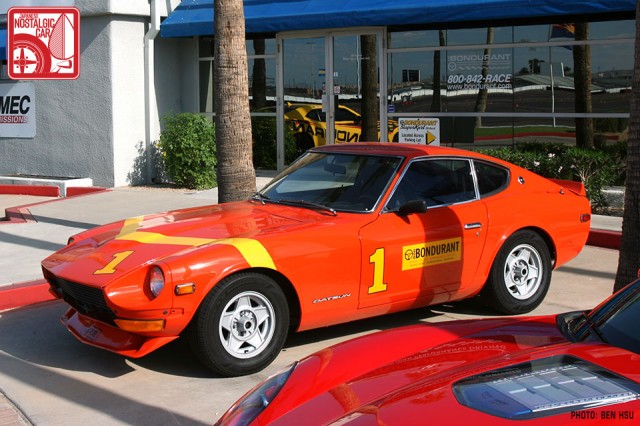 Bondurant started his school the following year. When he outgrew the roadsters and 510, Datsun 240Zs became the educational tool of choice. This 1973 example is one of the prized possessions of the school, parked in front of the main building beside a Corvette ZR1. The 240Zs were eventually replaced by 280Zs and 280ZXs, but sadly there were no examples of those cars anywhere on the premises.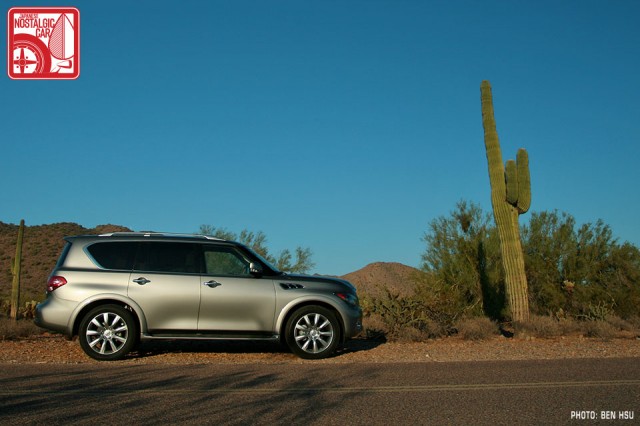 After that Alton suggested we head back to Scottsdale to check out Taliesin West, Frank Lloyd Wright's former winter home. Fighting through Phoenix rush hour to get there (the show was on a Thursday) Master Takeyasu made a trenchant observation: "You can tell we're not in LA anymore because you don't see any Panameras." In fact there was a distinct lack of douche chariots all around. The QX reigned supreme, but is far enough out of the standard purview of douche chariot shoppers that it is, in fact, not douchey.
Sadly, the last tour of Taliesin West had already left by the time we arrived and they wouldn't let us wander around on our own. What we did see of the place was stunning though, a testament to how inconceivably difficult it is to design something cohesive and beautiful out of nothing.
The road to Taliesin West was lined with saguaro, tree-sized cacti synonymous with Arizona. Obligatory photo taken. We were pretty beat so the evening's festivities consisted primarily of gorging on Mexican food and crashing out.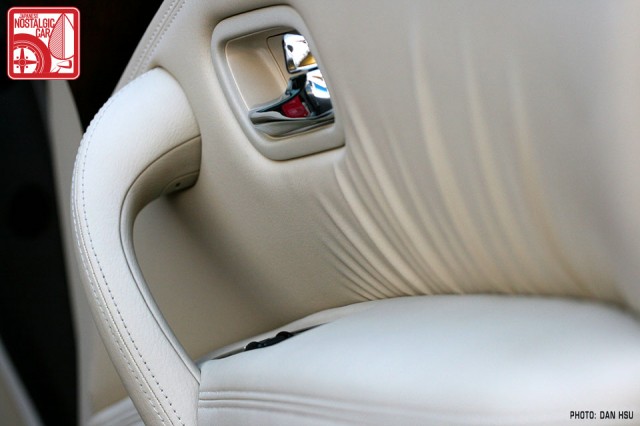 We left Arizona at 6am the next morning because we had to be back in LA by noon. Previous to this trip, we had been regaled with stories about the horrors of desert living from JNC's Dubai Bureau Chief James "Toolz" Davison while he was in town for JCCS. He explained how Nissan Patrols old and new were one of the most desirable wagons there, serving as everything from soccer mom shuttle to 700-horsepower drag racers for the locals.
The legendary off roader has Land Cruiser-like followings in many areas of the world, but hasn't been sold in the US since the early Sixties. Luckily, the QX shares a platform with the Patrol, but is made even better by a cocoon of luxuriant white leather and aforementioned technowizardry. Though we never had to charge up a sand dune to flee armed bandits, it's nice to know the capability is there.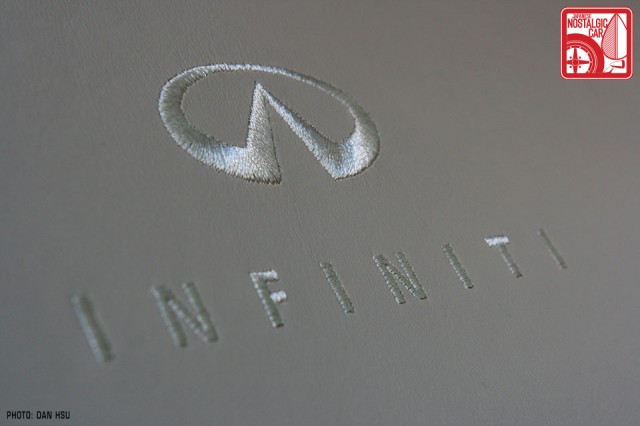 JNC art director Yee Chan says that Infiniti still has the best automotive logo from Japan. Simple, to the point, and one that actually evokes the idea of driving. It also happens to resemble every highway Phoenix and LA. As we demolished those miles, we pondered how the Infiniti brand has been with us for 23 years.
At first there were many doubters about the whether a Japanese luxury brand could make it. Infiniti clearly has, from pummeling the German competition with its original Q-ships to outliving the 276-horsepower "gentlemen's agreement" that held Japanese automakers' outputs artificially low — with a 400hp SUV no less! Who woulda thunk it in 1989?
We had to stop for a photo at Cabazon because, come on, roadside dinosaurs! In two years the original Q45 will pass the magical 25 year threshold into the realm of classics. In Japan, the F31 Leopard, which you know as the Infiniti M30, is already welcomed at classic car events.
Most of us on the JNC staff are rather proud of the fact that we daily drive cars more than a quarter century old and don't need no newfangled gadgets. We must admit, however, that after a trip in the QX we could get used to, say, bluetooth and a captain's chair worthy of Jean Luc Picard. Have we been spoiled?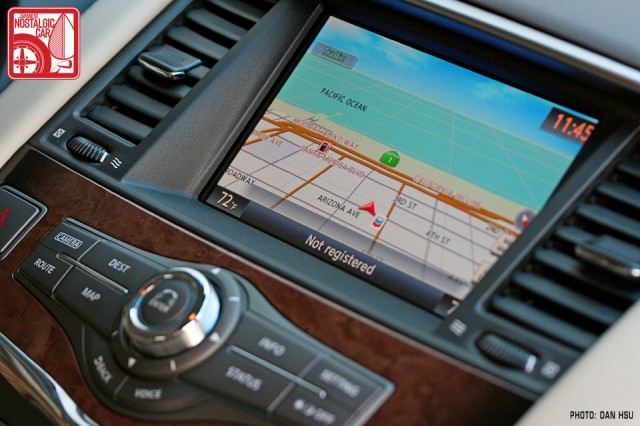 Back in Los Angeles, we were finally able to appreciate the context of the QX. When it launched in 2011, the styling was controversial, and probably remains so to many eyes. But when you see LA streetlights dancing in the organic curvatures of its sheetmetal and its sheer size, it outblings all comers — Escalades, M-Classes, Cayennes, whatever people saw on MTV Cribs last week. And in LA, bling is everything.
Besides, if civilization crumbles you know its underpinnings can get you out of any warlord-related jam. Why more rappers don't drive QXs is a mystery to us. If the JNC crew ever sells that million dollar screenplay or signs a platinum recording deal, the QX might just be our nostalgic car tow vehicle/entourage carrier of choice.