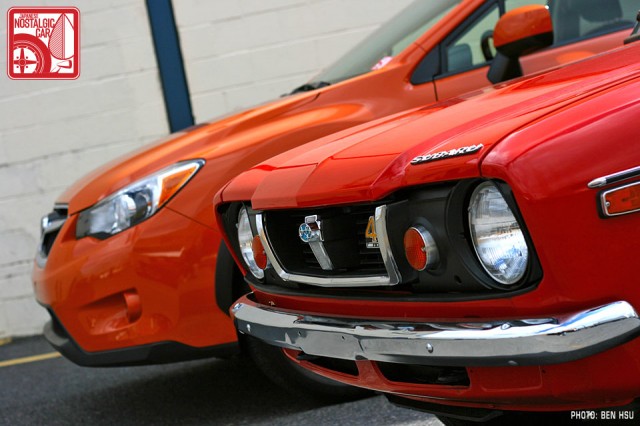 In Part 01 of our journey to Subaru of America's headquarters, we got a rare glimpse inside the "attic," a jaw-dropping treasure trove of the automaker's most important cars. It was truly a once-in-a-lifetime opportunity, as the nondescript New Jersey warehouse is not open to the public. Do you want to see more? Yes, of course you do.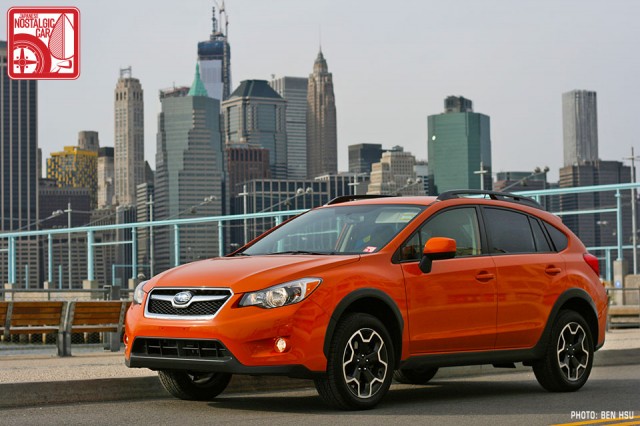 To recap: We began the pilgrimage in New Yawk City, where Subaru met us with its latest Fuji Heavy, a Subaru XV Crosstrek that threw more orange at our retinas than getting stabbed in the eye with a carrot. From there, like the intrepid Lewis and Clark Harold and Kumar, we set off in search of Cherry Hill, New Jersey. Only instead of burgers made from wet cardboard, we found a cache of quirky, boxer powered cars.
Quirk. That's really been the defining trait of Subarus. From gangly old wagons to fire-breathing rally monsters they've always traveled off the beaten path (usually in  trademark all-wheel-drive). Even Subaru race cars are a bit funky, and we don't mean the familiar yellow-on-blue Imprezas.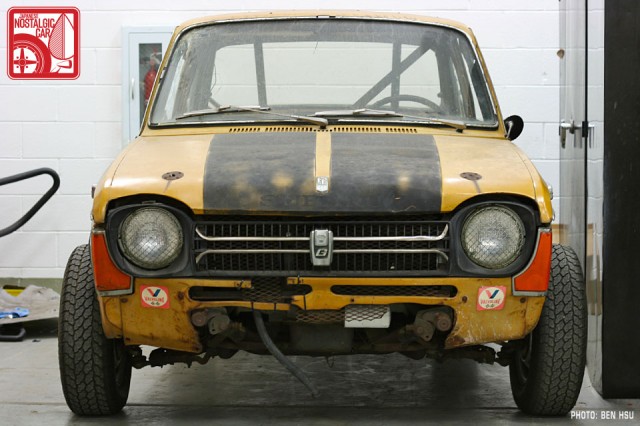 Stowed in the attic, for example, is a 1971 Subaru FF-1 that ran the Baja 500. To prepare for the grueling off-road race — which today routinely devours purpose-built dune buggies for breakfast — the FF-1 was equipped with oversized tires, a roll cage, and not much else.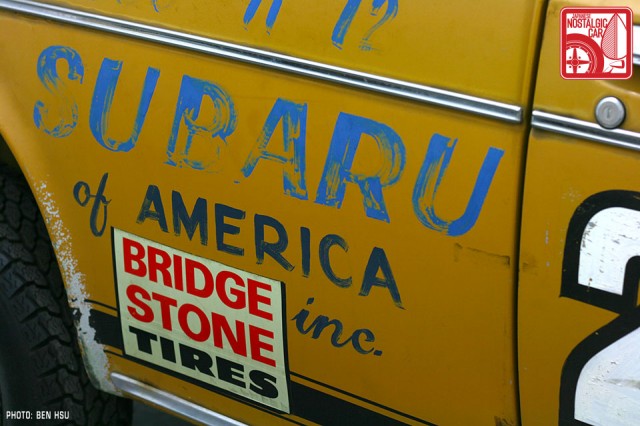 It still wears all its race damage, including a dent in the nose on which driver Jack Coyle, a San Bernadino Subaru dealership owner, came down hard after catching air. Coyle and Pete Petrowsky, a salesman at his store, built and raced the car in 1971. Trivia fact: Petrowsky then raced the 1973 Baja 500 with Noriyuki Koseki, who helped establish STI in 1988.
Coyle donated the car to Subaru several years go, though it's not in running condition. Subaru will soon restore the unlikely Baja 500 racer enough to get it running, but not to erase its battle scars.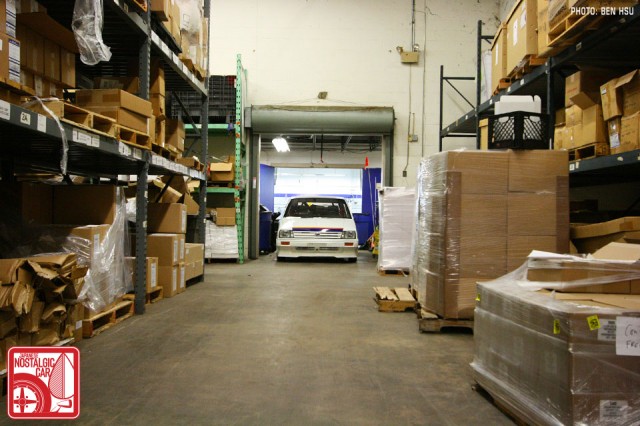 We then left the sacred attic to check out another little known Subaru race car. To get there, we were guided through a parts warehouse packed to the rafters with whole EJ255 and EJ257 engines, six-speed transmissions and assorted turbos, manifolds and entire subframes. The average NASIOC member would probably sell his mother for a go at the riches contained here, but we headed straight for the car parked in small room at the end.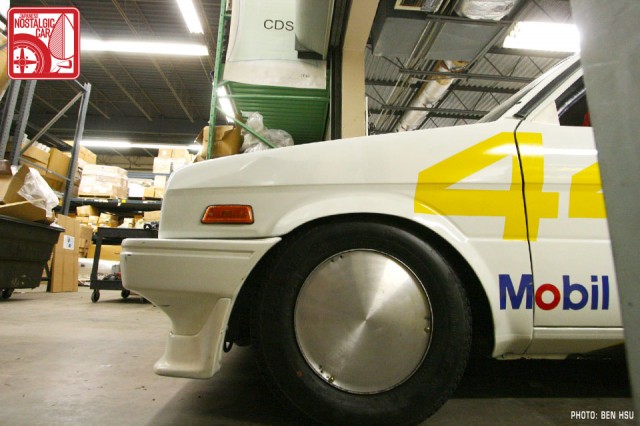 If you thought the classic Justy from Part 01 was cool, you'll love what is undoubtedly the fastest Justy on planet Earth. In 1988, this humble little hatchback set a world speed record in the I/Prod class at the Bonneville Salt Flats, and then returned in 1989 to best itself with a speed of 123.224 miles per hour.
Think about it: 123 clicks in a 9-valve, 3-cylinder economy car! That's an impressive feat already, but made even more so when you learn that class rules forbid displacements larger than 1.0 liters. Its smaller-than-stock engine replaced the original USDM 1.2 liter's crankshaft and rods with those from a 1.0L JDM motor.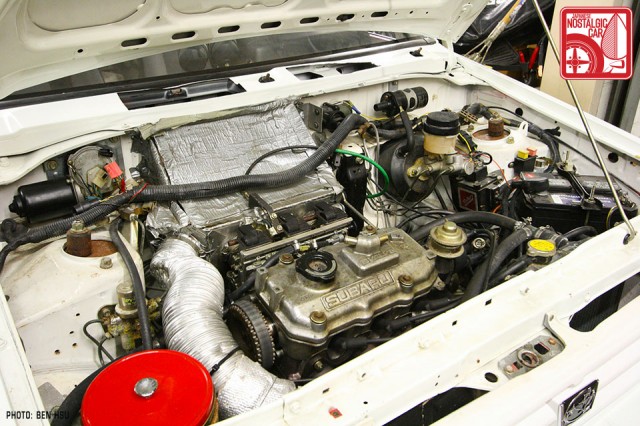 The team consisted largely of Subaru Technical Center employees working after hours. Other non-stock go-fast bits include a heat exchanger that uses ice water to cool the fuel before it enters the carburetors and custom ram-air and cowl intake ducts engineered from extremely advanced technology — cardboard and duct tape.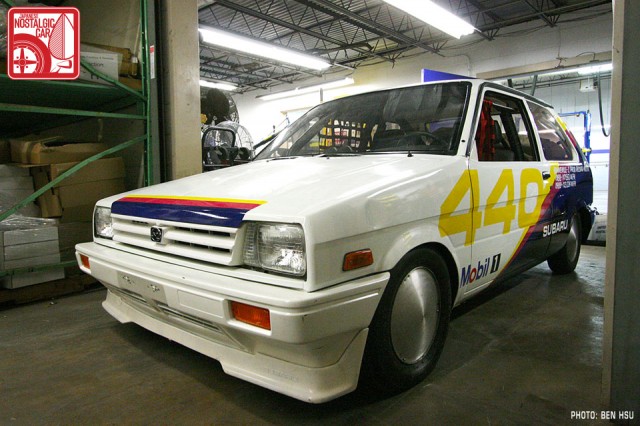 Class rules dictated a stock body, but allowed for minor tweaks like a mirror and wiper delete or the addition of JDM chin and rear spoilers. And of course, no land speed record car would be complete without Mooneyes Moon Disc wheel covers. Leave it to Subaru to build a land speed car out of one of the smallest compacts sold in America.
Next, we had a chance to go outside and see some of these classics run. They were confined to the parking lot behind the warehouse but we are happy to report that, though a battery pack may have been deployed once or twice, most of the attic cars are in fact operational.
Since we'd brought the XV all the way down from New York, it seemed only fitting to reunite it with its predecessor, a 1976 DL Wagon. Yes, strictly speaking the DL/GL was ancestor to the Legacy, but the Impreza and XV occupy the compact wagon segment now.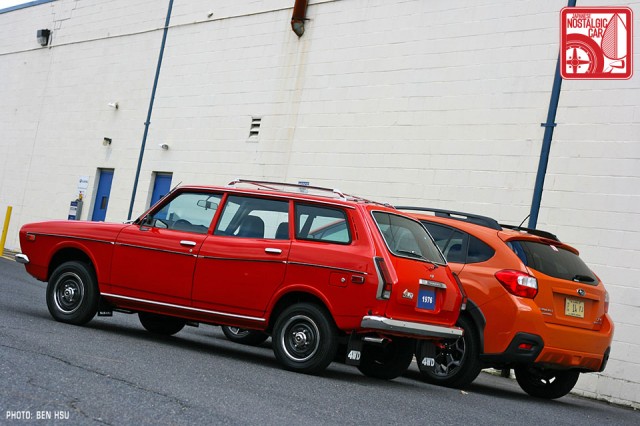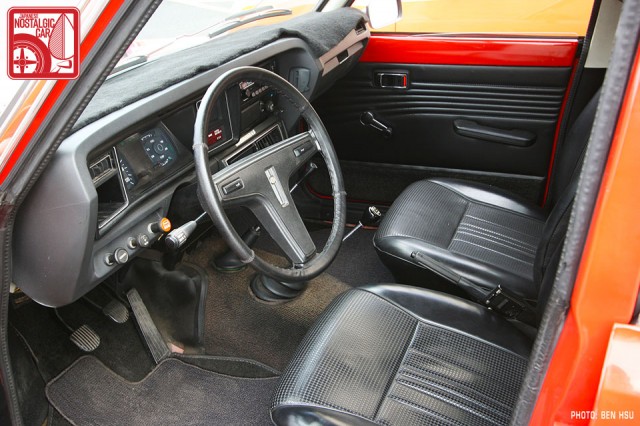 It's remarkable how much Subaru has retained its unique heritage, even after 40-something years. Both XV and DL are powered by four-cylinder boxers, though one has 148 horsepower and the other 67. Adorably, the DL's was called the "Quadrozontal" in marketing materials back then. Both boast traditional, no-nonsense cabins, functional without being overwhelmed by useless technology. Most importantly, both have that elevated, tall wagon stance. The only difference is that when the DL was new, AWD was unheard of on a regular passenger car.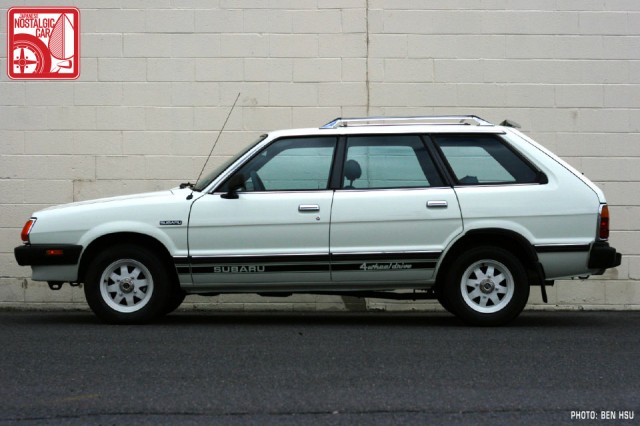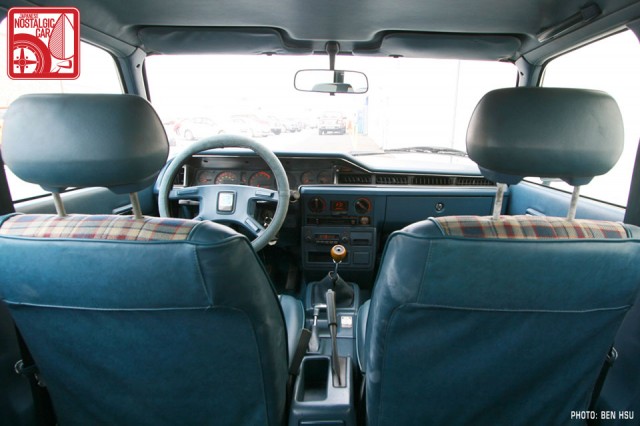 Before we left, we had to get an up-close look at my personal favorite of the collection, the 1980 GL Wagon. "That's just your wagon bias or love for plaid upholstery talking," you say. Perhaps, but what made this one really special was its bizarre and unbearably cool third eye option.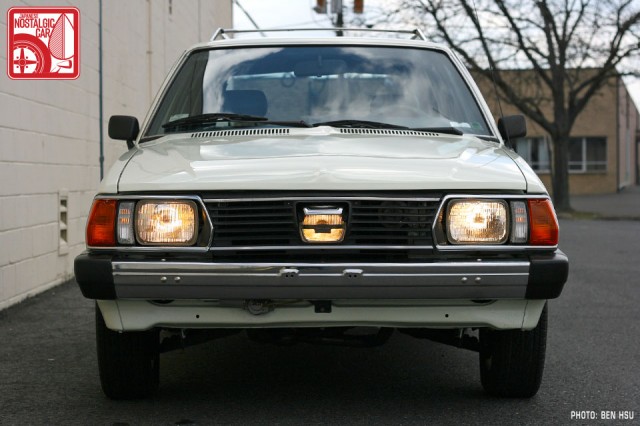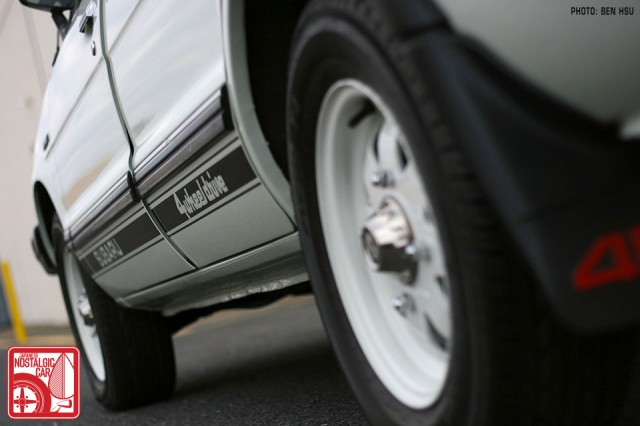 The official name was "passing lamp" or "center light," but the SoA people call it the "cyclops" internally. Basically, it's a headlight located behind a little hinged door in the grille, hidden by the Subaru emblem. A switch on the turn signal stalk activates it. We suppose wagon's push-button AWD and presence of an actual hi/lo range is pretty spiffy too, but come on, third eye!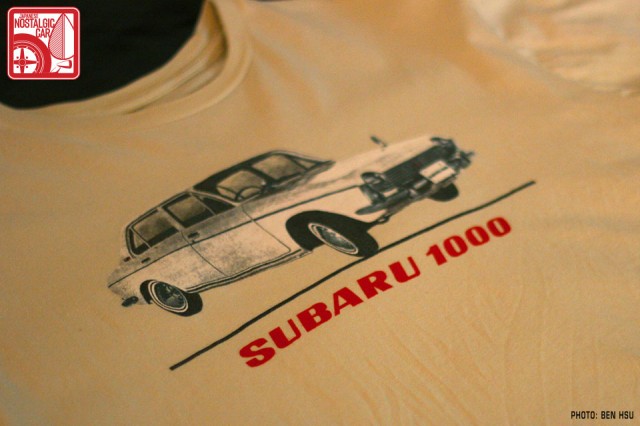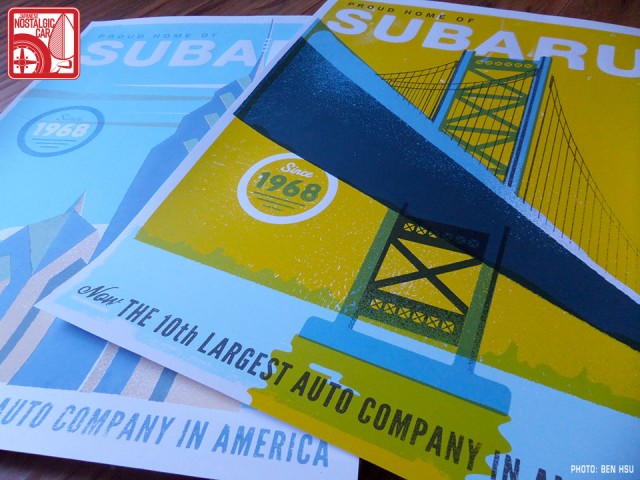 Soon it was time to bid farewell to SoA's gracious staff. They gave us some lovely parting parting gifts like a Subaru 1000 T-shirt and prints commissioned from local Philadelphia artists (Cherry Hill is only 10 minutes from and considered a Philly suburb). They also promised we'd like "a little something" they had planned for debut at the New York Auto Show that would take place a few days later.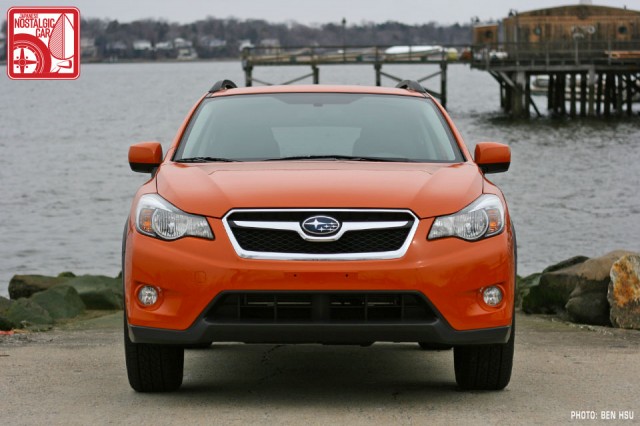 We thanked our hosts, piled into James' Giant Peach and headed back into the concrete jungle. For the next few days we bombed around the Big Apple wondering what that surprise could be.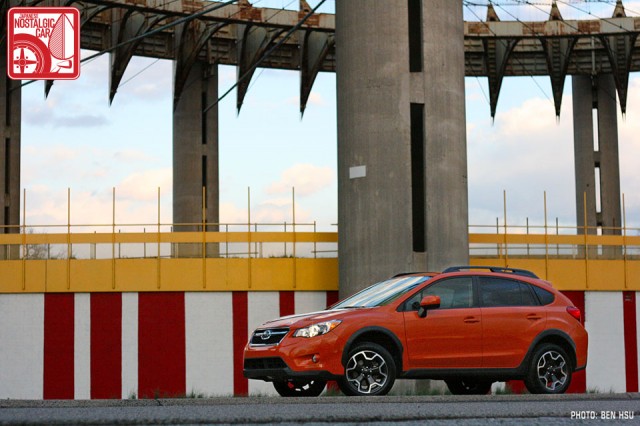 People say New York is horrible for cars, and it's basically true. Parking mostly sucks, pedestrians have a death wish, and no one cares enough about your car to avoid planting dings in it. It's basically a bizarro world Los Angeles, where the car is king.
However, if you do happen to have a sweet ride and can afford to pay more for your parking space than the car itself, weaving through Gotham's maze of ramps, tunnels and architecture is funner than a basket of puppies.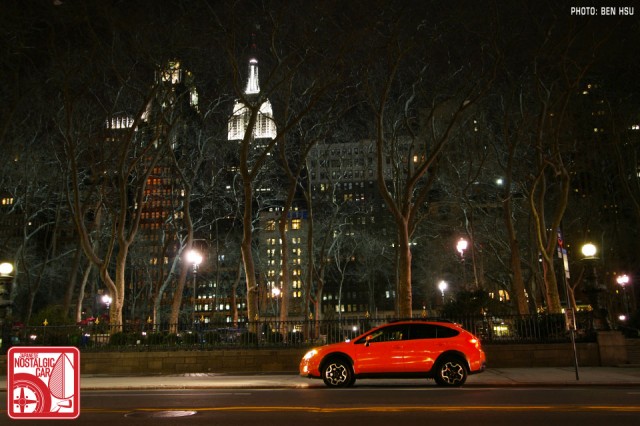 There's something grand to see around every corner, and once in a while they throw a weird kink or a hollowed-out skyscraper at you. Besides, if you venture off the main grid onto the highways encircling Manhattan or cross the bridges to its outer boroughs, ribbons of asphalt are flung every which way like a 90s racing game.
But as much as we'd enjoy plowing the JNC wagon through New York's majestic avenues, the accompanying craters would rip its Tokicos from the chassis in about five minutes. In that sense, the Impreza-on-steroids XV is just about the perfect city car. Sure it looks gawky, but at least it's tall enough not to have its oil pan torn out by a manhole cover. Plus it's small enough to park, maneuverable in traffic and an ace in east coast winters. It also helped us consume our weight in pizza.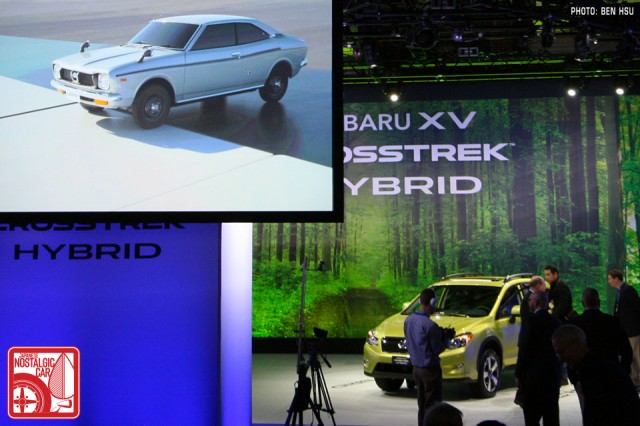 Obviously we weren't about to miss whatever Exciting Thing, so we arrived at the NYIAS bright and early on show day. Subaru had already "leaked" the XV Crosstrek Hybrid, so that couldn't be it. For now, all the booth had were a couple of TV screens running videos of old Subies on endless loop.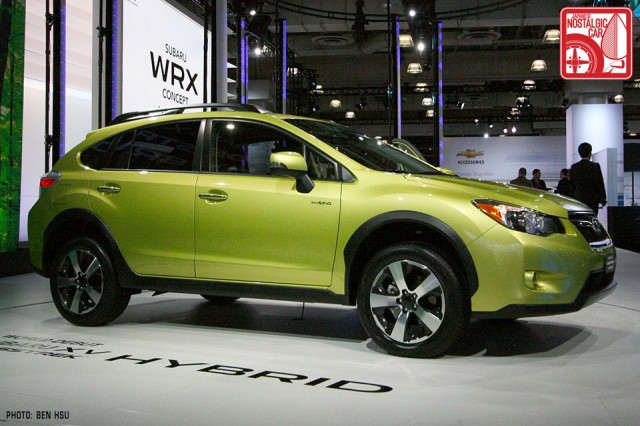 Finally the lights dimmed and some Subaru suits took the stage to school the audience on FHI's first hybrid. Basically, it was the exact same car we'd been driving, but green and mated to a 13hp electric motor. Then the spotlights swiveled towards a closed curtain as dramatic music swelled.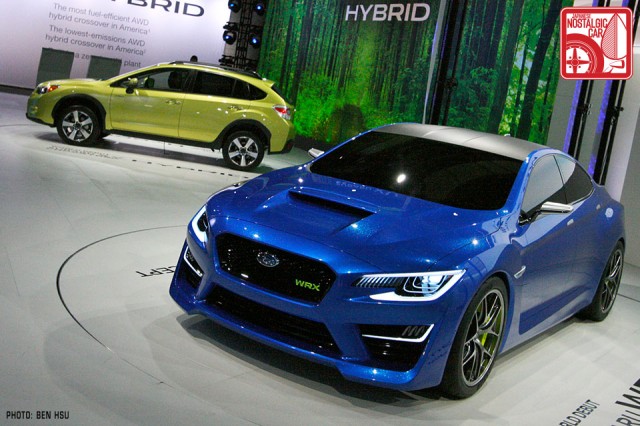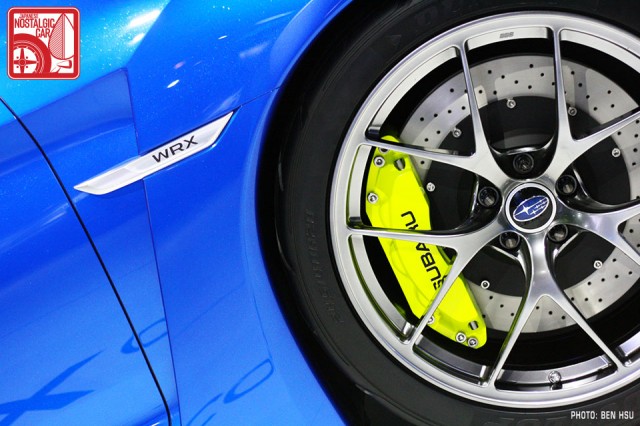 And boom: The curtain dropped to reveal the Subaru WRX Concept. It was a complete show stopper. The jaded mouths of every auto journalist in the room fell open in awe. For 20 years Subaru has been souping up Imprezas to create insanely powerful turbocharged WRXs and STIs, but this was something different.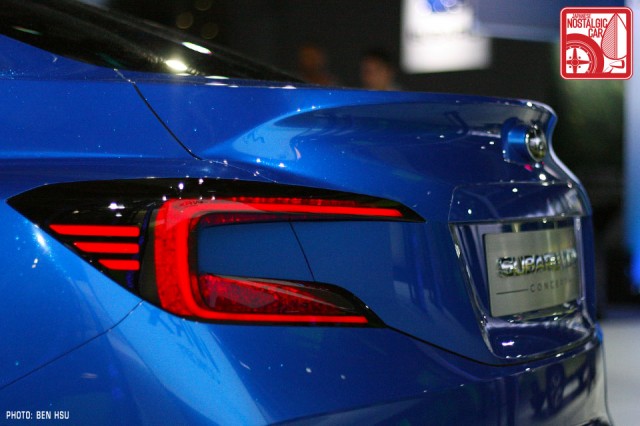 For the first time ever, the WRX will be a design completely distinct from the Impreza. And despite numerous accolades received by the BRZ/86/FR-S triplets over the past year, and the fact that the BRZ is positioned above its Toyota siblings, Subaru does not see it as the pinnacle of a performance car. For Fuji Heavy that crown will always rest on the traditions of turbocharged AWD monsters. The WRX/STI is still king, and the BRZ is merely the jack. Specs for the uber-Subie weren't revealed but if it performs anywhere near as good as it looks, it's going to be psychotic.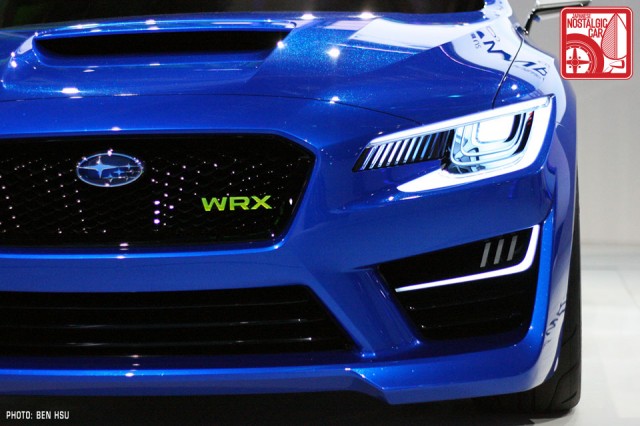 Traditionalists might find it a little sad that the WRX will no longer be so closely linked to the Impreza. They probably felt the same when the R35 was decoupled from the Skyline too, but let's see what engineers can do with a blank slate. I think we'll dig it very, very much. And so will you, apparently. The photo of the WRX Concept we uploaded to JNC's Facebook page instantly became, despite an audience who purports to be staunchly old school, the single most shared thing we've ever posted.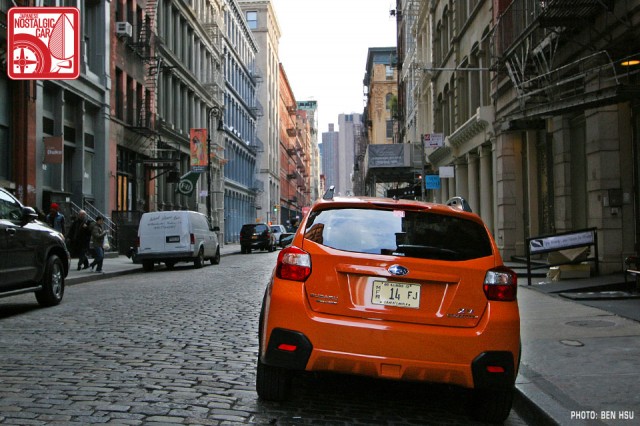 And with that, our tour of Subaru's east coast home came to a close. Seeing the two concepts on stage makes one wonder how they've carved out a niche that caters simultaneously to tree huggers who want to save the forests and rally racers who want to tear through them. But just like an old kei car or front-drive Baja racer might not seem at all related to an electric blue concept, seeing 45 years of quirky cars, race machines and history all in one place puts it in perspective.
In case you missed it, see Part 01 of our visit to Subaru of America's attic.