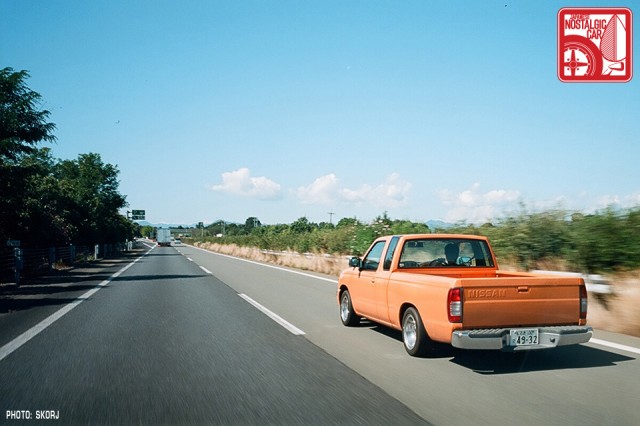 With an extended weekend available and being rather tired of Tokyo one tedious week, we decided to explore Chubu. North of Tokyo but with its name meaning "central", Chubu is the region between Kanto (the greater Tokyo area), and Kansai (the greater Osaka area), and it includes many highland prefectures like Gunma, Nagano, and Niigata.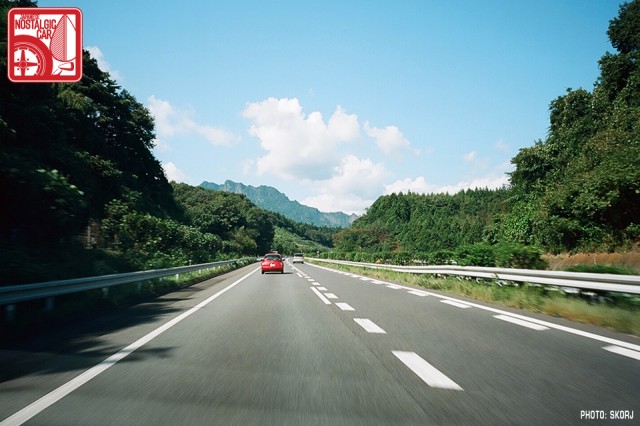 On the way north under the blue autumn skies, we took the Joshin-Etsu Expressway from Tokyo to our destination at Nakano, we played tagged for a few kilometers with a nicely re-presented Nissan ute that would not have looked out of place at the recent Mooneyes Hot Rod and Custom Show.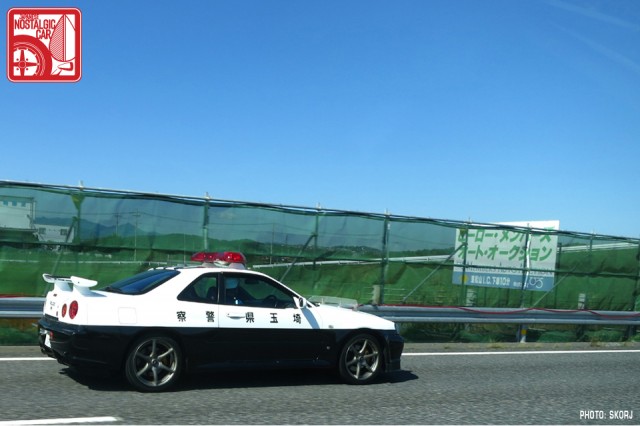 Along the way we witnessed the local highway patrol exercising the peak 0-100kph ability of their R34 GT-R with lights flashing. They came along side us in the blink of an eye from stationary, and traveling at 120kph we were convinced we were their next mark. Instead, they pulled away from us on the empty expressway and took the next exit, presumably U-turning to re-run their favorite traps.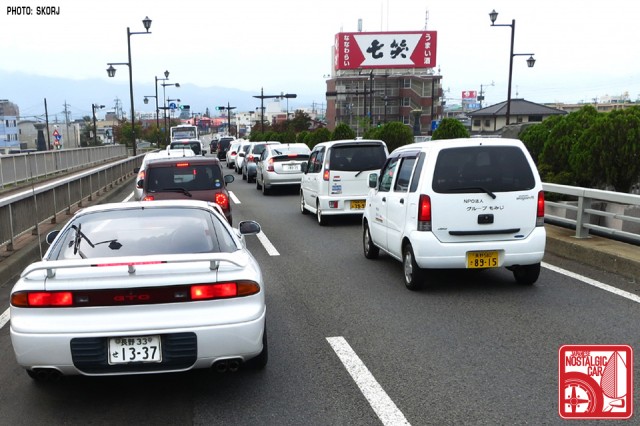 Arriving in Nagano-city for peak hour on a Friday night, we followed a rarely seen (even for Japan) Mitsubishi GTO to our hotel.
On the outskirts of Nagano-city, we stopped to admire what we assumed was a garage's old Corona Mark II shop-truck.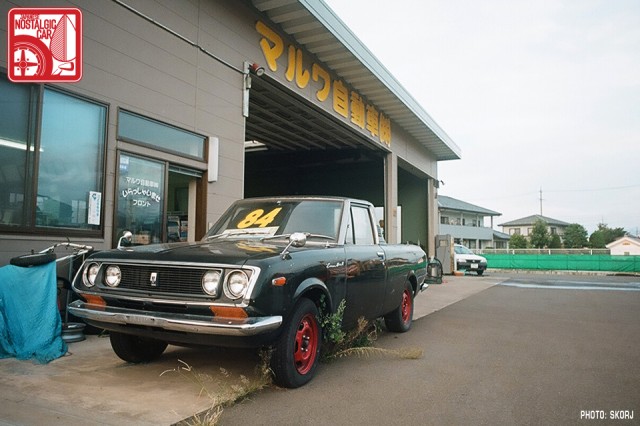 It's a rare machine, but it can be yours for the low, low price of ¥840,000 (about $9300 USD).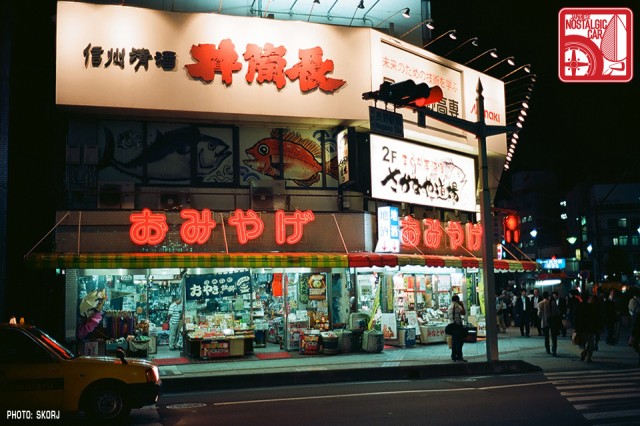 For dinner in Nagano-city, we walked the many back streets near our hotel and settled on a gloriously tender roast tonkatsu teishoku (breaded pork cutlet with sides like miso soup and pickled radishes) for dinner.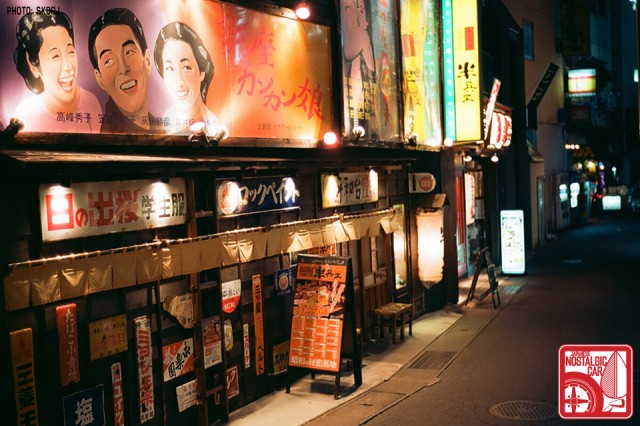 Before walking back to our hotel we downed some of the local daiginjo nihonshu (sake) at a quiet bar.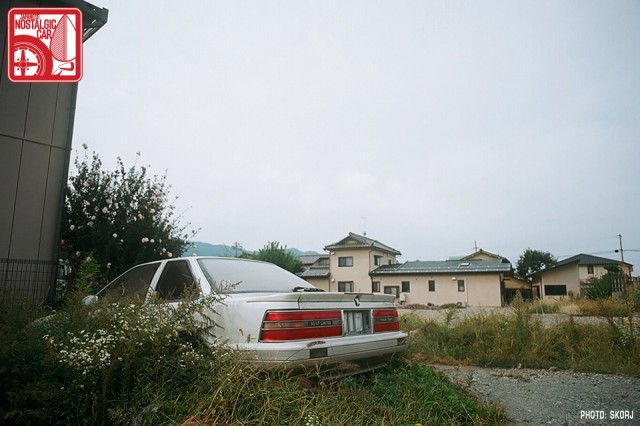 The next day saw us off exploring the local mountain roads, which contained a Z20 Toyota Soarer parked in the weeds.
Nearby a very unloved Z31 Fairlady Z evaded the glorious late summer morning light streaming through the trees.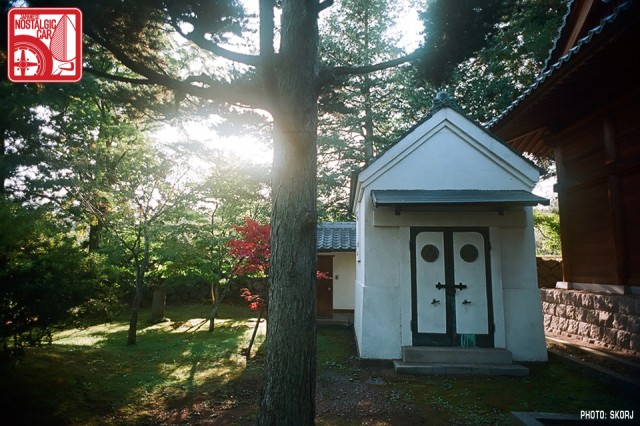 Here a local kura sits next to an adjacent shrine. Kura are traditional structures used to store household items not used during winter and summer months.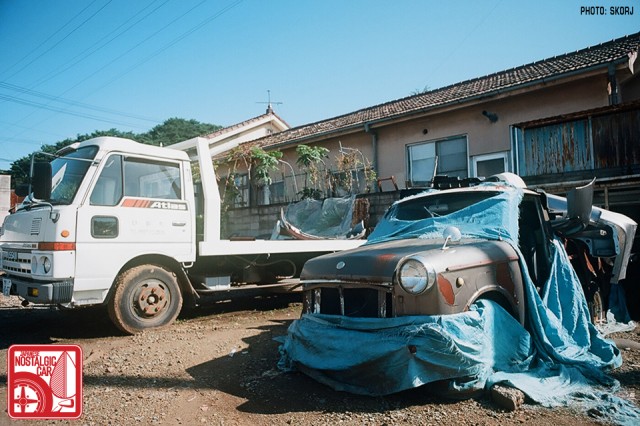 Not too far away a garage had an old Datsun 220 truck under what was left of a blue plastic tarpaulin. We had passed this little truck by on our first drive, but decided to stop for a closer look this time.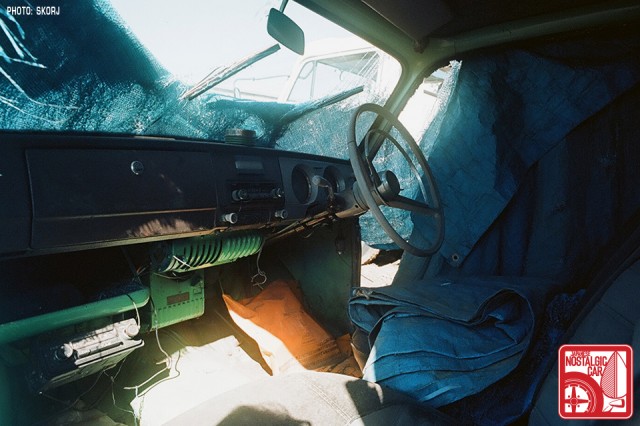 Despite being subjected to the elements, including winter snows, the interior was in reasonable condition and looked curiously modern compared to its frumpy little body.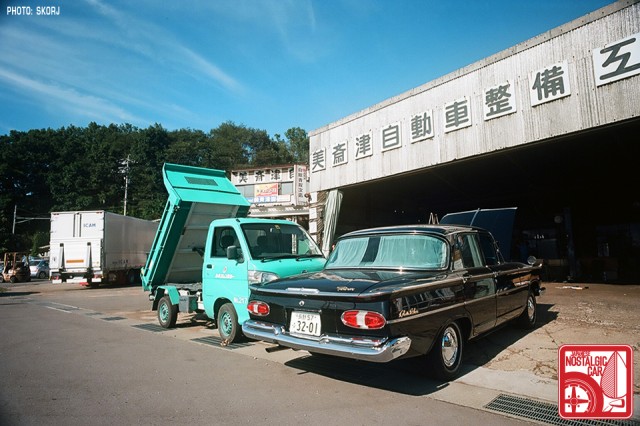 As we climbed into the mountains, a minty looking Prince Gloria Deluxe parked out the front of a local garage forced us to stop for a closer look.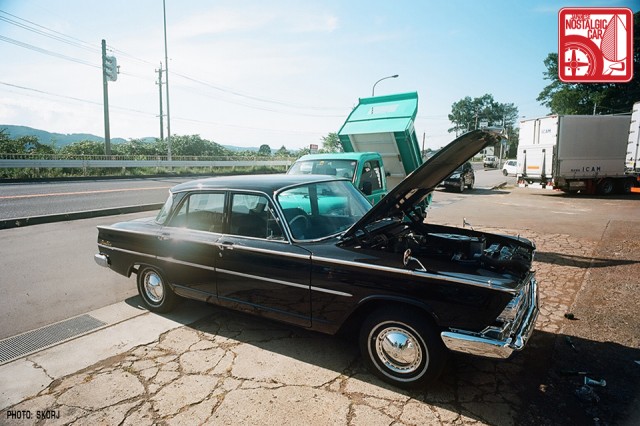 The hood was up and a mechanic  in attendance. We chatted about the car and learned that a local had been bringing it here for service for many years.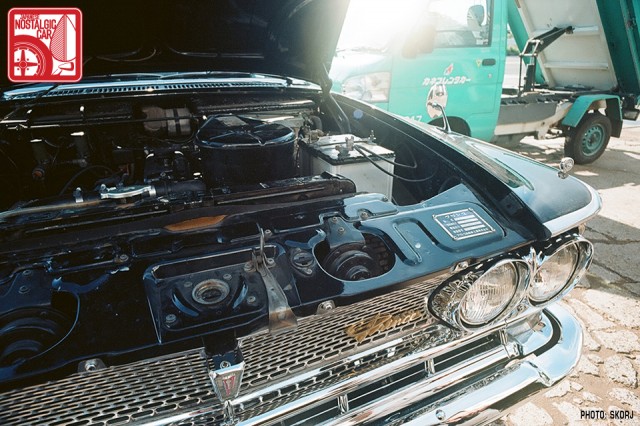 On this particular day it was receiving a new upper radiator hose fabricated from two bendy bits out of another car.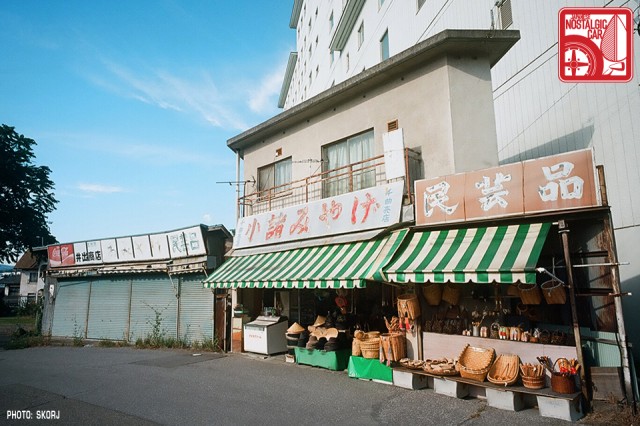 Stopping for lunch in a small town, we browsed the local omiyage (souvenir) shops, and admired the rising mountains in the distance, imagining which ones our roads would traverse.
We decided that instead of using expressways for our return journey, we'd link a number of touge (mountain passes) — the コクドウニヒャクキュウジュウキュウゴウセン (National Highway 292, from Nakano to Shirane-yama), the Manza Highway to Nihon Romantic Highway to Karuizawa and the Usui Touge (also known as the Nakasendo Highway) to Yokokawa.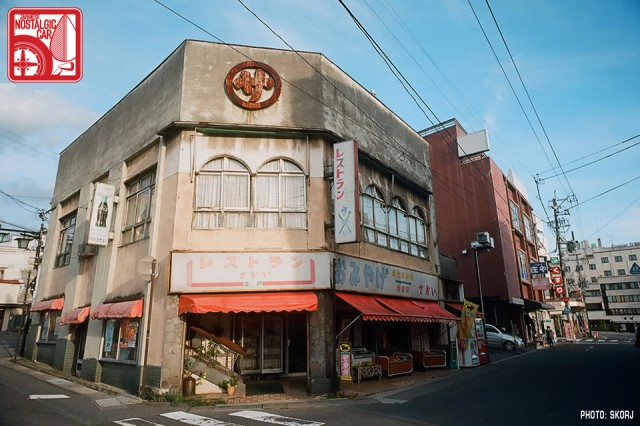 Our first stop on this day was the castle town Matsushiro, where a local oji-san was proud to pose by his toaster-tanked 1970s Yamaha YD125. His friend's classic Honda Cub was parked in the background.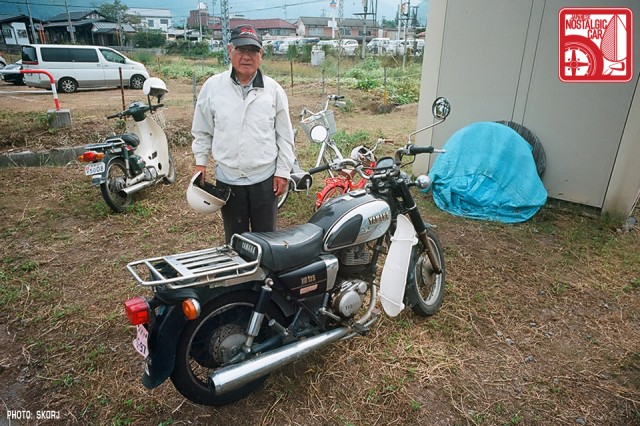 The two of them were voluntary car-park marshals for the weekend's castle festival, and were very pleased indeed when they asked where we had come from — "Tokyo!" they exclaimed, amazed. The YD's owner then went on to explain how he had made his bike's shin guards and how valuable they were in the cold.
The town train station — across the tracks from the castle — was no longer in use, having been replaced by a local bus company instead. We took the time to explore the Meiji-era building and its original fittings, all undisturbed in the year or so since it had ceased service.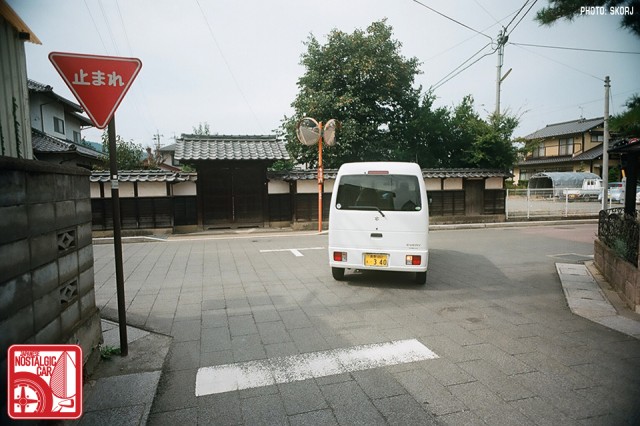 Many of the local streets of Matsushiro town retain their pre-Showa feel, and the whole town makes a spectacular destination for any Showa Era otaku.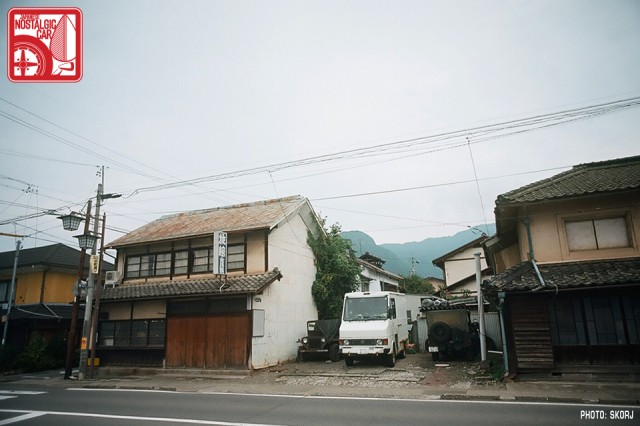 Nestled between two old buildings we saw what looked like a set of Mitsubishi-licensed Jeeps.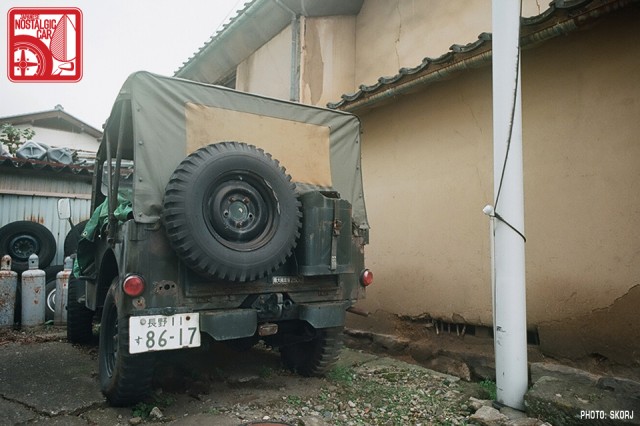 On closer inspection, they appeared to be ex-US Army Willys or Ford machines.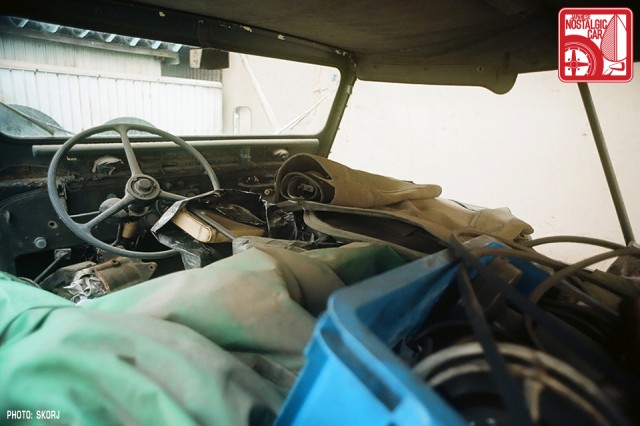 One of them was stacked full of spare parts.
The other was stenciled with something called the NJC 4×4 Club. A cursory search failed to reveal any more into the workings of this mysterious organization, but suffice it to say these two members did not appear to be active.
This concludes Part 01 of our Chubu Touge grand tour. In the next installment, we'll traverse the highest of Japan's highways, drive a mountain pass made famous by a certain tofu delivery boy, and of course see cars, cars and more nostalgic cars.
Skorj is a photographer living in Japan. See more of his work at Filmwasters.