In Part 01 of our Chubu grand tour, we escaped Tokyo by expressway northwest into the mountains. Our return trip took us on roads less traveled, over some of Japan's most famous winding passes known as touge. We had made it as far as Matsushiro, Nagano Prefecture, but had a long ways to go yet.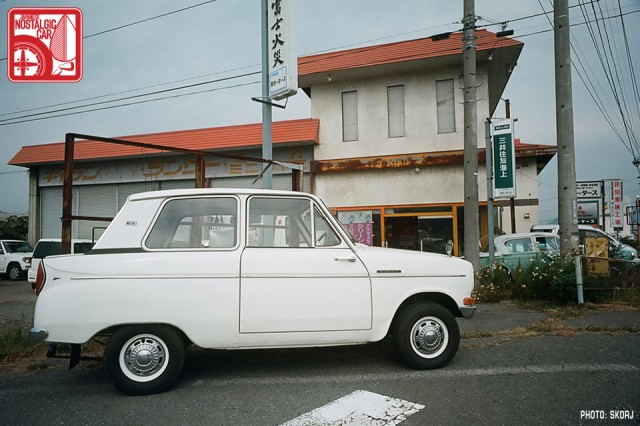 As we climbed deeper into the hills, on the outskirts of one small town we stopped at a local Mitsubishi dealer to investigate their display Minica.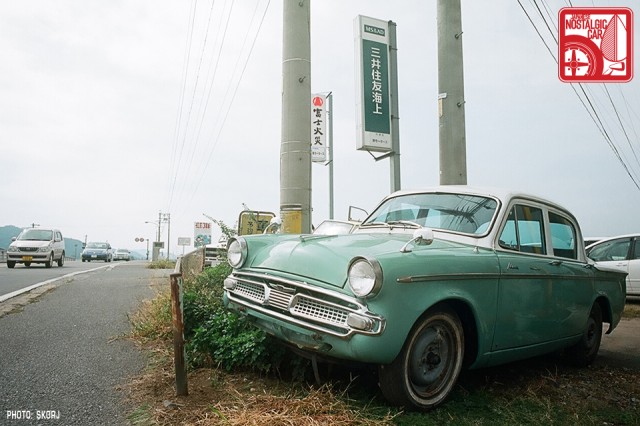 We were more intrigued, however, by the Isuzu-built Hillman Minx also parked in front. In the 1960s Isuzu licensed and assembled knock-down kits shipped from the UK. A number of references detail supposed differences between Hillman and Isuzu built versions, but we could not tell them apart.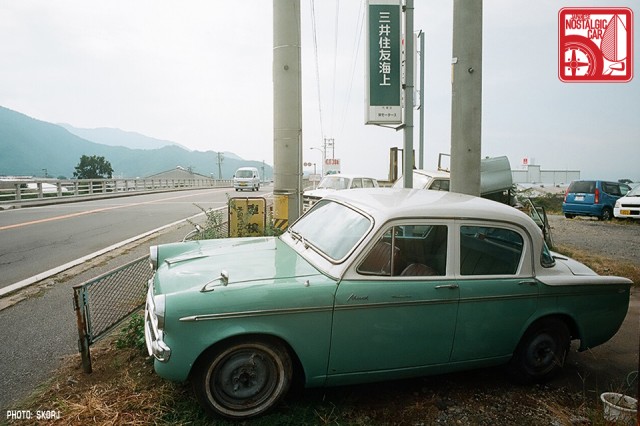 On the consult of a British car otaku friend, the main contrasts between Isuzu and Hillman Minxes of the same year are that Isuzus had more chrome and a different instrument cluster. This friend owns a Sunbeam Alpine and they share a lot of parts. Imagine the possibility of an Isuzu-built Alpine!
As we made another low-land connection between touge, we passed a car shop with another Datsun truck, a slightly newer 221 this time.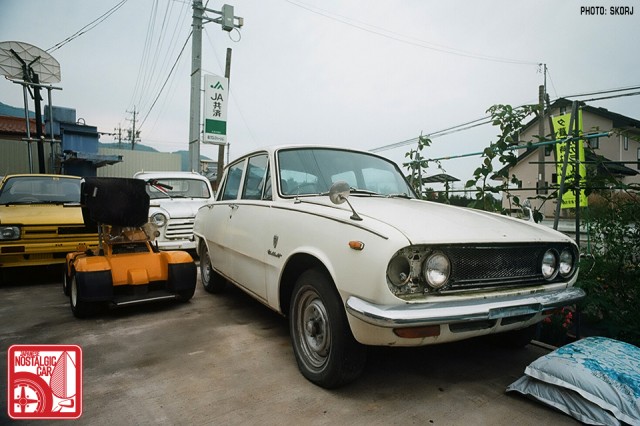 A four-door Isuzu Bellett and a few other interesting vehicles filled up the rest of the forecourt.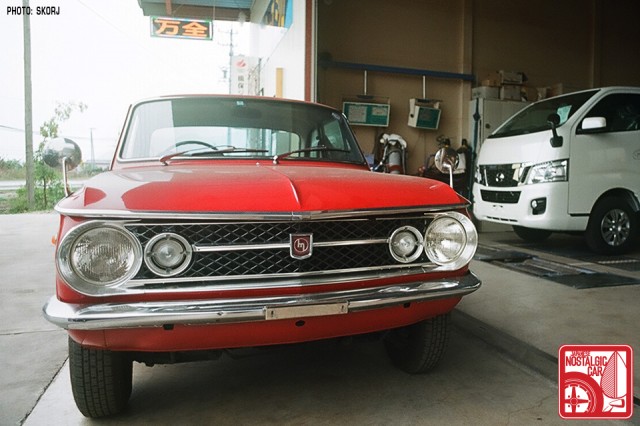 We called in at the front office and politely asked if it would be possible to have a look at their cars, in particular an attractive red Mazda Familia Coupe. The Familia Coupe was Bertone designed, built in 1965, and particularly well-proportioned. The red body and native wheel trims gave this lithe little coupe a very nice presence.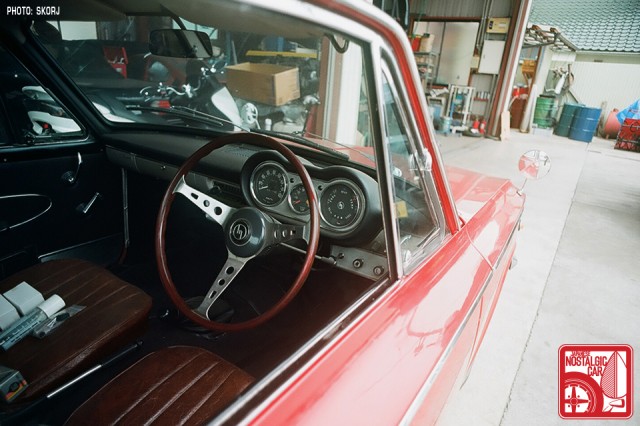 The subtle chrome belt-line trim, podded instrument binnacle, and Alfa-like steering wheel contributing to an overall feeling of sophisticated European style.
Wandering around this brilliant example, we wondered what it would look like on a set of gunmetal RS-Watanabe eight-spokes and a ride height not much lower than it already carried. After perhaps admiring it for a little too long, the shop manager came out and asked, "So, you really do like kyuusha?"
"Errr… yes, a little," we replied, to which she started to call out, "Hey, Boss! Boss? Where are you? Boss!!!"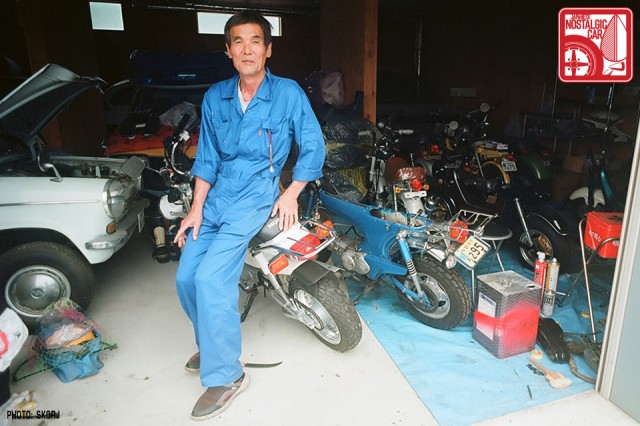 Sheepishly, a tall man in blue overalls — obviously on a discreet cigarette break somewhere in the back of the shop — came out and introduced himself as Ishida-san, the proprietor of Mikuro Restorations Car Shop. After asking us the same question — "So, you really like kyuusha?" — he took us out to the back of his property, unlocked a large double-doored garage, and proceeded to introduce us to his full collection.
A red Mitsubishi Minica Skipper with notes scribbled into the dust that had accumulated on its window hatch occupied the main shop area.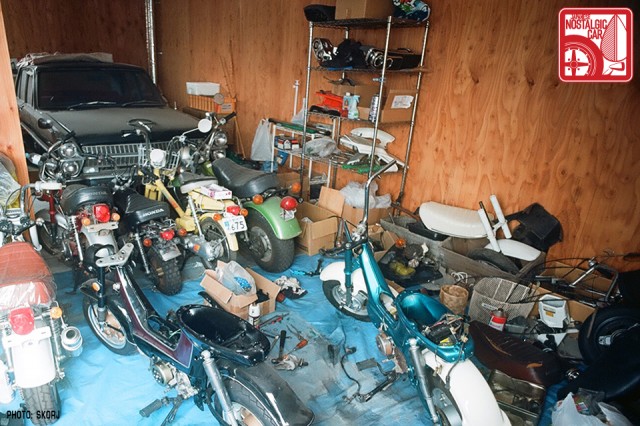 However, Ishida-san's personal garage held a pile of Honda Chalys, a few Monkeys, and other various small motorcycles. Gazing past them we spied his mint, black tateguro Nissan Gloria.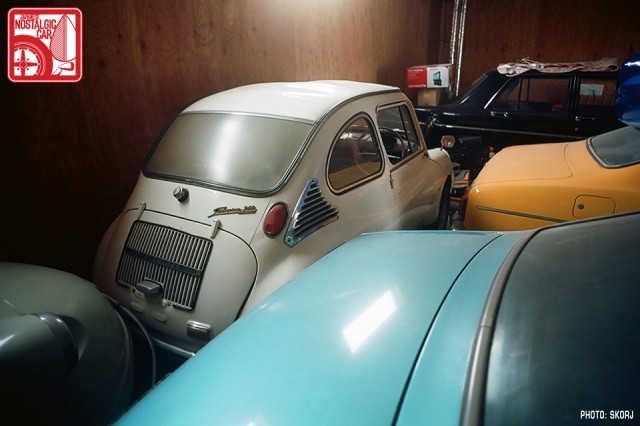 Squeezed into the space against the back wall was a Daihatsu Midget and a Subaru 360.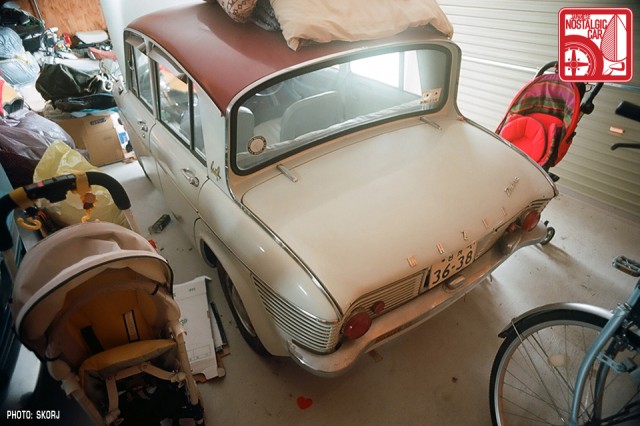 Clearly the shacho had a thing for Showa Era kei jidosha, and a rear-engined Mazda Carol rounded out the collection.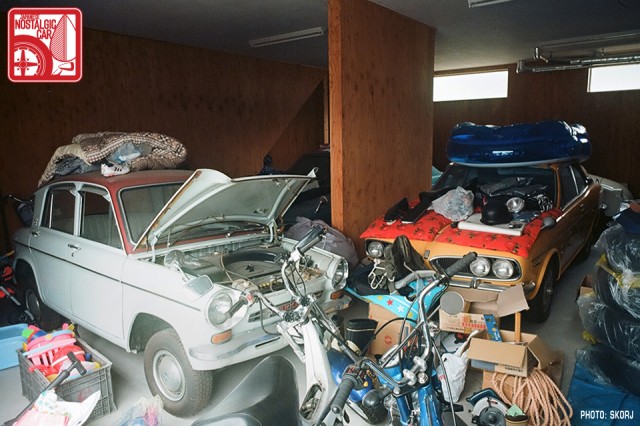 Ishida-san's favorite machine, though, was one of Soichiro's greatest, a Honda 1300 Coupe 7.
He quite proudly displayed the five (!) parts cars, including a fuel-injected 145, he had acquired over the years in order to keep it running.
On our way to the Manza Highway, we waited for a train to pass as we quickly climbed into a barren volcanic landscape well above the treeline.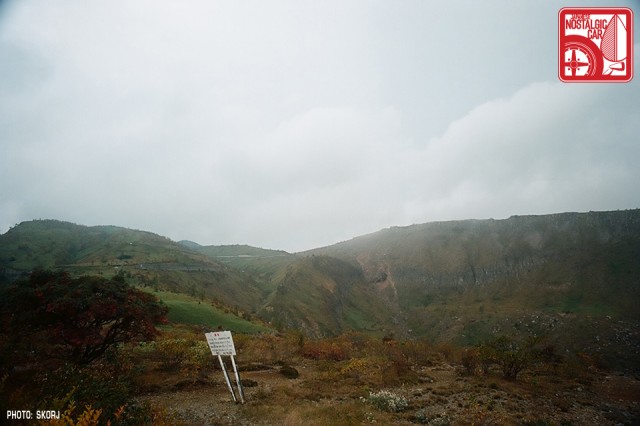 The many hot springs in the area fill the air with the smell of sulfur and steam, stunting the growth of what little vegetation that could cling to life among the snows and poisoness waters.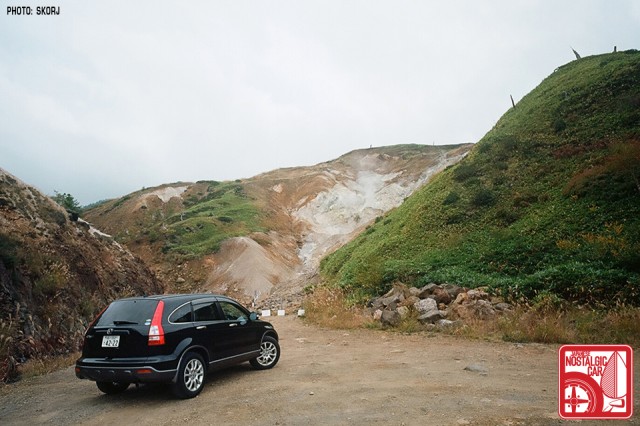 The Manza Onsen attracts both skiers and whose who enjoy soaking in volcano water alike, and is the highest point of Japan's expansive National Highway system at an altitude of 2172 meters (7126 feet).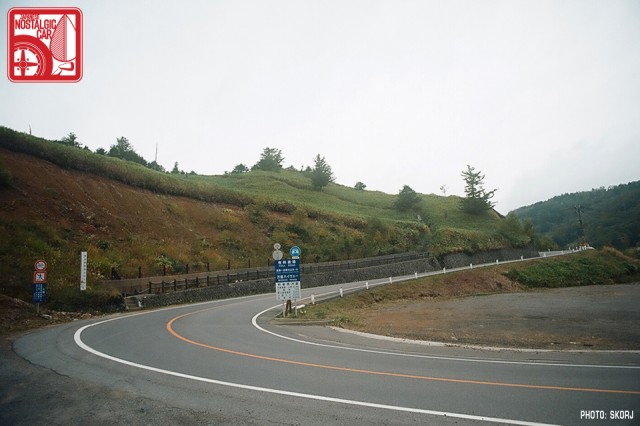 As a result, the Manza Highway presents magnificent views over valleys dotted with dramatic barren rock peaks. Not widely known outside of Japan, the area is full of small hotels, hot springs, and of course the gloriously twisty touge.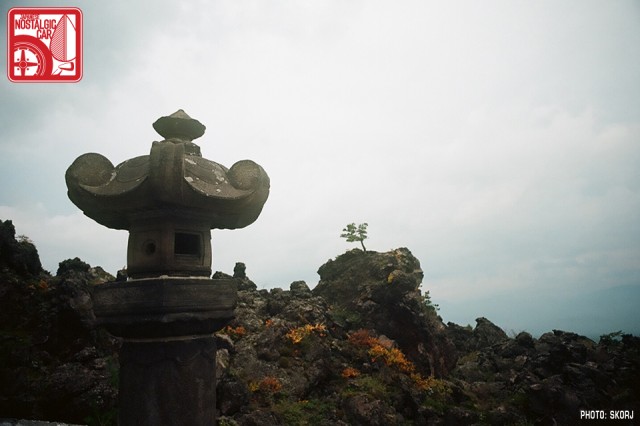 Coming around Asama-yama, the source of one of Japan's most violent volcanic events in modern times, we stopped to observe the temple dedicated to those who lost their lives in the massive 1783 eruption.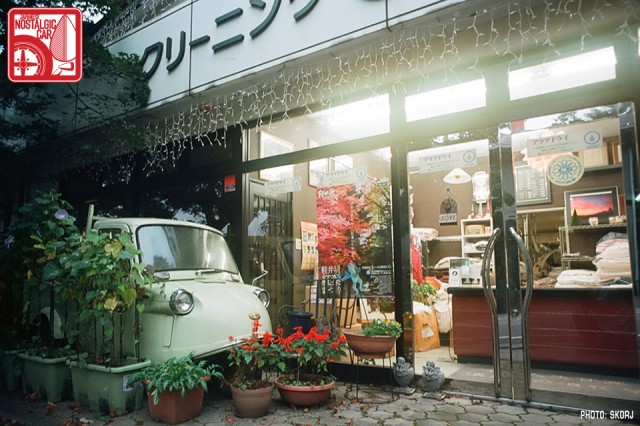 Connecting with Karuizawa via the Nihon Romantic Highway, we were fascinated by a local dry cleaner who advertised their shop as a "Cleaning Factory." Parked on their front terrace was a Daihatsu Midget in what looked like running order.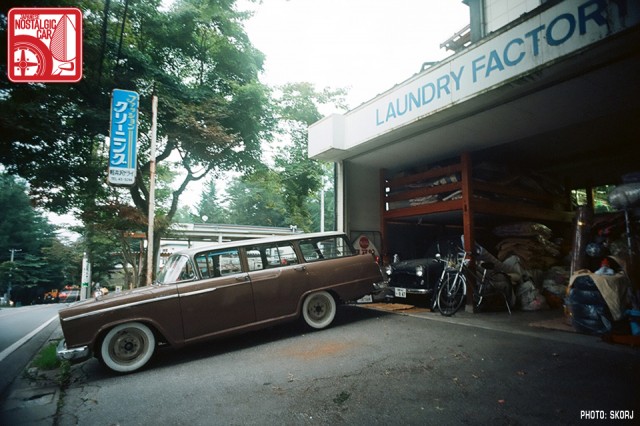 There was also a truly magnificent 30-series Nissan Cedric wagon out front, and tucked away in their garage was yet another early Datsun truck, the third we'd managed to photograph on this tour.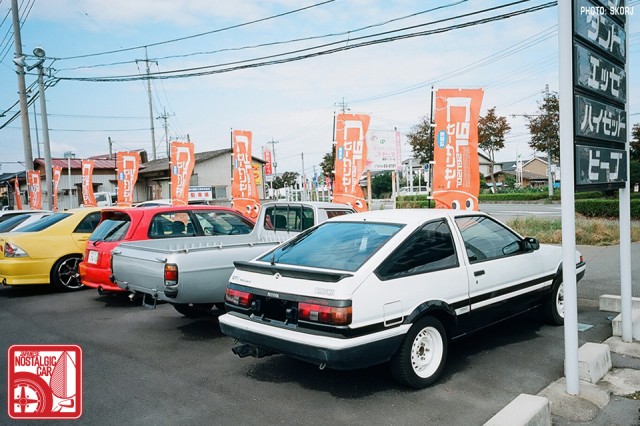 If ever there was a car associated with this region, it would be the AE86, which single-handedly brought the word touge to the west. Several chapters of Initial D took place on the road we were about to travel, and the panda hatch we found on a used car lot beside a sanitora foreshadowed what lay ahead.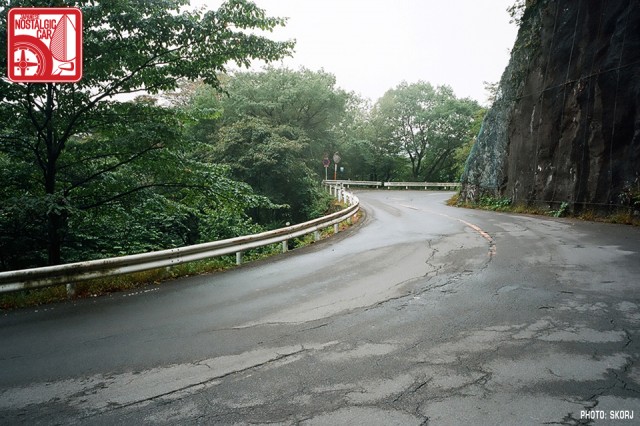 Our last touge of this tour was the run from Karuizawa to Yokokawa — National Highway 18. Known locally as the Nakasendo Highway, it has since been renamed the Usui Touge in some places. Six years ago our initial excursion into this hidden pass was an exploration of discovery, with no signs and little indication of access or even what we would expect to find.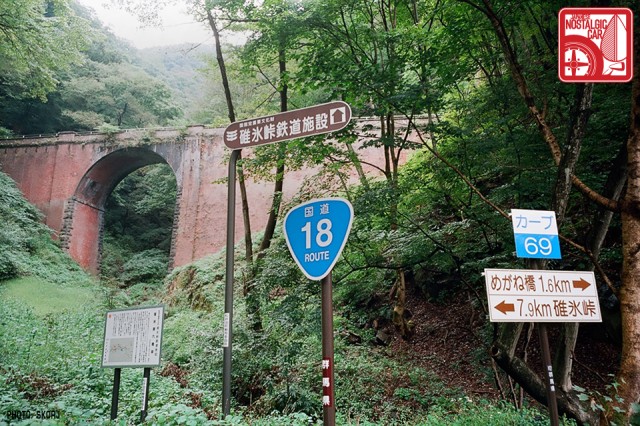 Since then, however, the area — bypassed by an expressway and shinkansen in the 1960s — has developed as a tourist destination. Based on a combination of its famous drift road, local train lines and fantastic views, it now sports sign-posted attractions (in English, even), souvenir shops, and parking areas where none existed before.
One of the noted attractions along the route — approached with a suitable set of short straights and positioned ideally on a near-180 degree corner — is the Usui Megane-bashi, a railway bridge built in the English arch style of the early 1900s. As stout as the day it was opened, it traverses the gap between two cliff faces and an appropriate set of tunnels.
The Megane-bashi still traces the path of the old line from the bottom of the touge to a period-built power station halfway up the hill, but the tracks are gone and it carries a walking trail instead. A parallel train line with greater capacity was built in the early 1960s, eliminating many of the original's curves, but it too closed a number of years ago and now carries a tourist train from the visitor center at the bottom of the touge to the old power station.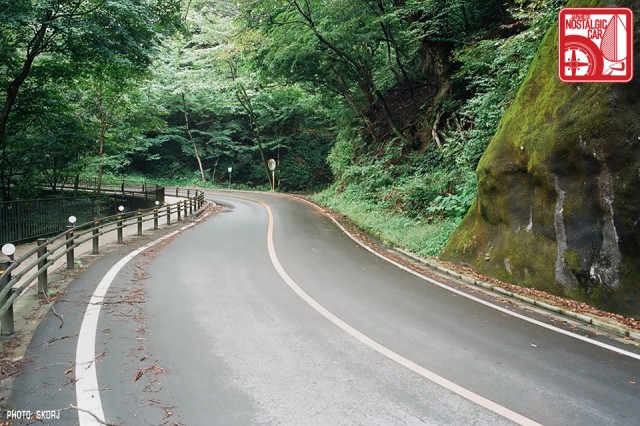 While a number of years ago the road was narrow and in disrepair in a number of places, it is now being widened and resurfaced in the usual smooth Japanese style. One thing hasn't changed though, and that is the pure driving pleasure of a series of tight second-gear corners, short straights, soft climbs and dips. If you were to sit down and design an ideal touge circuit, you could not do better than Usui as it already exists. It is simply that good.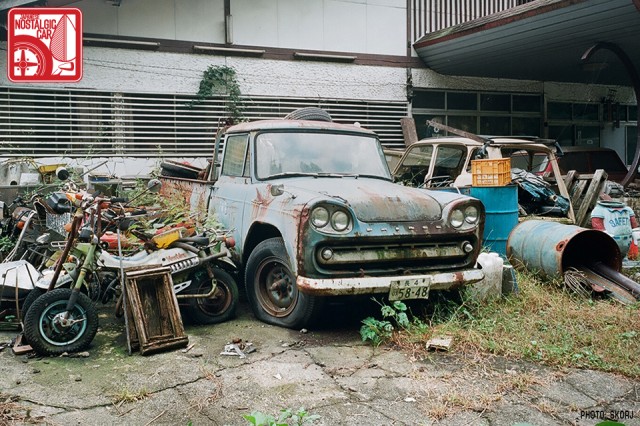 At the bottom of the touge, the remains of the Holiday Garage still stand. Its signs are long gone and it's no longer in operation, but it would have provided a last fuel and service stop for those driving from Tokyo to Karuizawa in the 1960s. Outside, the owners collection of Renault 4, a Mini, and what was likely their shop truck, a 1964 Prince Miler, still sit.
Lunch took place on the quiet terrace of the newly restored Rakusan-en Gardens, a historic site located on the former Obata castle grounds. The castle town is built along a series of canals along which many ancient samurai houses and a  silk mill still remain.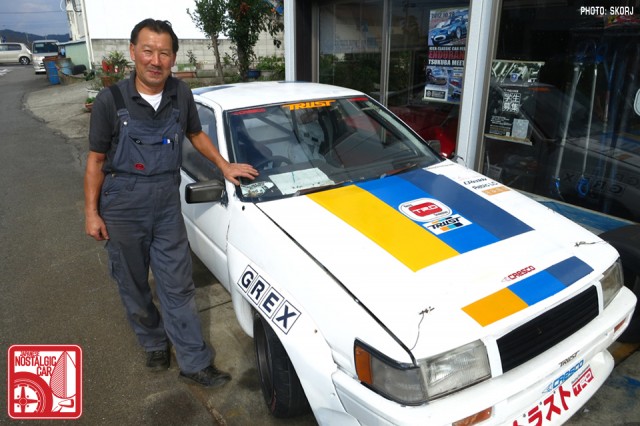 On our last day leaving Gunma Prefecture, we were again pleasantly surprised when we passed by a collection of what appeared to be 1980s racing Toyotas led by a Trust-liveried widebody AE86.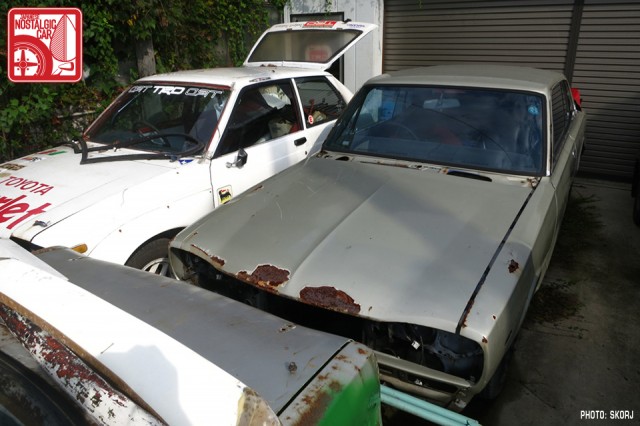 Once again, upon expressing interest the owner was more than happy show us both his collection and the secret stash of machines hidden behind his house. There sat an oxidized hakosuka missing many of its parts and A TRD widebody Starlet battle-scarred during its glory years.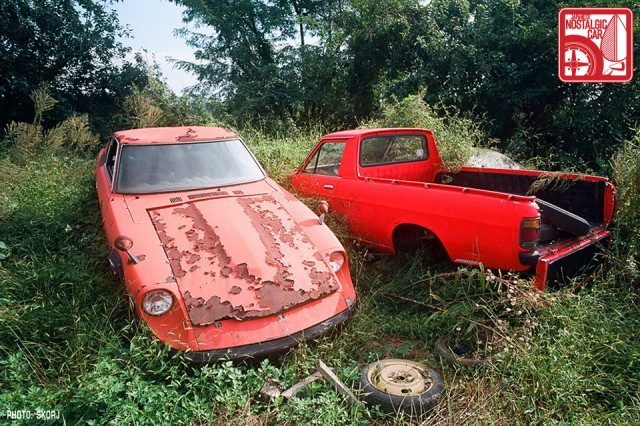 In the nearby field the owner showed us even more derelict machinery, including a sanitora and G-nosed Fairlady Z that probably had not moved under its own power in many years.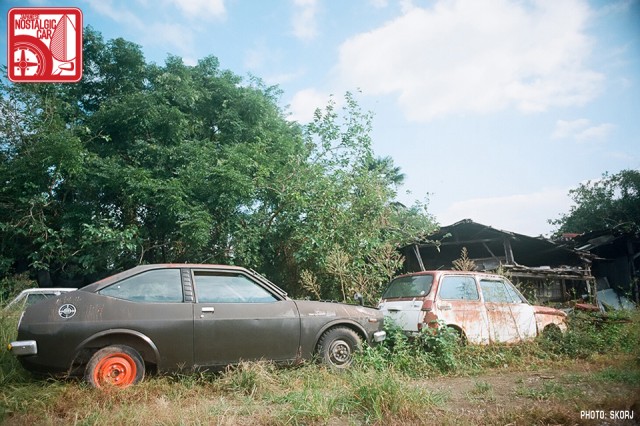 Many of these cars would be totally lost had he not given them a place to rest. The KP47 Starlet looked as if there could be some life left in it yet; the Honda might sacrifice some of itself so that others may live.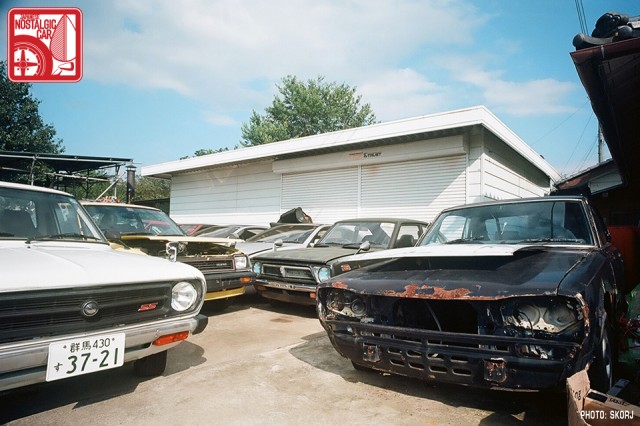 By his garage more Skylines, Sunnys and Starlets were parked doorhandle to doorhandle. A spread like this definitely would not be allowed in Tokyo, where police must verify your parking space before you can register a car.
The rest of the short drive home was uneventful, but fortunately visitors to Japan who lack wheels can explore this region on their own. Whereas the Usui Touge used to be a destination for nothing more than local macaque, the occasional weekend drifter and the odd haikyo photographer, it's now a viable day trip from Tokyo on the trains.
Skorj is a photographer living in Japan. See more of his work at Filmwasters.