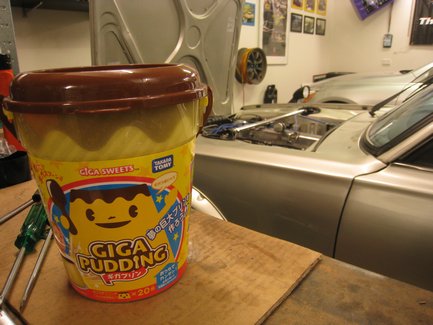 It is a little-known fact that JNC Magazine correspondents are, in fact paid in ramen and Giga Pudding. But outside of the JNC editorial team, there has been very little said about this mysterious dessert, except for what can be learned from its rather irritatingly catchy commercial.
Giga Pudding is made by JDM toymaker TakaraTomy as part of its range of easy-to-make food for children. It's nothing new, and there are many different brands of instant packet-mix custard pudding available in Japan. But none of them allow you to make a huge pudding this big…and so, somewhere along the way, Giga Pudding seems to have caught the imagination of Japanese adults too, fascinated by the prospect of making a powdered custard dessert larger than your own head.
So let's take a closer look.  Open the lid on the bucket and inside there's a quite a treasure-trove of JDM awesomeness.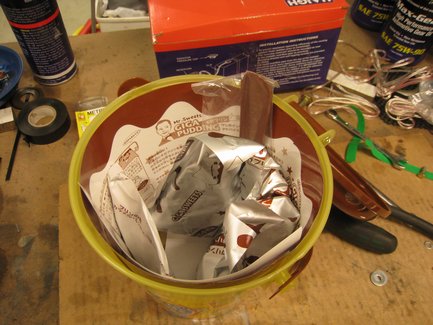 There's a large plastic spoon, a huge packet of custard mix, and a smaller sachet for the chocolate topping.
To make it, you add 1.6litres of boiling water to the custard mix, and whisk.  Then you let it cool for a few hours.  Mix the chocolate powder with 170ml of boiling water and let that cool too.  Then pour the custard mixture into the Giga Pudding bucket, and then pour the chocolate mixture into it too, which will settle at the bottom.  Then it goes into the fridge for 10hours, whereupon you tip it upside down and it slides onto the serving dish of your choosing.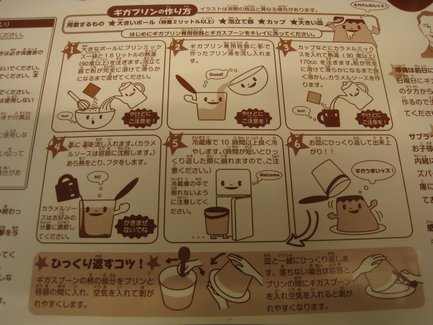 The Giga Pudding also comes with some revealing documentation about the species, most notably that there is definitely a male and female Giga Pudding (well, I hope that's a female…). It also appears that Giga Puddings are prone to random acts of beverage giving, which come from an unusual hiding place.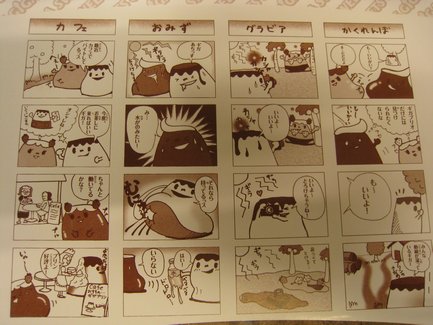 Well… now you know 🙂