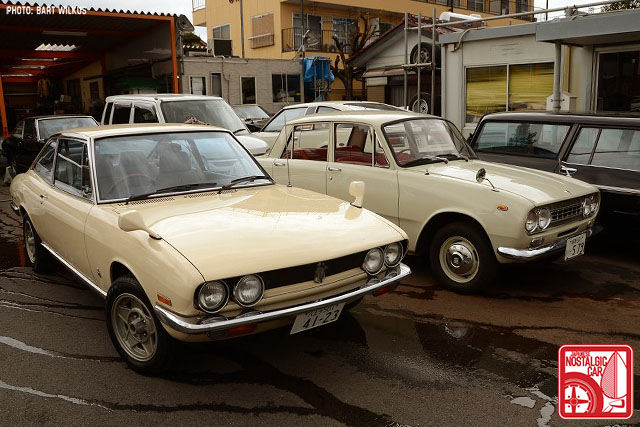 We first met Koji Okane, owner of Isuzu Sports Eagle, in 2009 at the inaugural Nos2Days show. A gracious guy, he invited us to his shop but our time in Japan was too short. We could think of no one better than today's Guest Writer, Bart "IsuzuGeek" Wilkus, to make the trek instead and report his findings. Enjoy. —Ben
Isuzu Sports Eagle is a specialty shop dedicated to restoring and selling vintage Isuzu cars, and I would imagine it is probably the only place in the world like it. With Isuzu Motors itself largely out of the passenger vehicle market, the Isuzu marque is quickly vanishing into obscurity. But that has not stopped shop owner Koji Okane from doing what he loves. 
While his focus is mainly on old Belletts and 117 Coupes, you will see Piazzas, Geminis and a few other vintage classics around. Isuzu Sports Eagle is located a short walk from Hamura Station, near Fujimidaira, about an hour or so from Tokyo proper. So, after a little mix up on the train, and with the promise of rain looming in the grey sky, we finally made it to Hamura Station and started walking.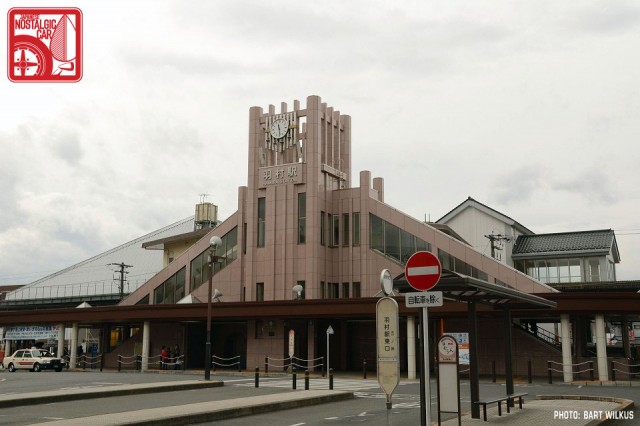 This is Hamura Station. As you can see, we arrived bright and early at 11:30am. Admittedly, I am a rabid Isuzu fan (I own four), so this was a very special trip for me. And it should be noted, that seeing an Isuzu passenger vehicle on the road in Japan is about as hard as it is easy to spot an Isuzu work truck of some kind.
Simply put, you will see Isuzu Elfs, Forwards, and Gigas all day long, but rarely will you see an Isuzu car or SUV on the road nowadays. I spotted only two Isuzu passenger vehicles on the road during my whole three weeks in Japan — a second-generation SWB Isuzu Trooper and a second-gen Isuzu Gemini sedan, parked in a alley.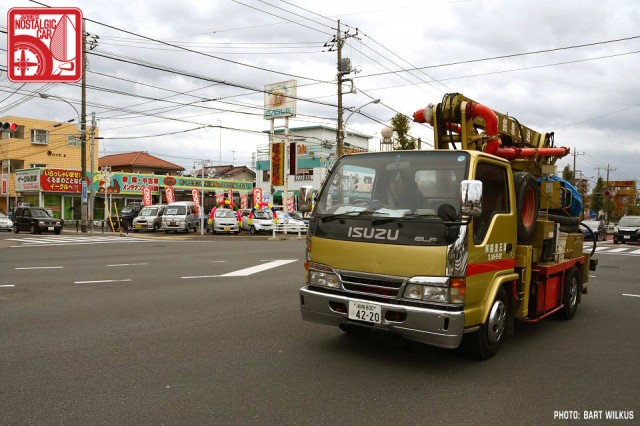 An Isuzu Elf with some dekotora trim rumbles by as we wait to cross the road a short distance from our destination. We didn't have to walk far before my first glimpse of Isuzu car heaven appeared around the corner, in an area with several other used car lots scattered about.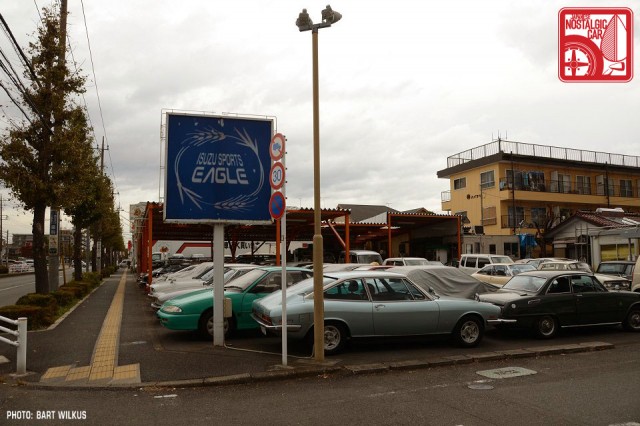 Here's a view of Isuzu mecca and its lot of cars waiting for new homes. I'm not sure how the term "Eagle" fits, nor do I understand the significance of the ring of wheat in the sign, but it somehow works. The lot was crammed with Isuzus, and I began snapping away.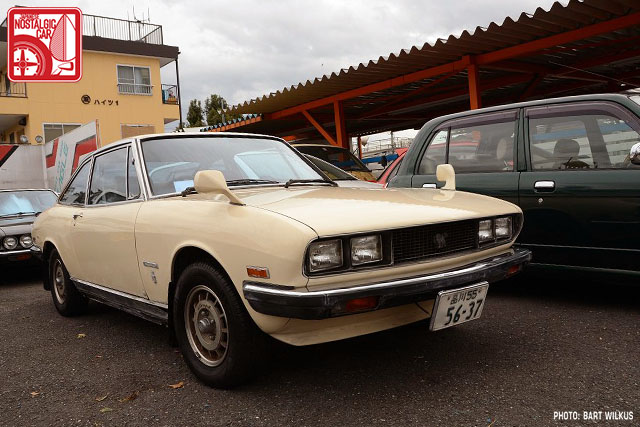 Why does creamy rhyme with dreamy? This 117 Coupe is why. It has been said that Giorgetto Giugiaro designed the 117 to resemble the sultry curves of the female figure. I think he was quite successful in doing so. The body lines are so natural and subtle as they draw your eyes from front to back. No part of this automobile is unpleasant to look at. The same cannot be said for most modern cars being designed today.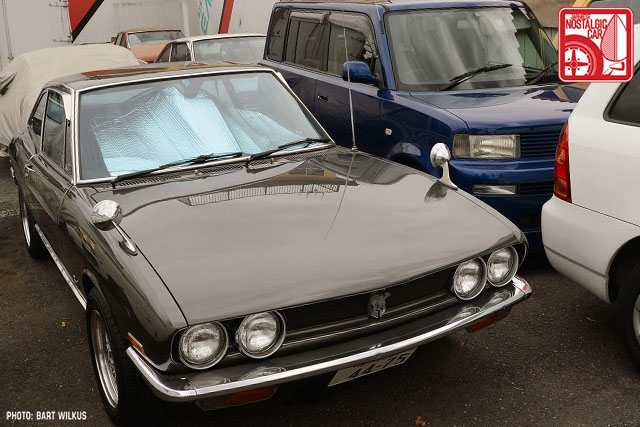 I've always preferred the earlier 117s with the dual round lights. However after seeing both types in person, deciding which I like better became quite difficult. While the round lights give the car a sportier look that makes me think of early 1970s muscle, the rectangular lights of the later models give the car a more regal and stately feel.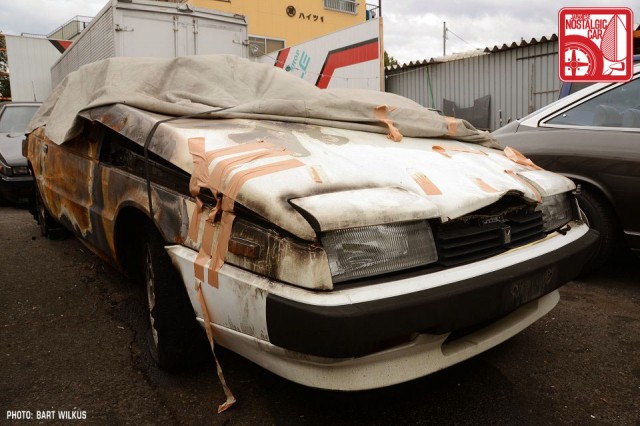 In the same area under a flapping tarp, sat a fire ravaged Piazza. Like the Impulse in the US, any Piazza is a rare Piazza, and any parts that can be saved must. The car appeared to be a total loss, but there must have been a few bits worth hanging on to. The headlights and bumper seem to have survived the blaze, though the rest of the car was a sad, melted mess. This must be an early Piazza due to the large rectangular headlights. Later Piazzas had dual, staggered rectangular lamps instead.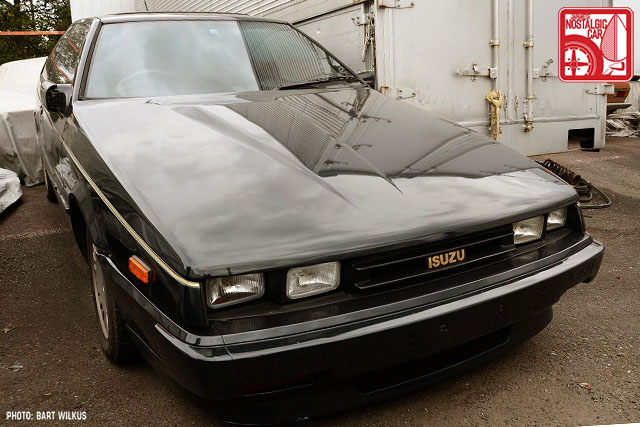 This made me feel much better after seeing the torched Piazza. It was the first of several cars I wanted to ship home. While I am not 100% positive, I believe this to be a special edition Isuzu Piazza Nero in all black with gold accents. The "Nero Edition" was also released in white. And while I am not 100% sure, I think the "Nero Edition" may have been the final year special edition Piazzas released in 1990. Further research is needed on the subject.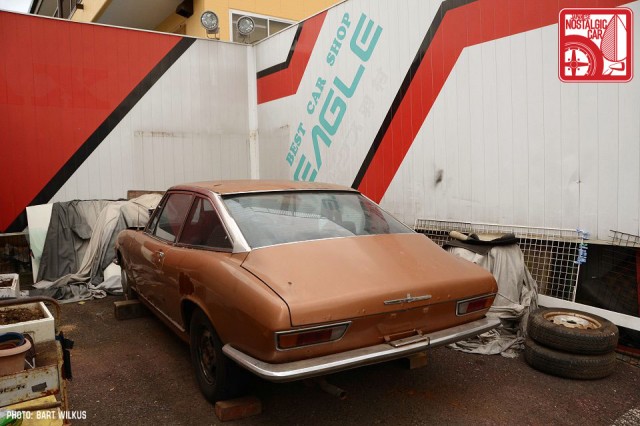 Sitting back in a lonely corner, this badly rusting brown 117 waits to be parted out. Or perhaps a full restoration and a second life is in store. Despite the unfortunate choice of color that instantly dates this car back to the decade from whence it came, one must still admire the car's fine rear end.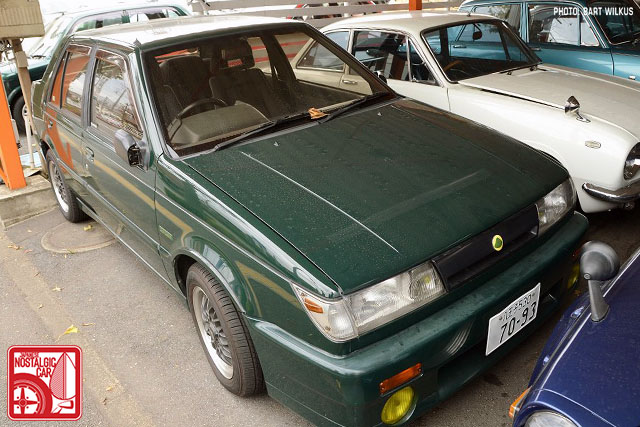 Here sits a late 80s Gemini, known as the I-Mark in the States, with a face only a mother could love. No matter how hard I try, I simply cannot find a single bit of this car's design appealing. I suppose if I focus, those peculiar front corner lights do stand out.
The Lotus tuned suspension was definitely an attractive feature of this car, but why spend your money on one of these when you could have a gorgeous Piazza/Impulse? If I was forced into one of these cars, I would much rather have the two door hatchback model. I suppose its awkward design would eventually grow on me.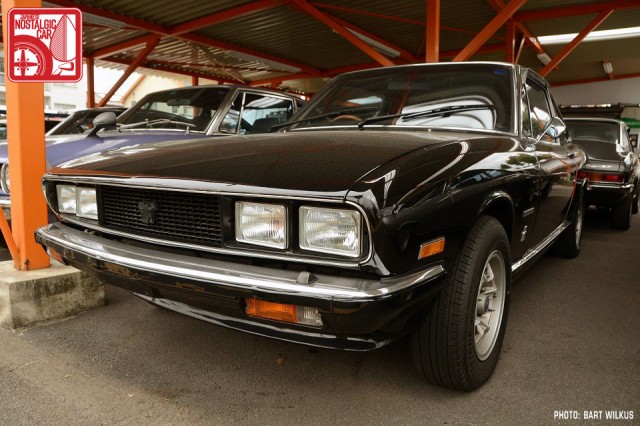 When I saw this car, I felt my credit card warming so quickly I thought it might burn my leg. I quickly reminded myself that no matter what, importing cars is best left to the folks out there that can carelessly afford it. Maybe someday, in my 50s or 60s, I will bring a 117 just like this one Stateside.
To me, it is the perfect car for a classy older chap to enjoy his golden years driving. This car just screams, "I might be old, but I will give you a whoopin' if you sass me!" Yes, I must own one of these black beauties someday. I think it would make a perfect, gothic, black coffin in which to round out a life long love for Isuzus.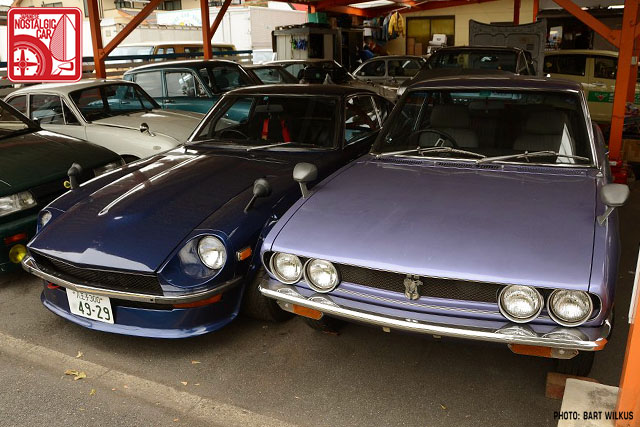 Hey, what's that Nissan doing there? They look like a perfect couple, don't they? Apparently, Isuzus are not the only Japanese classics delt with at Isuzu Sports Eagle.  While lavender is definitely not my first choice of color for any car, let alone a 117, it somehow works, especially next to that deep blue "Devil Z".
Belletts really were meant to be two-toned, and this red-and-black car proves it hard. The rally style driving lights up front just add to the appeal, giving the car that sporty JDM look we know and love. Throwing those vintage bronze Watanabes into the mix only adds to the deliciousness of this car. A perfect example.
Speaking of wheels, nothing brings out style like a nice pair of aftermarket rims, and these vintage Italian Cromodoras are a perfect fit on this pale blue 117. Its all about class with the 117, period.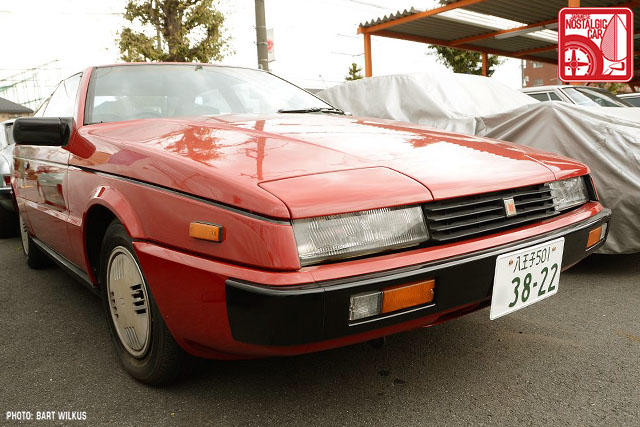 Here's a very early Piazza. Notice the two wide flip-up head lights. American Impulses had four rectangular lights up front and lacked the bumper lights as well. If I had to guess, I would date this car to 1984/85, and it was in very fine condition, all things considered.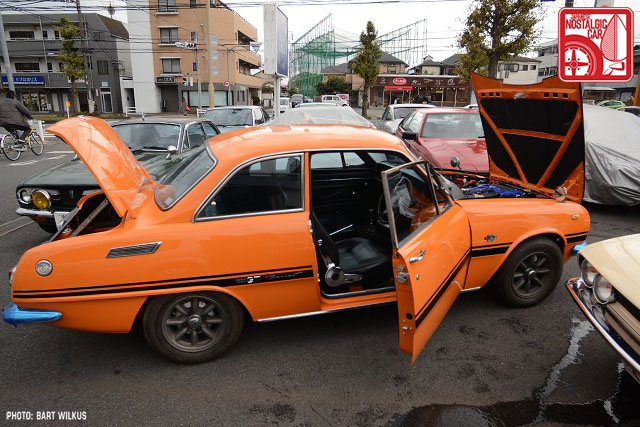 While I was walking around with my wife, taking photos of the cars, a freshly restored orange Bellett rolled up. It was then that I made my introduction to the guys hanging out around the car, one of which turned out to be Okane-san, the shop keeper. He showed me the Bellett, and opened everything up for my camera.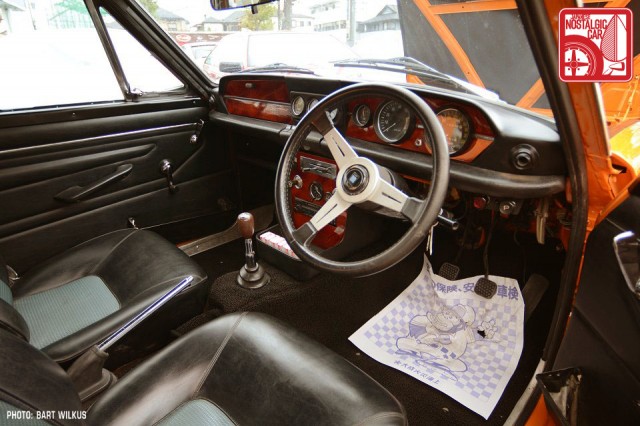 From the little I gathered from Okane-san, this car was a recent restoration for a customer. Just look at that pristine, original interior. I desperately wanted to hop and take it for a spin, but I think that would have been overstepping my boundaries just a little.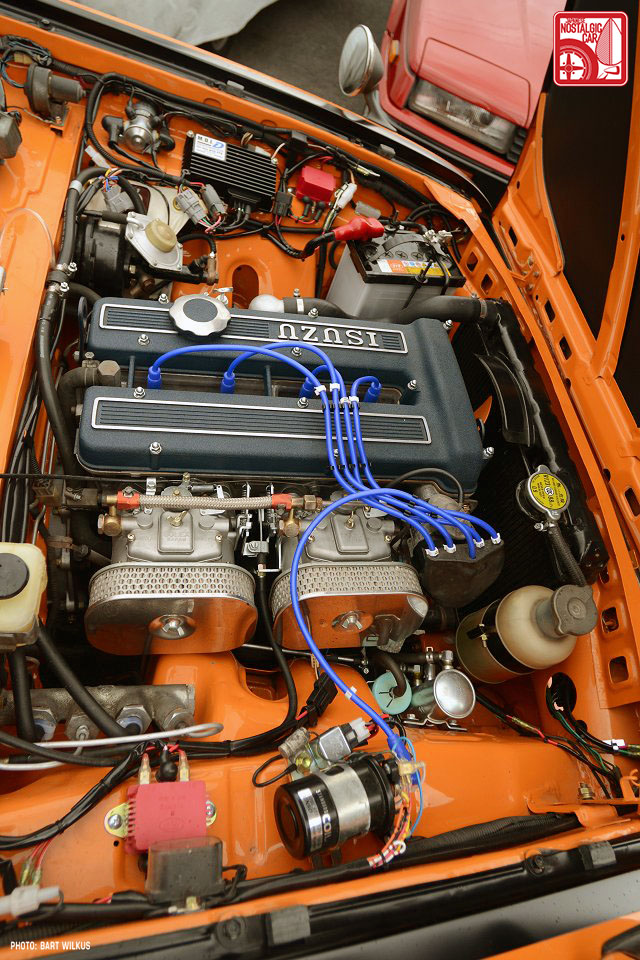 There's nothing quite like popping the hood open on a fresh build like this to see a spotless bay with one of Japan's earliest twin-cam engines. Okane-san then beckoned for us to come into his office, where he graciously served us some coffee.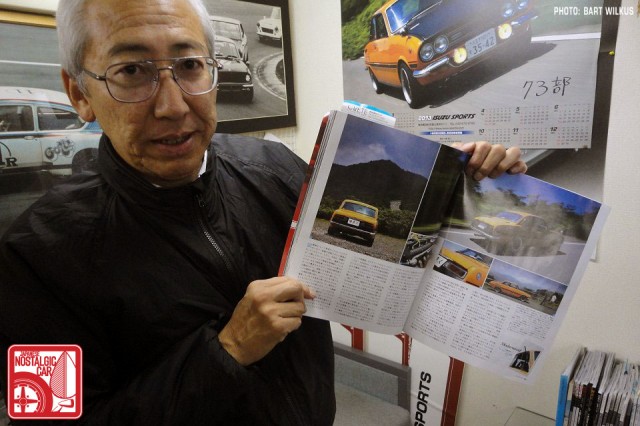 Okane-san's own daidai (orange) Bellett was featured in a back issue of Nostalgic Hero. He was very proud to show off his car, and rightfully so! Mind you, my Japanese was not much better than his English, but we muddled through an interesting conversation about Isuzus somehow.
He showed off more photos of his Bellett, and to my surprise, he gifted me with some Isuzu-Sports stickers and a nice 2013 calendar of his beautiful car in action. We exchanged meishi and my wife and I headed back to Tokyo. A spectacular day! After returning home, I sent Okane-san a short email interview which I will share with you here.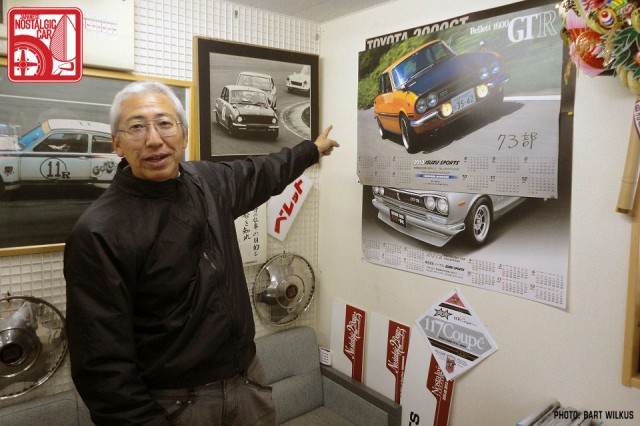 BW: Hello Okane-san! Thank you for letting me visit Isuzu Sports, and thank you for the nice gifts. I am wondering if you could answer a few questions.
KO: Hi. Thank you so much for coming to Isuzu Sports. I am so glad to know of Isuzu mania in America.
BW: Tell us a little about yourself and your interest in Isuzu cars.
KO: My interest in Isuzu cars began when I was a little, about eight years old. At the time I went to see the Tokyo Motor Show and saw the Bellett GT. The strong image of it still remains in my head. I got my motorcycle license at 16 and I rode a Yamaha. In high school, when I was 18, I got my vehicle license and drove a Nissan Sunny and immediately after that I switched my car to a Bellett 1600 GT. I am 52 now, so I have been riding in the Bellett for 34 years.
Unlike Toyota or Nissan, Isuzu invested a lot of money in making its cars. There's the soul, like a Japanese craftsman, in Isuzu cars. The cars are very small but they pack a punch. Isuzu did not cut costs, which could be excessive. And that is the good thing about Isuzu. I like a lot of Isuzu cars and I sold 4WD Bighorns (Troopers), Wizards (Rodeos) and lift and lower kits. Now I'm focused on Bellett GTs and 117 Coupes.
BW: How long have you had your Isuzu Sports shop?
KO: Isuzu Sports has been in business for 20 years. It has been relocated a couple times, from the city of Hanemura to the city of Kyouyama and then to the city of Hanemura again. The reasons for the relocations were slow business and low profits. The other business ventures I had were successful at that time so I was not seriously getting involved in the shop business. However, the relocation helped with cost cutting, and so the business survived.
The value of used cars had been going down so I changed the selling practice form just "sell it" to "fix it and sell it." If a customer wants to purchase the car at a lower price, I would sell it in original condition without modification.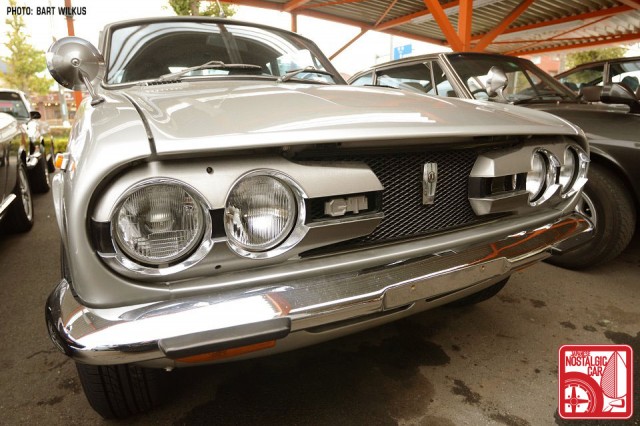 BW: Tell us about your Isuzu Bellett and its history.
KO: Bellett 4 door sedans were marketed in 1968, with both a 1300 gasoline engine and 1800 diesel type. In 1964, the 1600 GT was marketed. In 1969, Bellett GTR was added (I saw this model when I was a kid!) and in 1971, it was scaled up to 1800cc. The Bellet was the GT car with a heart like a craftsman. Driving the car makes you feel excitement and desire. I recommend it to any guy who works hard.
BW: What is your process for restoring rare Isuzu cars?
KO: The classic Isuzu GT, Bellett, and 117 Coupe are quite fragile. I check the engine and body before making decisions, and it is important. When I actually try to restore the car, I take the car fully apart.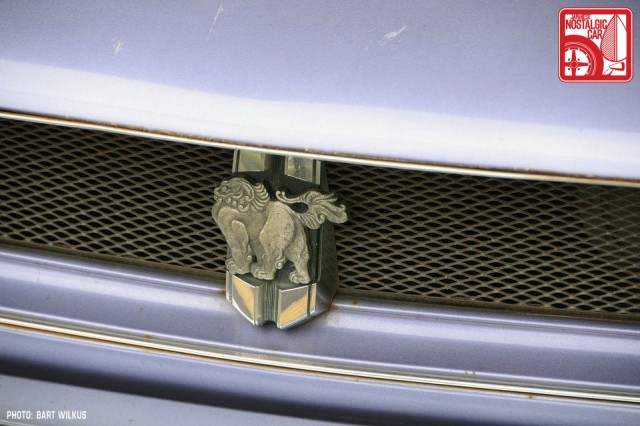 BW: Why do you think Isuzu is now a defunct passenger automaker?
KO: Compared to other carmakers, Isuzu has no problems with craftsmanship. The Bighorn was a cross county car which was a lot better than a Land Rover. However, it was weakly promoted by Isuzu Sales due to the lack of both product innovations and employee education. Now Isuzu is completely a truck manufacturer.
P.S. – I drive a Bellett GT-LHD, a Bellett GTR, a Toyota Land Cruiser and a US-spec Axiom. My shop sells Isuzu GTs but it is not just a shop selling cars. We provide customers who purchased an Isuzu GT quality time with the car, excitement and satisfaction. A car that has been restored at the shop will shine as if it is a new car. Life returns to the car. The owners of the cars might be gone but GTs will survive.
If the condition of the car is good, it will be treasured in the future. I see a future in Isuzu GTs. Thank you.
Bart Wilkus is founder of IsuzuGeek.org. Special thanks to Kimiko Harder for translation assistance.